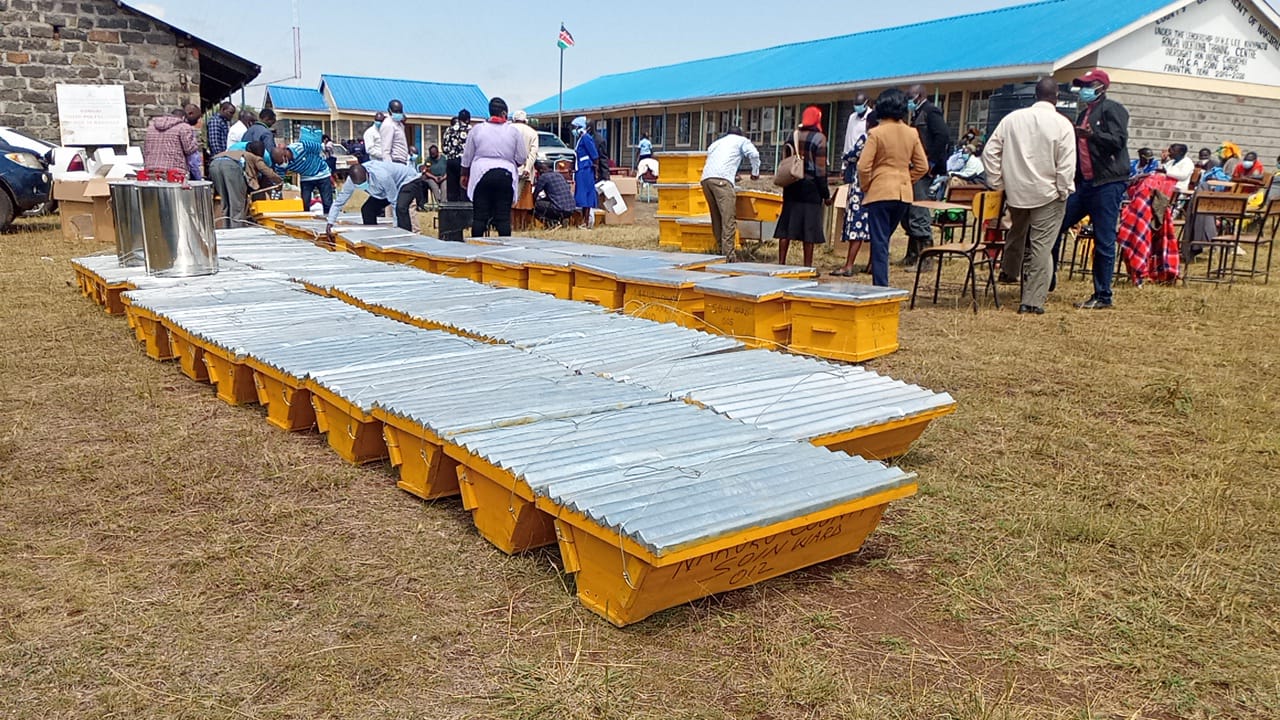 County distributes bee suits in Rongai
BY LELETI JASSOR
More women in Nakuru's Soin ward can now harvest honey without fear of human-animal conflict.
This is after the County Government distributed some 20 bee suits, among other equipment to 18 groups in Rongai sub-county.
Over and above that, the groups can now increase production and locally process their honey after receiving some 64 modern hives (Kenya Top Bar and Langstroth), 4 honey extractors, 11 smokers, 3 solar wax melters, 20 hive tools, and 20 bee brushes.
This is upscale of apiculture farming in the ward, under the Diversification Program launched under the leadership of H. E Governor Lee Kinyanjui, after some 17 groups last year received 73 modern hives.
Ms. Dorcas Kirwa, Chair of Glorious Products group from Losibil farm, said the support from the County Government will help them averse challenges like improper extraction of honey from the combs leading to comb destruction.
The group currently has 20 beehives and has tapped into the digital market to get to their target clients.
Mr. Justus Tanui, Chair of Sweet Bee SHG from Kipsyenan, who started out individually with traditional beehives, encouraged the transition to modern hives and farmers working in groups.
He said, that produce from the modern beehives is higher than the traditional ones and one can harvest two or three times annually increasing their income.
The group now brands its own honey and sells locally and have increased their customer base to other counties.
Spearheading the distribution was County Minister for Agriculture, Dr. Immaculate Maina, who said that, the County is and will train farmers on value addition from bee's waste products.
The county is working on bringing agricultural-based apps at the Rongai Vocational Training Center to boost knowledge-based transfer through ICT.
She was flanked by area MCA, Irene Chebichi, County Livestock Production Officer, Dr. Jane Waititu, and County Bee Expert, Mr. Phillip Owiti among other officials.