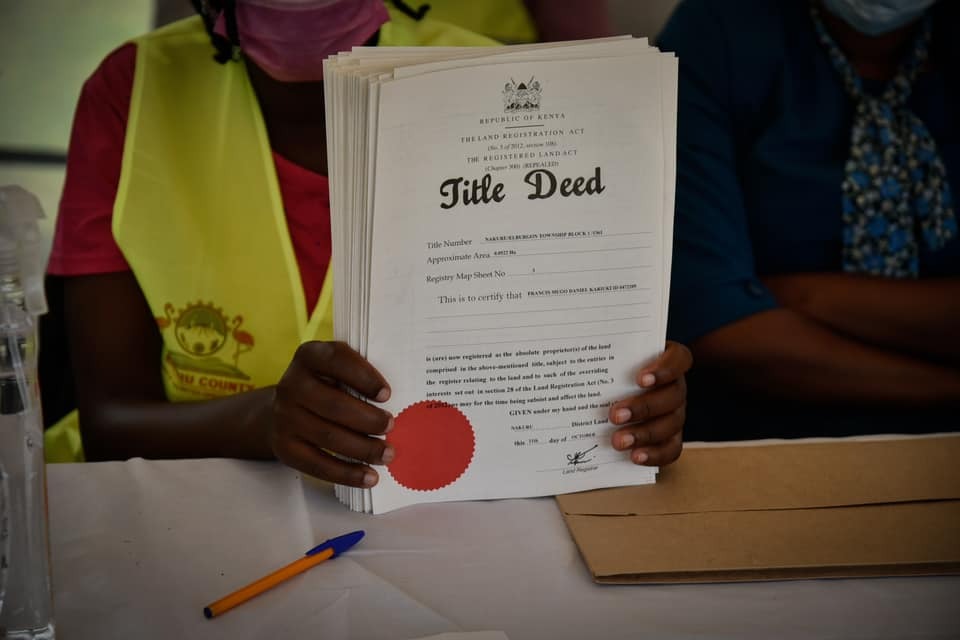 Governor Lee distributes 2891 title deeds in Elburgon
There was celebration in Elburgon Ward two weeks ago when Governor Lee Kinyanjui distributed 2,891 title deeds to residents in the ongoing Nakuru titling program.
The beneficiaries were drawn from Kasarani A & B and Eastleigh all in Elburgon Ward.
Speaking to the beneficiaries, the Governor cautioned those who have yearned for the document for a long time, not to use it as a ticket to dispose-off their land.
"We will institute measures to make sure that the land is protected from arbitrary disposal," he said.
Governor Kinyanjui noted that the County Government has also secured all public utilities across the County to protect it from land grabbers.
Last week, the titling program continued in Maiella Ward, Naivasha Sub-County. The Governor distributed 110 title deeds to plot owners in the Crater Lake trading center.
"For a long time, many landowners across the county have been unable to use their property to access credit and face land disputes because they lack ownership documents. In particular, there have been disputes over ADC land in Ndabibi," the Governor said.
He further stated that his office is working with ADC to identify real beneficiaries with genuine allotment letters and issue them with title deeds within 6 months.
"Maiella is largely cosmopolitan and we emphasize peace especially when land disputes arise," he said.
In the next phase, the title deeds will be issued to residents of Keringet (Kuresoi South) and Kongasis in Gilgil Sub-County.