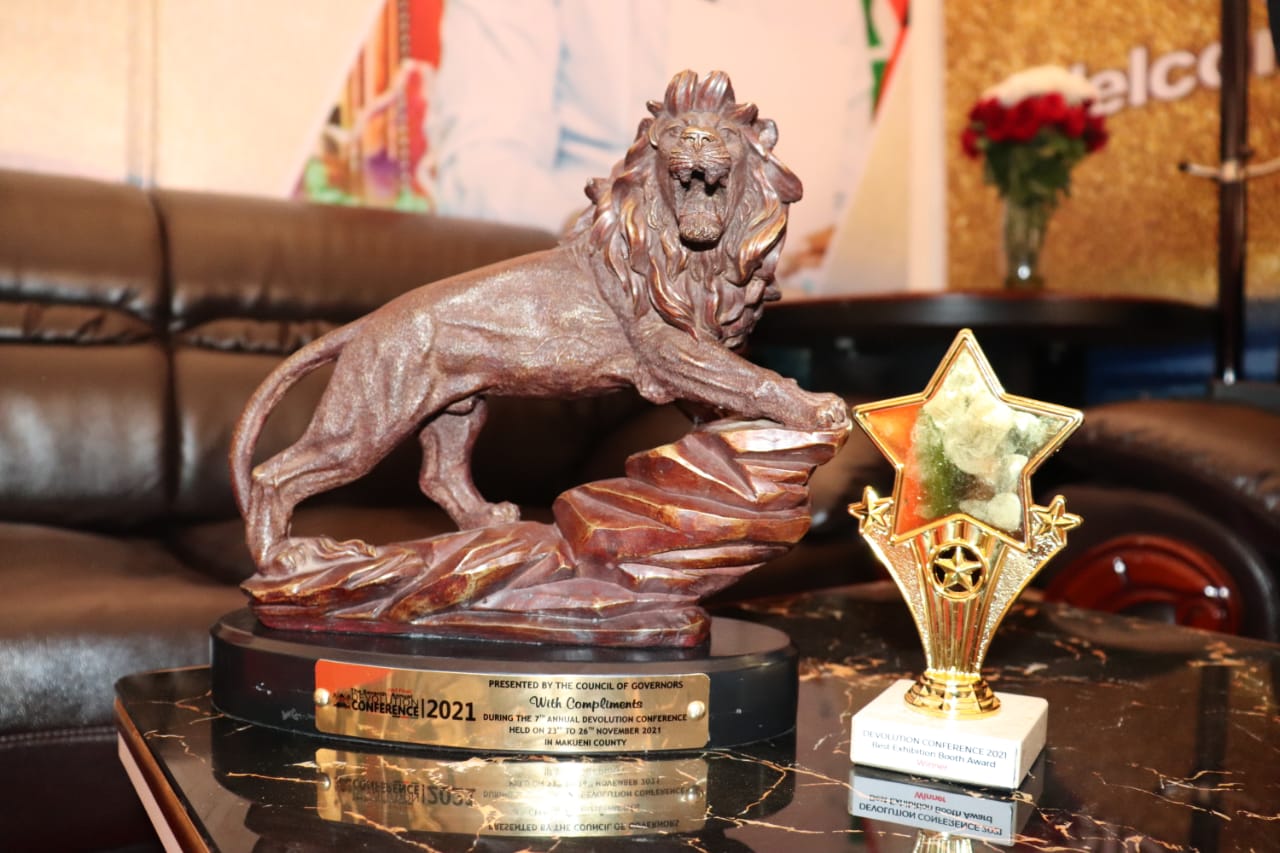 Nakuru County leads in Best Booth Category during DEVCON – Makueni
Leleti Jassor
Nakuru County emerged the winner as the best booth in the just concluded seventh and final annual devolution conference held in Makueni County.
The four-day event whose theme was 'multilevel governance for climate action' and sub-theme 'sub-national mobilization in unlocking the full potential of climate action during and after the pandemic' garnered over 3,000 delegates.
In a communique read by the Vice-Chair of the Council of Governors, H.E. Governor James Ongwae, one of the resolutions stated is that both levels of Government shall design and implement practical policies, strategies, laws, regulations, and action plans to address climate change.
Nakuru County has been at the forefront of taking up climate-smart technologies across all sectors in the face of climatic change.
In Agriculture, the County has dug over 100 farm ponds and distributed dam liners to help farmers in water-harvesting as well as building the capacity of farmers to embrace drought-resistant crops in the cereal value chain.
At the same time, with the upcoming smart market in Naivasha, Karai area, fish and other produce traders will now be able to store their produce in cold rooms to avoid food waste as well as intensive sorting and grading of the waste will be carried out there and in the wet market in Free Area market for recycling and the introduction of Black Soldier Fly (BSF) technology.
In Health, the County has invested in a microwave incinerator and a waste shredder at the Nakuru Level 5 Hospital treating over 250kgs of hazardous waste daily that is thoroughly disinfected, sealed and thereafter shredded into compostable material and sterilized with temperatures of above 100 degrees and later dumped safely at the rehabilitated Gioto dumpsite.
In Environment and Water, the County and its partners have engaged in a project that turns waste into affordable and sustainable energy, making briquettes- a block of compressed charcoal or coal dust used as fuel- from human waste potentially saving 88 trees per tonne of briquettes.
CECM for Public Service Training and Devolution, Ms. Jackline Onsongo said that the award strategically places Nakuru as an investment destination in matters climate and this provides an opportunity for the County to engage more in concentrated climate actions across the sectors.
County Minister for Water and Environment, Eng. Festus Ng'eno noted that H.E. Governor Lee Kinyanjui's administration will continue to, directly and indirectly, contribute to increased forest cover as well as engage in sustainable waste management as showcased in the conference.
The first runners-up were Kitui County while the second runners-up were Kakamega County making a close to the final and annual 7th Devolution conference.
In the subsequent years, the conference will be held Bi-annually.