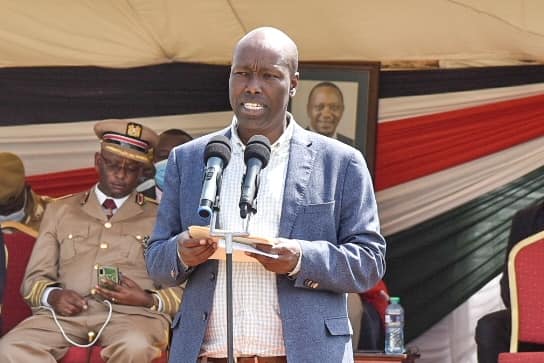 GOVERNOR LEE KINYANJUI ADDRESS DURING MADARAKA DAY, JUNE 1 2022 AT KIAMAINA
Regional Commissioner, Regional Commander, Nakuru County Commissioner, Nakuru County Commander, Nakuru County Staff, and beloved residents of this great County of Nakuru.
It gives me great pleasure to join you today to celebrate the 59th Madaraka Day with you.
Today we celebrate our heroes and heroines whose sacrifice, resilience, and determination earned Kenya independence. On this day, we look back at where we have come from since 1963, the strides we have made, and also the paths we ought to have taken but didn't, but most importantly, look forward to a greater future for our beloved country.
Today we do not celebrate freedom as the right to do as we please, but the opportunity to do what is right.
To do what is right to develop our country and country, to do what is right to improve the economy and living standards of our people, and most importantly this year, to make the right choices politically this year.
Fellow residents,
I am very proud and happy that this is the first Madaraka Day celebration after Nakuru became a city. This is a great milestone for Nakuru County and I am grateful for your support through the process. It was not an easy journey, but we arrived at our destination. The benefits that come with the city are immense. Kiamaina, where we are today, will benefit as a metropolis neighboring the city.
For those who have visited Nakuru CBD recently, you must have witnessed the changes as we embrace the city status.
The construction of Non–Motorized Transport along Kenyatta Avenue in Nakuru town, where cabro work and drainage system is being done, is almost complete.
We believe in a healthy population, hence the NMT will encourage walking around the CBD without pedestrians competing for space with vehicles.
Hundreds of residents now have a place to relax at Nyayo Gardens even as we continue with our greening program along the Section 58- Stem section as well as rehabilitation of Naivasha municipal park.
For a long time, development in Nakuru City has been linear, that is, along Kenyatta Avenue. We started an initiative to expand the town and we are glad that we have seen development extending outside the CBD. In particular, the relocation of bus parks has been a game-changer for businesses and we are working to enhance this.
A city should be able to offer decent and affordable housing to its residents. Through collaboration with the National Government, I am happy to report that the construction of 600 units at Bondeni has started.
The show houses are also complete and we encourage those who want to see what the houses will look like upon completion to visit the site. The project will transform the Bondeni area. Another mega project in the same area is the construction of a new Kshs.600m market, next to the old fire station. These projects will transform the image of Bondeni for good.
Fellow residents,
In June last year we hosted an event that connected Nakuru to the world. The World Rally Championships held in Naivasha was a major boost to the hospitality industry that had been hit by the COVID-19 pandemic and also marketed our county as a preferred destination for tourism.
The event is back again this year and hundreds of WRC fans will flock to Naivasha between 23-26 this month. This will have a very positive impact on our local economy.
With the major ongoing and future projects in Nakuru County, we are confident that we will give rally lovers a better experience this year.
It is my pledge to continue to offer a conducive environment for international sports and investors.
We thank the National Government for such initiatives that are opening up our region to more business thus economic growth.
The completion of the Suswa-Longonot railway line is a game-changer in the region as it has ease the transport of people and cargo.
Other projects include the Inland Container Depot in Maai Mahiu. The Kshs.6.9 billion ICD sits on 1,000 acre piece of land and has capacity to serve 700 trucks at any given time. This translates to business opportunities for our people as the truck drivers and other employees need food, transport and accommodation.
The National Government handed to us the title deed for 50-acre piece of land to ensure Nakuru residents benefit from the ICD.
In collaboration with the Water Ministry, we have projects to supply water to the ICD. Residents along the highway in Naivasha town and Maai Mahiu will benefit from this project.
This is a project that is changing lives for Naivasha residents and we will support and defend it.
We are also happy with the Kshs160 billion Rironi-Mau Summit superhighway project.
A large section of the 233-kilometre highway will be in Nakuru County. The works includes expansion of the road into a four-lane dual carriageway. This will ensure smooth traffic movement between Nakuru and Nairobi.
By cutting the travel time to and from Nairobi by nearly half, the superhighway offers great investment opportunities for our residents from increased land value, real estate, hospitality and agriculture.
Dear residents,
Land is a critical factor in development. As we embrace the mega projects, we are alive to the fact that Nakuru residents need land ownership documents.
We continue to address issues concerning land through the Nakuru County Titling Program in collaboration with the National Government.
We have so far issued 70,000 title deeds across Nakuru County. The program includes issuing the crucial documents to those in informal settlements, with the most recent beneficiaries being those living in Keringet in Kuresoi South, Kongasis and Kasarani Tarabete in Gilgil, Kasarani and Eastleigh in Elburgon, and Crater Lake in Naivasha.
Nakuru County has made deliberate effort to end land disputes that delay issuance of title deeds. We have embraced Alternative Dispute Resolution in solving the cases some of which had lasted in law courts for years.
The COVID-19 pandemic had a great socio-economic impact on society, especially due to measures taken to prevent the spread of the disease. Lockdown and curfew rendered many jobless. This is a concern to all of us as we are witnessing an increase in the number of mental illnesses and suicide.
These and other social problems, have led us to prioritise mental healthcare in our healthcare agenda.
To this end, we recently refurbished the psychiatric wing at Nakuru PGH to accommodate mental health patients. We are also in the process of constructing a Ksh 250 million mental health hospital at Gilgil Sub County hospital which will be the second largest after Mathare hospital.
Currently, Gilgil General and Psychiatric Hospital, which serves as Nairobi's Mathari Hospital annexe, is the oldest and biggest psychiatric unit in Rift Valley.
Fellow residents,
August last year was a sad month for Nakuru. 10 people died after consuming illicit brew in Hodi hodi, Bahati Sub-County. This is the highest ever number of people dying from consuming poisonous brew in Nakuru County.
We are working with relevant security agencies to ensure this does not happen again.
We will fight relentlessly those brewing and selling the poisonous drinks that have caused death, grief to families and rendered many men unproductive. We will not allow our men to turn into zombies. We will work with security agencies to end the brew, and where they show laxity, there is the option of citizen justice.
My administration will also not allow irresponsible sale of alcohol. We have some areas where more than half of the businesses on a street are bars, wine and spirits shops.
Nakuru County will not continue to license merchants of death. Going forward, we will hold public participation before issuing liquor licenses.
We observe that the poisonous brew issue is mostly in urban areas. We rarely hear of such incidences in rural areas where traditional brew is sold, and the brewers are known. Maybe it is time our legislators consider passing laws to legalize traditional brews such as muratina that were previously taken during ceremonies.
Fellow residents,
At this juncture, allow me to talk about our youth. The youth in Nakuru and Kenya at large face challenges which include unemployment and under-employment, recruitment into criminal gangs and drug abuse.
There is also inadequate leisure and recreation facilities for youth talent and skills development, they have limited access to the internet to do online activities. For example, online jobs and online jobs applications.
Youths with special needs lack access to necessary skills to enable them to engage in gainful employment.
Another challenge that we are experiencing in the campaign season is negative political influence where the youth are used by political groups for self-gain.
Nakuru County, in realisation of these challenges has embarked on various programs for the youth.
On matters of health, we have set up a youth friendly treatment centre at the Nakuru Level 5 Hospital (PGH) where the young men and women can access treatment, counselling and other reproductive services in a conducive environment.
On digital matters, my administration has partnered with Stanbic Bank to train over 1,000 youth and women on the basics of e-commerce to operations, marketing, finance and sales as a way of countering Covid-19 disruption.
The program is being conducted in our ICT hubs Rongai, Subukia, Kuresoi South, Shabaab and Menengai East.
The digital training is aimed at enabling the youth take advantage of opportunities online by tapping into the free wifi offered by Nakuru County.
We have high speed wi-fi connectivity in these hubs and also have rolled out connectivity in Kabazi, Molo, Gilgil and Naivasha markets. We have free Wifi at Nyayo Gardens and we will soon roll out connectivity at Section 58 area where we have the greening project.
We recently partnered with the African Center for Women, Information and Communications Technology that seeks to empower young women with various ICT tools.
We are seeking to demystify that one has to get employed in an office to earn a living. Hence, we embarked on a program to support youth groups start businesses, and in the process, earn an income for themselves and expand to create jobs for other young people.
We have allocated Ksh 172 million to support youth economic empowerment programs this financial year. In the previous financial year, we distributed items to help youth groups start businesses. The items include car wash machines, motorcycles, shaving and salon equipment, tents and chairs, among other items.
We are also empowering those in the creative arts industry through training, mainly at the Nakuru Players Theatre where they have opportunities to take part and learn from acclaimed artists such as those behind the production of the Sarafina musical.
Dear residents,
We have been working actively to promote agriculture as an attractive and important business and not an engagement associated with academic failures and retirees.
Through partnerships with organizations such as DanChurchAid Kenya, we have started programs that will empower our youth through entrepreneurship and skills development in agriculture.
We also note that the youth lack capital to either start or expand their businesses. To address this challenge, I assented to the Nakuru Enterprise Fund with a Ksh 1 billion seed fund.
I urge the youth to form groups, identify income-generating activities that they can engage in and apply for the funds so that they can earn an income. We may not be able to address the youth challenge in one day but with the initiatives mentioned earlier, I am optimistic this is a journey that has started on high momentum and will reach out to as many youth as possible.
Our Vocational Training Centers remain another avenue for youth empowerment. We have seen innovators rise from such centers. An example is Samuel Mwangi and Peter Mwangi from Njoro VTC. They have innovated 3 machines; Malkia Incu Brooder, a nanotap(a water purification system) and a multiple vegetable cutter.
Malkia Incu Brooder is both an incubator and an automatic brooder. It is easy to operate because temperature is controlled, the eggs turn automatically and humidity is controlled. The two are earning a living from the sale of the items they innovated and my administration will continue supporting them. We urge the youth to take up courses at the various VTCs.
The youth also need spaces for recreational activities and sports. My administration, through the Directorate of Sports, has rehabilitated stadiums and playing as well as distributed sporting kits and equipment across the country.
To mention but a few, we have rehabilitated St. Theresa Sports Complex at a cost of Kshs 8million, where we constructed basketball, volleyball, netball courts, changing rooms and a perimeter wall. We have also rehabilitated the Molo, Gilgil, Rongai and Bahati Stadia. Playing fields that have been rehabilitated include Site in Viwanda, Kirathimo in Kiamaina, Mwariki in Rhonda, Kamukunji in Biashara ward, Solai, Ndungiri, Kabazi and Kiamunyi Primary schools.
On another level, we are upgrading the Afraha stadium to international standards. I am happy to inform residents that the Kshs.650million upgrade is progressing well.
In Kuresoi South, the construction of the Kshs.120 million Keringet Sports Academy is also on going. These sporting facilities will help nurture talent, especially among our youth.
Fellow residents,
Agriculture remains to be key in our development agenda. My administration has since 2017 supported programs to improve production across sectors for the benefit of farmers.
Our pyrethrum revival program has changed lives and we are encouraged that the conversation has shifted from winning farmers' confidence to them seeking more seedlings. To date, we have distributed 21 million seedlings to farmers.
Currently there are about 4,000 acres under avocado by small scale farmers and another 2,000 acres of macadamia.
Through the department of Agriculture, we will continue to give pyrethrum, avocado and macadamia seedlings to farmers.
Other programs in agriculture include support to dairy farmers through distribution of seven automatic milk ATM machines to seven cooperative societies in Kuresoi North, Molo, Njoro, Bahati, Subukia, Naivasha and Bahati. This will enable them to sell their produce especially in urban areas.
We also launched local (Kienyeji) chicken stimulus project and so far, the County has distributed 144,000 one-month-old chicks and 520 automatic incubators.
We also embarked on a project to boost fish farming. We have restocked 833,000 fingerlings in Lake Naivasha, Lake Solai, 11 dams and 588 fish ponds across Nakuru County.
Fish farming has not only been a source of income for farmers but also offered alternative diet to residents.
For a long time, tens of youth in Naivasha have been selling fish by the roadside where they are exposed to dangers of fast-moving vehicles. The fish they sell is exposed to irregular temperatures and the youth sell raw fish at low prices
Last year, we commissioned the construction of the Naivasha Smart Fish Market in Karai area on the Nairobi-Nakuru highway. The market will encourage value addition as it will have restaurants that will cook the fish and offer opportunities to package or make fillets. This means they will sell the final product at a higher price.
The first phase, which is almost complete, costs Kshs.80 million and will accommodate 100 traders. It will adopt green energy to reduce running cost by using solarpower and rain water will be harvested for use.
Fellow residents,
Allow me to mention that my administration, through the Department of Trade, has been constructing markets across sub-counties. So far, we have over 70 new markets across the county.
I also wish to note the challenges in the potato farming sector. The Irish Potato Regulations 2019 is helping solve some of the problems by ensuring registration of growers, collection centres and setting the 50-kgs packaging rule.
The biggest challenge is pricing. Together with the Ministry of Agriculture we are working to solve this challenge. We started with construction of cold stores to help farmers store their produce instead of selling at throwaway prices during glut.
We have constructed two potato cold storage at Mauche in Njoro Sub-County and at Keringet, Kuresoi South sub County.
We urge farmers, through their cooperatives, to store their produce in the cold stores during the glut as they source for markets or wait until the prices stabilize.
Water has been a challenge across Nakuru County. We have been working to drill and equip boreholes to supply water in wards across the county. To date, we have undertaken 418 water projects across the county including drilling of boreholes, piping, and construction of water tanks.
Piping has already been done in Kabarak and Kampi ya Moto to supply 6,000 cubic meters to residents in upper Kiamunyi. Nakuru County Government, in collaboration with the Ministry of Water, has drilled three boreholes under the Kerma Water Project and done 7.5 kilometer piping to supply water to serve residents in lower Kiamunyi area.
Fellow residents,
Good roads are critical in ensuring farm produce reaches markets. Improved road infrastructure also brings about development. This is why the County Government of Nakuru continues to improve infrastructure and roads in rural areas under our Boresha Barabara program.
Since we launched the program in 2018 we have been able to do grading and murraming of 6,400 km across Nakuru County.
We also launched the second set of new road improvement equipment worth Ksh 157 million to boost our Boresha Barabara initiative. They included a dozer, two graders, two tippers, one buckhoe and a prime mover.
The equipment added to others that we acquired in 2019 at a cost of Kshs202 million.
We continue to tarmac roads, especially in our urban centres to improve access to markets as well as improve drainage. So far we have tarmarcked 27 roads. Some of the roads that we have tarmacked include: Bahati Centre road, Kaloleni Road in Molo Ward, Kampi ya Moto stage-Market- Rajuera dispensary road in Visoi Ward and Keringet Market Road in Keringet Ward.
Other roads include Elburgon Hospital Road in Elburgon Ward, Kabachia Road in Biashara Ward, New Birth Church Road in Racetrack Estate-Flamingo Ward, Sewage Road in Rhoda Ward, Rafiki Road in Soin Ward, Kabazi Centre – Hospital Road in Kabazi Ward and Molo Shop Frontage road.
We will continue to improve road networks within our jurisdiction and also lobby for those under national government to be rehabilitated. I am glad that works on the KITI-Murunyu road as well as Njoro-Molo road have started. There is good progress in the tarmacking of the Mercy Njeri-Mangu-Rongai road.
Fellow residents,
Health remains our key priority, especially with the dynamics of COVID-19.
Oxygen has proved to be key in saving lives in severe cases of the COVID-19. This is why my administration is constructing an oxygen plant at the Nakuru Level 5 Hospital last year.
The facility will help us produce adequate oxygen to our health facilities, both public and private, in Nakuru and neighbouring counties.
On cancer treatment and care, we are happy that the first radiotherapy session took place a week ago. The radiotherapy center will complement services offered at the Nakuru Oncology clinic which we opened in 2018.
It will also ease the burden of cancer patients who have to travel to Nairobi for radiotherapy treatment.
I am happy that our agenda to bring healthcare services closer to the people is on course. We have constructed level 4 hospitals in Naivasha, Maai Mahiu, Gilgil, Molo, Elburgon, Njoro, Olenguruone and Bahati. We also have a new Outpatient Unit at PGH. Most of the hospitals are nearing completion and we will commission them for residents to access medical care closer to them.
I thank our medical staff for their continued selfless work to improve the quality of healthcare provision across the county.
We have ensured a steady supply of medicine and other medical supplies in our health facilities by ensuring we do not have a debt with KEMSA.
Fellow residents,
As I conclude, allow me to mention that peace is critical for development. I stand for peace and I urge all leaders to live their talk on having a peaceful and united Kenya. During this campaign period, we should look at the bigger picture of a united country as we all thrive when there is peace.
We should exercise tolerance and allow all leaders to campaign in all regions. They will come to your area, campaign and leave. You, as the voter, hold the ultimate card, your voter's card and you will make the decision in the ballot box.
Also, as we listen and evaluate leaders, it is my humble observation that the 2022 campaign should be about the work a leader has done for the people. These include life-transforming projects, and if you are an MP or Senator, the bills you sponsored on the floor of the House to benefit the people.
As I had mentioned earlier, we have freedom to choose. I urge you to choose wisely.
As the Governor of Nakuru County, I remain committed in my quest to achieve the very best for the people of Nakuru County.
We have walked the journey of development for the last five years and I look forward to continuing this journey with your support. I foresee greater days ahead for Nakuru County.
Thank you and God bless Nakuru, God bless Kenya.