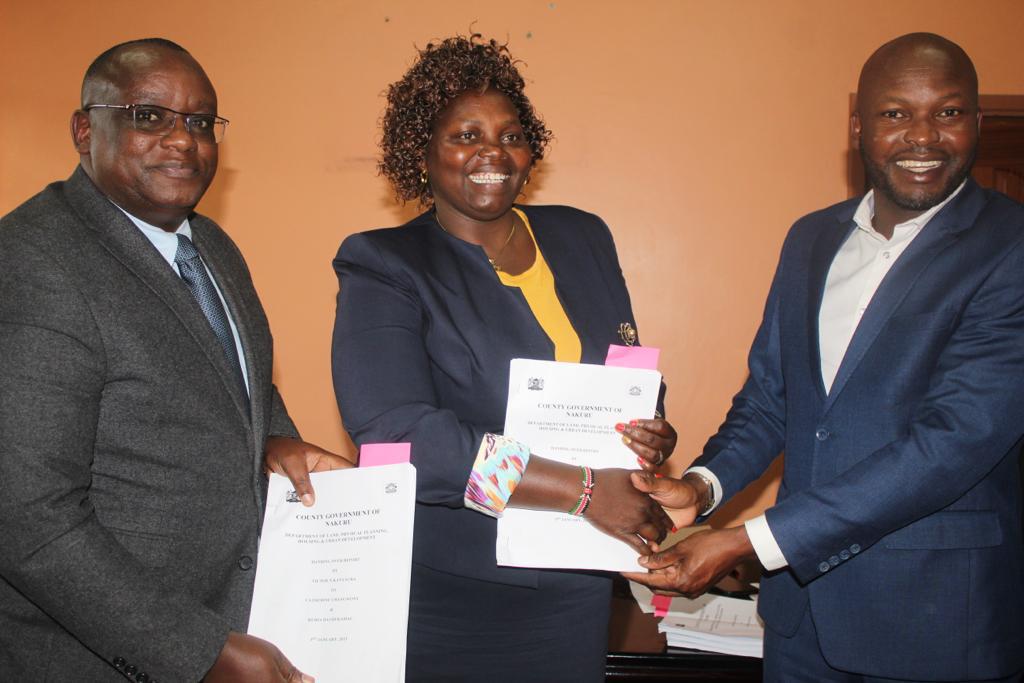 Handing over at the Department of Lands, Physical Planning, Housing & Urban Development
By Nancy Kihara
The Lands, Physical Planning, Housing and Urban Development CECM Hon John Kihagi together with other officers from the department today welcomed the newly appointed Chief Officers, Catherine Changwony and David Kamau Kuria in charge of Land & Physical Planning and Housing & Urban Development respectively.
While handing over the department, Mr Victor Ndereba who was the Ag Chief Officer for Lands and Physical Planning assured the new Chief Officers of teamwork and cooperation from the Departmental staff.
Speaking during the brief event, Chief officer Kamau Kuria thanked the Governor for the opportunity given to work in her government, pledging to work together with the stakeholders to fulfil the governor's manifesto and to promote efficient and optimal land use through physical planning, efficient land administration and sustainable use of the land resource.
Ms Catherine also assured the members that she is a team player who is ready to bring the potential of villages into Urban Centers through the Urban planning department which will in turn increase the revenue base of the county.
Also present was City Manager Gitau Thabanja, Director for Lands & Physical planning Maina, Director for Land & Physical Planning Mr Kiprono and Staff members.