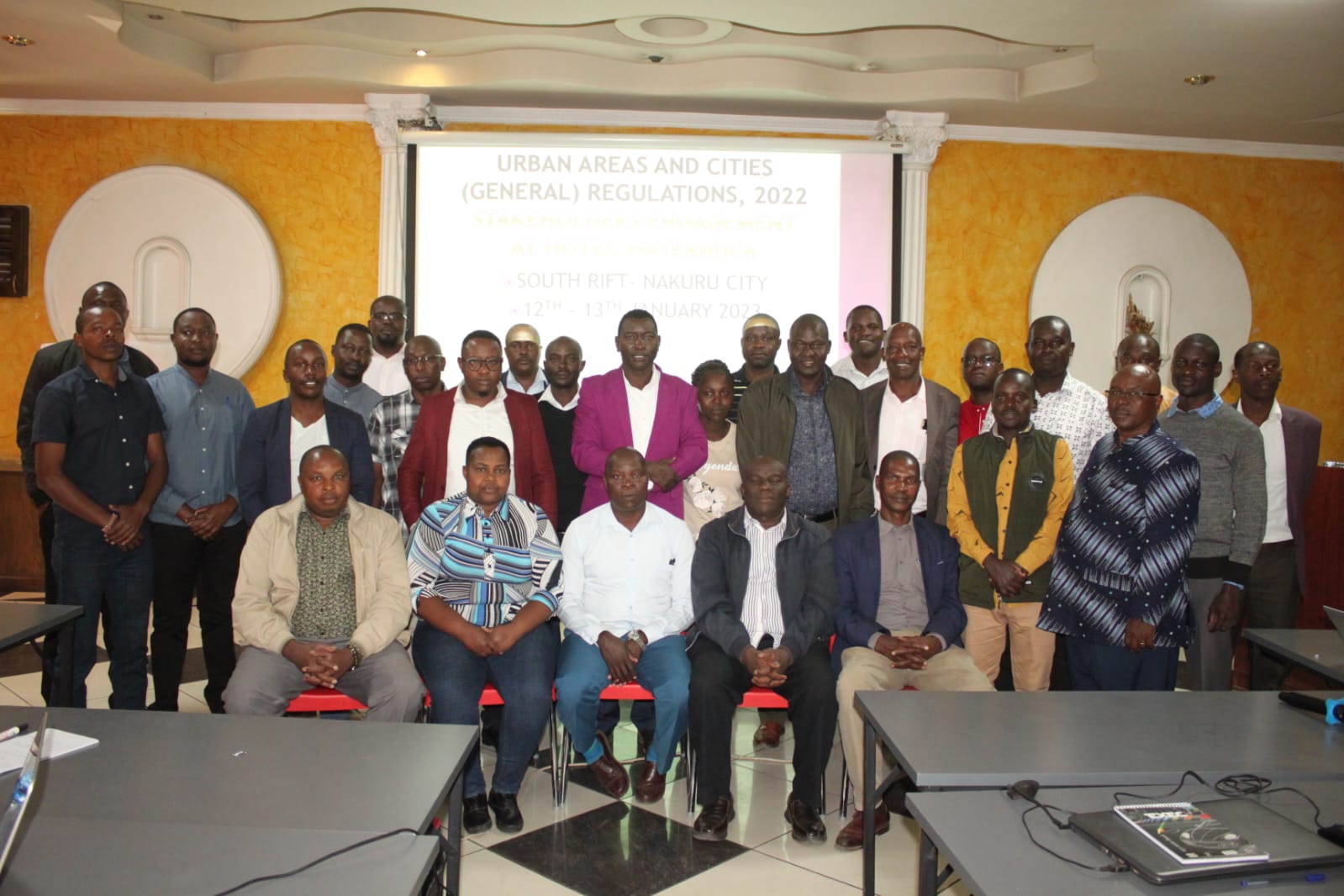 Stakeholders engagement workshop to review draft Urban Areas and Cities Regulations 2022
Written by Nancy Naholi
Nakuru City has joined other municipalities and urban areas on a two-day stakeholder engagement workshop to review the draft Urban Areas and Cities Regulations 2022.
The workshop which is being facilitated by the State Department of Housing and Urban Development seeks to gather insights and recommendations from the counties on the proposed Amendment to the Regulations.
The regulations will strengthen and provide guidance on urban governance and development.
Urban Areas and Cities Act (UACA) describes the criteria for classifying urban areas and cities, and the threshold for an urban area to be conferred city, municipal and town status.
The Act equally outlines the governance structure for urban areas which are managed by Boards of cities and municipalities and the creation of integrated development plans for cities and municipalities.
During the workshop, members were taken through the regulations highlighting key issues provided for in the Act that would help streamline operations within their localities.
Some of the issues outlined include accreditation of neighbourhood associations, citizen fora engagement, delivery of service, delineation of the boundaries of urban areas or cities, objections to partnerships and joint ventures by residents as well as integrated urban planning and development control among others.
Further, it highlighted the savings and transition as provided for in the Act, clause (46) which gave an avenue for members to share insights and experiences on matters of transition, change of management and as well as management of resources.
The consultative workshop equally outlined key amendments and capacity gaps that need addressing, in order to ensure development is planned and implemented in a sustainable way.
Speaking during the workshop the City Manager Mr Gitau Thabanja commended the state department for organizing the workshop and called for collaboration and cooperation between the urban areas for successful and sustainable delivery of service.
"The joint effort is a remarkable move that will see cities, municipalities and towns understand actions that are needed to establish local best solutions to improve governance," he noted
Also joining the workshop were officials from the State Department of Housing and Urban Development, representatives from Kenya Law Reform Commission and officials from Bomet County, Bomet municipality, Kericho municipality, Naivasha Municipality, Nyandarua County, Ol'kalau municipality and Nakuru county, Department of Land Housing and Physical Planning.