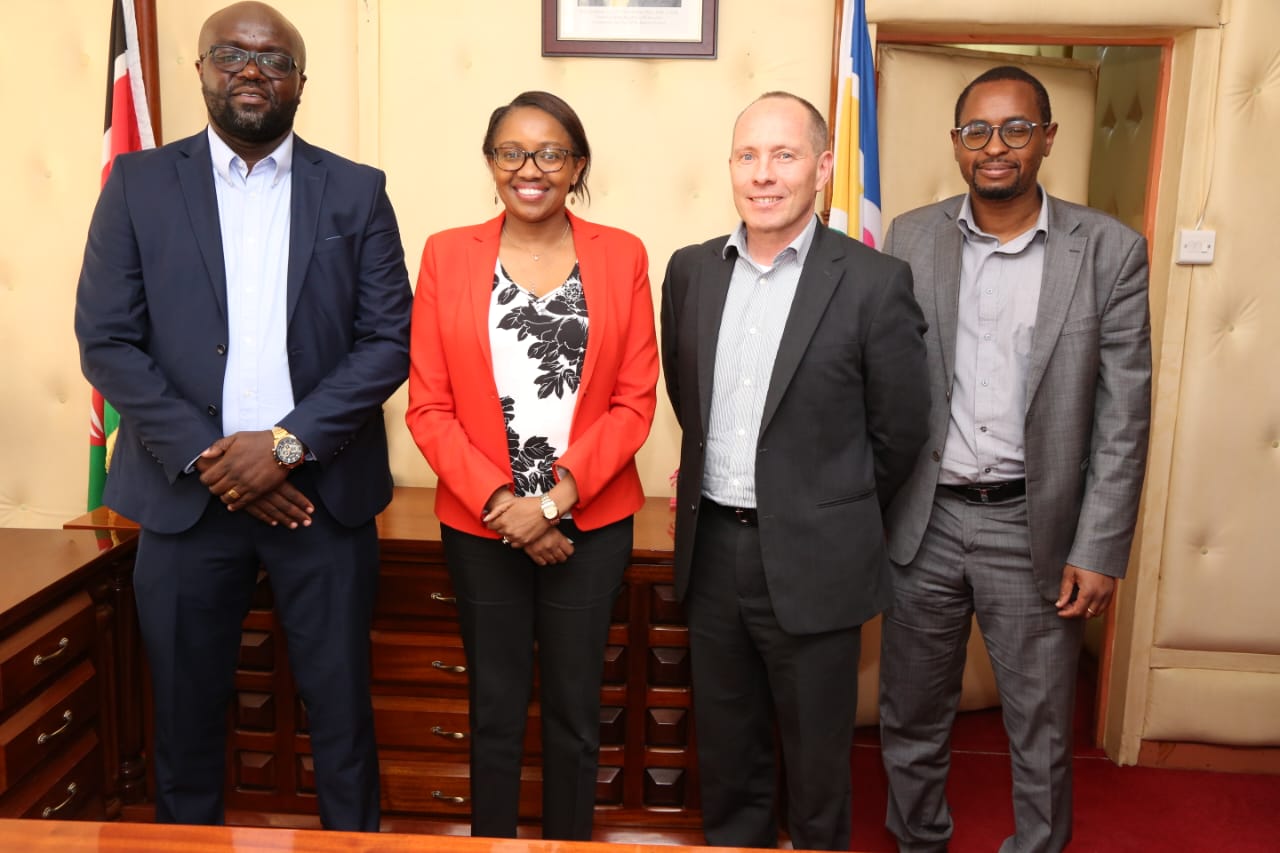 Plans are underway to set up a pyrethrum factory in Nakuru County
Plans are underway to set up a pyrethrum factory in Nakuru County by the end of the year.
To lay a mark on her mission to restore pyrethrum farming as the main cash crop for farmers in Nakuru County, Governor Susan Kihika instructed her team to facilitate Kentegra Ltd with requisite approvals to expedite the construction of the factory in Naivasha.
"I am instructing my officials to ensure that you get the necessary approvals you require to help you start construction of the factory," she said in her office as she hosted a delegation of Kentegra Ltd management who paid her a courtesy call.
Kentegra's delegation comprised company chief executive officer, Mr Brian McKenzie, chief finance officer, Mr John Mucheru and head of field operations, Mr Micah Thuo.
Referring to the past glory of pyrethrum farming, Governor Kihika said: "I want to be a big champion of pyrethrum. Pyrethrum was the main money maker in the past. I don't know where we lost it but I am more convinced that we can make it our main cash crop and best money maker, again."
Mr McKenzie had revealed that the company had acquired a four-acre piece of land in Naivasha where they were planning to put up a factory to process pyrethrum flowers before exporting the product to the international market. He requested the Governor to assist with the change of use of the land application and other approvals.
"We have acquired four acres of land in Naivasha where we intend to set up the factory. We seek your assistance with approvals," he said during the courtesy call.
Kentegra, a Nairobi-based US-Kenyan company which came in following the liberalization of pyrethrum farming five years ago, contracts farmers, provides them with seedlings, and fertilizer and buys dried flowers from farmers for processing and selling to international companies manufacturing insecticide. Kentegra operates in eight counties with Nakuru as the top producer of dried flowers.
It's contracted a total of 7,400 farmers in Nakuru with a total acreage of 1,500. It trains farmers in pyrethrum production, water harvesting, kitchen farming, and financial literacy and organizes them in small groups to access credit.
Governor Kihika has scheduled meetings with Members of the County Assembly (MCAs), Sub-county and Ward administrators to enlighten them on the need to mobilize farmers to embrace pyrethrum farming. The intention, she said, is to increase the acreage under pyrethrum farming.
 "If we focus on getting 200 acres in each constituency under pyrethrum farming, we can make to get our farmers that they have to sign up for pyrethrum farming. To make this more practical, we need to get contracted pyrethrum farmers to come out and talk about the benefits of pyrethrum farming," the Governor said.
The Governor who was accompanied by County Executive Members (CECs) Mr Leonard Bor (Agriculture) and Mr Stephen Kuria (Trade) and Chief of Staff, Dr Peter Ketyenya has been assured of a ready market for pyrethrum by Mr McKenzie and his team.
Said Mr Thuo: "We contract farmers knowing that we have a very reliable market out there. We assure them of Minimum Guaranteed Returns and we buy the py content (pyrethrum content) at upto Sh300 per kilogram."
Mr McKenzie, emphasizing the economic benefits of pyrethrum farmers, revealed that last year, farmers in Nakuru County earned a total of Sh73 million from the crop. "And this is only from 1,500 acres of land," he said, stating that Kenya accounts for less than 10 per cent of the pyrethrum on the international market.
Governor Kihika pledged to work with Kentegra Ltd and other similar partners in the promotion of pyrethrum farming, stating that the revival of Agriculture was a key pillar in her manifesto. She said the crop will provide employment to hundreds of unemployed youth in the County.