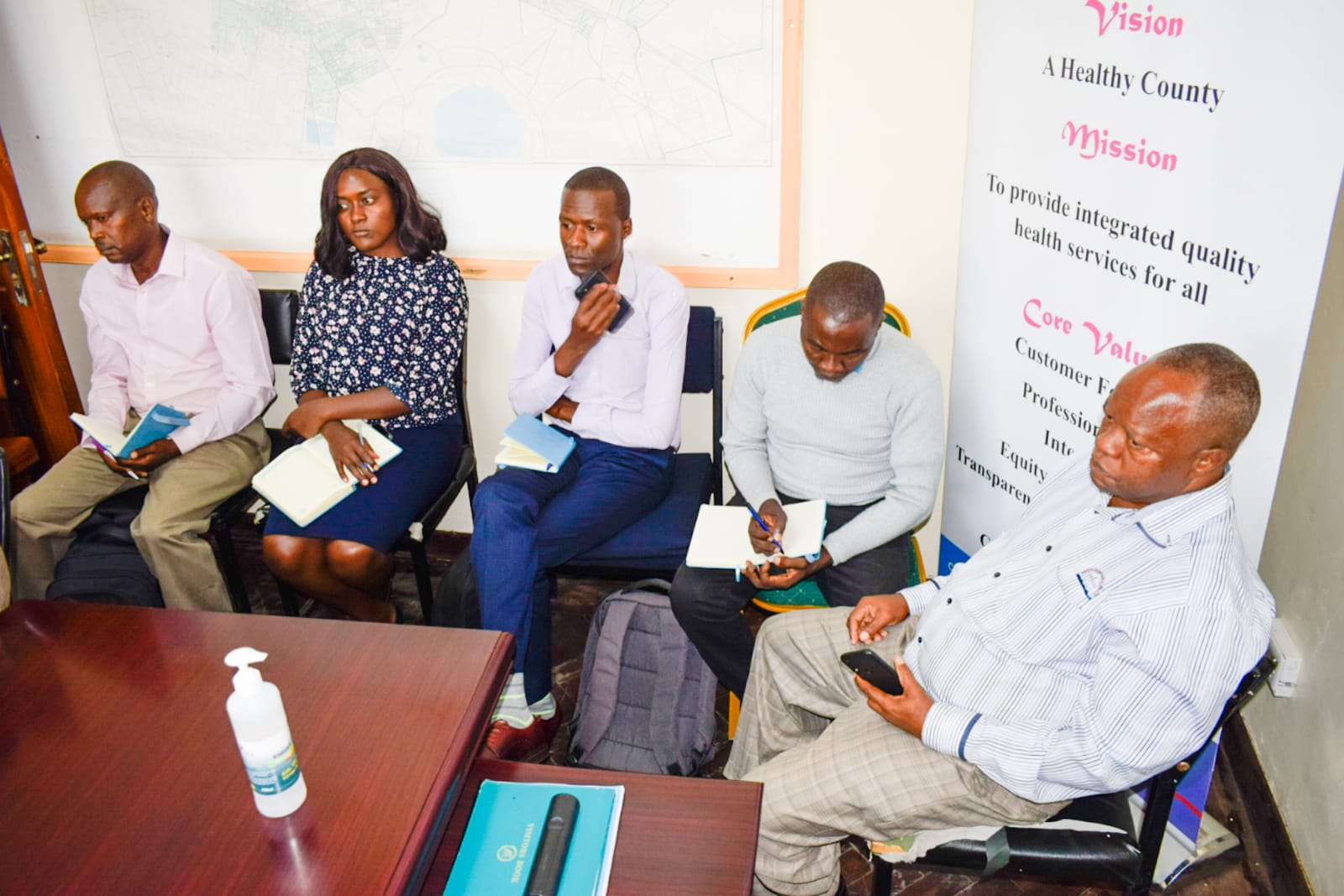 Nakuru vetted best in Successful implementation of Event-based Surveillance-EBS
Written by Ruth Magak
The County's Department of Health Services has demonstrated a successful implementation of Event-based Surveillance – EBS, under the Global Health Security – GHS Project through the Ministry of Health. EBS has been implemented in Nakuru at different levels namely the Hospital Event-Based Surveillance-HEBS and the Community Event-Based Surveillance-CEBS since 2019.
Nakuru County has a functional Public Emergency Operation Centre that has heightened disease surveillance and response within the County. The County uses a digital platform dubbed "M-dharura" to report non-structured information (signals) that often lead to disease outbreaks and events that may cause public health threats.
A delegation from ICAP Global Health, Centers for International Programs at Columbia University, and Disease surveillance teams from Mombasa, and Nairobi Counties paid a courtesy call to the Chief Officer for Public Health Services, Ms Alice Abuki ahead of their 2-day benchmarking tour in Nakuru.
The team will visit the County Referral and Teaching Hospital and selected Community Units that have been actively reporting signals and leading in response to the reported events.
The Chief Officer, Ms Alice Abuki noted that the County has embraced such exchange programs that create an opportunity for different counties and stakeholders to share their best practices and get a first-hand learning experience.
County Director for Public Health Services, Ms Elizabeth Kiptoo alluded that Nakuru takes pride in the functional Public Health Emergency Center-PHEOC that monitors real-time signals, verifies, and actions responses in real-time. The Disease Surveillance teams have adopted digitization which has enabled them to hold weekly reviews of the EBS activities virtually.
"The PHEOC Team assesses the EBS Dashboard daily to ensure that all reported signals have been responded to. We also have Surveillance champions across the County that help fast-track response to any events that cause Public Health threats", she noted.
Nakuru County has an exclusive Community Health Services Structure with over 3000 Community Health Volunteers-CHVs who play a key role in CEBS and surveillance in both health-related and non-health-related events.
The Community Structure ultimately escalates the response to Public Health threats in real-time. The Department of Health has adopted a performance-based awards strategy to motivate CHVs and the champions in the implementation of the EBS.