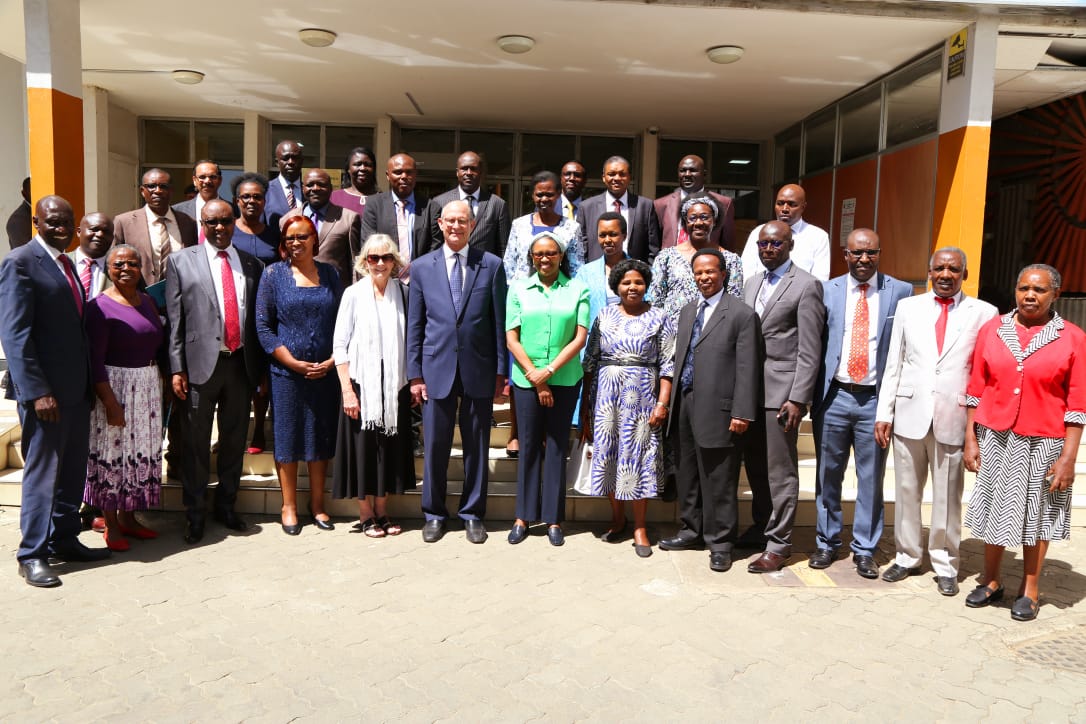 Governor Kihika urges Health Department to focus on improving maternity Wards
Nakuru Governor H.E. Susan Kihika has called for more funds to buy maternity beds and linen in all maternity wards in the County.
Governor Kihika lamented that more funds were being used for capacity-building programs while the majority of the hospitals lacked adequate beds and linen, making it difficult to improve the figures of mothers delivering in hospitals.
"Maternity beds and linen in all hospitals are my priority. If you move around our hospitals, you'll be surprised to find three or four maternity beds. I want money directed to hospitals to buy maternity beds. We want our mothers to have dignity in giving birth," she said.
Governor Kihika spoke as she hosted a National Government delegation from the Ministries of Health and National Treasury who were accompanied by representatives from the World Bank and the Danish Development Agency (Danida) who are the drivers of the Transforming Health Systems for Universal Health Care (THS-UHC) project.
The THS-UHC is a project which focuses on transforming and improving primary health care in all 47 counties with a focus on reproductive health, maternal health and neonatal care. Danida chips in the project by financing Level 2 and Level 3 health facilities in all counties. The National Government has proposed merging the two projects for better implementation and focus.
Dr Nancy Etiang led the team from the Ministry of Health who serves as the Project Coordinator for THS-UHC and as deputy project manager of the Danida project. She was accompanied by the World Bank's team leader on the project, Ms Jane Chuma and Mr Steen Larsen, a financial advisor at the Danish Embassy in Kenya.
Dr Etiang revealed that the while the two projects will come to end in September this year, Nakuru County had in its account Sh53 million which needs to be spent before the project winds up. Governor Kihika assured the team that the money would be utilized to increase the number of beds, linen and other facilities in hospitals across the County.
"We will make sure the money is utilized very well. I have been seeing people in hotels doing capacity building here and there. That is not what I want to see when our hospitals lack maternity beds. We want to ensure that our maternity hospitals have maternity beds," she said.
Governor Kihika assured the delegation, who paid her a courtesy call before embarking on a tour of health facilities in the County, that her administration was committed to investing in health facilities in the County.
"Health is one of our major priorities because, without a healthy population, investments in other areas will not work. You can tell this from the number of resources we have allocated for health services.  I am glad that your focus is on primary health care because that is where we have a major challenge," she said.
Dr Etiang and Mr Larsen praised Nakuru County for positing high absorption rates for finances from the project and for rating very highly in health standards.
"We have inspected your facilities and they meet standards as set by the project team," said Dr Etiang.
She said that funds. Approximately Ksh1 billion, which was not released last year under the Danida project will be given out by June this year to all counties.
Governor Kihika assured the team that the County will provide counter-funding as required under the Danida project. Nakuru County last year received Sh11 million under the project. Level 1 hospitals (Communal Health facilities) received Sh4.2 million during the same period, Mr Larsen said.