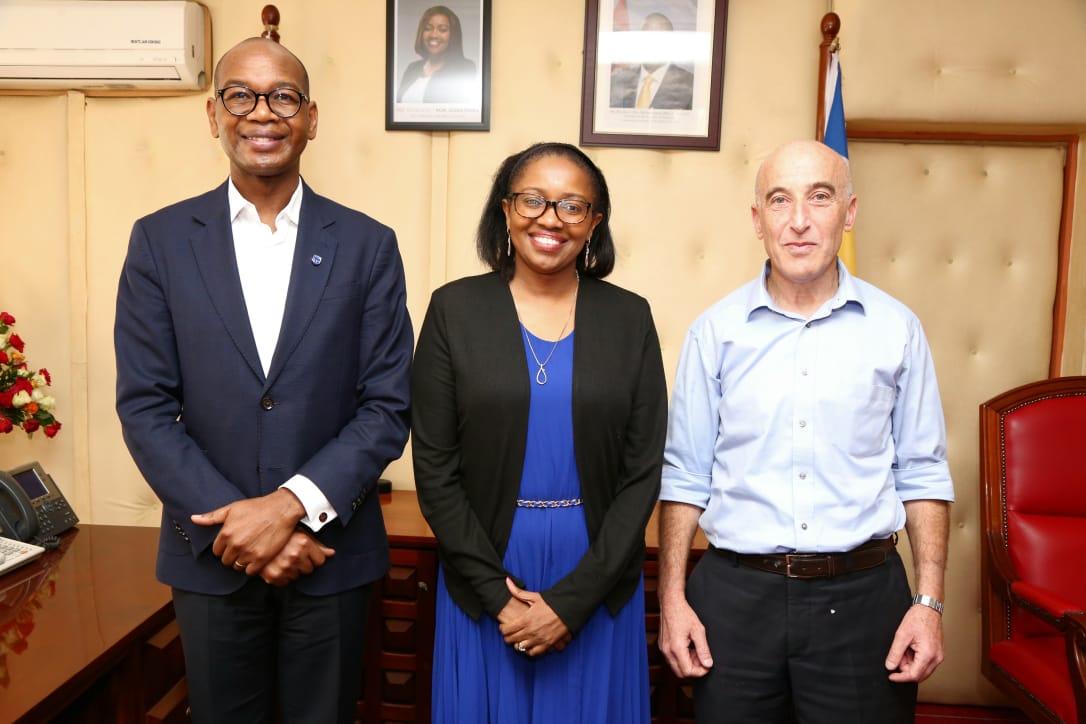 Residents set to reap big as county explores partnership opportunities with Israel
Nakuru Governor H.E. Susan Kihika has today urged the Israeli Government and Stanbic Bank to set up a potato factory in the County for the benefit of farmers.
Governor Kihika, at the same time, agreed with the Israeli Ambassador to Kenya, Mr Michael Lotem to send experts from Israel to explore the possibility of purifying water from the four lakes in the County to increase water supply and serve irrigation farming.
Teams of experts will also be sent to Nakuru to explore areas of cooperation in the health sector, agriculture and trade in an effort to boost the economy of the County.
"We would like to have a potato factory constructed here in Nakuru as part of efforts to add value to our agricultural products and provide employment for thousands of youth. Nakuru can actually act as a catchment area because our neighbouring counties are also producers of potatoes," she said.
Governor Kihika spoke as she hosted Mr Lotem and Stanbic Bank chief executive officer, Mr Joshua Oigara with their delegation at the Nakuru County Headquarters today morning. The Government of Israel and Stanbic Bank are working on a joint program for Nakuru County that will increase agricultural production, expedite agro-processing and value addition to farm products, help small-scale business traders to access grants and training and modernize health facilities in the County.
A memorandum of understanding was signed last year between Israel, Stanbic Bank and Nakuru County which seeks to empower Small and Medium Enterprises, support cancer screening and treatment in county hospitals, train women and youth in ICT and provide aggregation and cooling centres in sub-counties to support agriculture.
"There is knowledge and technology represented by my friend here (Israeli ambassador). For us, our role is to bring in finances. What we have to work on is how we can quickly scale up and get it done," said Mr Oigara.
A technical team from both sides was set up to work on modalities that will see Nakuru County benefit from the Israeli knowledge and technology in health and agricultural sectors while Stanbic Bank provides affordable funds.
Governor Kihika said 5,000 acres of land have been set aside in Egerton for a Business Park and the county was seeking investors to invest in an agro-processing plant, cold stores and factories.
"We are trying to attract investors to make use of this land so that we can make a difference with our agriculture," she said reminding Ambassador Lotem and Mr Oigara that Egerton University, the country's premier higher institution specializing in agricultural research and innovation is located in the neighbourhood of the proposed park.
The Governor said the County administration was encouraging farmers to form cooperatives which would make it easier to access funds and acquisition of technology for the members. Currently, the county has more than 5,000 cooperatives.
Ambassador Lotem described Nakuru as a giant in agriculture and said an ecosystem of knowledge, technology and financing can unlock the potential of the county.
"We are interested in social development and with knowledge, technology and banks, you have the whole ecosystem. If you want to build an ecosystem of developers, we are your partners," he said.
Mr Oigara said Stanbic had record success with the Catalytic Fund which was giving loans to business people affected by Covid-19 at zero interest rates and promised they were ready to broaden it to include medium enterprises.
"We have a fund which we hope is going to catalyze trade in this county," he said.
Governor Kihika urged Ambassador Lotem to increase the number of slots for Nakuru in their program where students are taken to Israeli for an 11-month study in agriculture. She argued that lack of knowledge and technology was one of the reasons the county was yet to fulfil its potential as an agricultural giant.
In response, Ambassador Lotem said they will change the method of selecting beneficiaries of the program from universities to a regional basis and hoped that Nakuru will get more slots. She promised to link Governor Kihika to various universities in Israel offering the course for more opportunities.
He further said they will send a team of Israeli experts to Nakuru in the next two weeks to assess the technological needs in the health sector and how they can collaborate to modernize medical services in the county.
"We have a medical company which wants to do a big project in Nakuru involving medical technology and innovation. They can come here next week," he said.
Still, he promised to invite experts from Israel to explore opportunities for desalinating salty water from Lakes Naivasha, Elementaita, Nakuru and Solai for farming. He said even sewerage water can be purified to be used in irrigation and the manufacture of fertilizer.
"We can decide to go with a pilot project with your sewerage to purify water and collect sewerage for the manufacture of fertilizer. I have one businessman ready to come to Kenya," he said.
Ambassador Lotem also promised to link up the county with the Israeli company behind the Galana Irrigation scheme. "You can start a mini Galana here in Nakuru," he said.
Governor Kihika requested Mr Oigara to work out modalities for providing a fund which will enable boda boda riders to access motorbikes and pay back at least Sh100 per day. In response, Mr Oigara said they were in partnership with Mastercard Foundation and GIZ, a German foundation, to finance such start-ups.