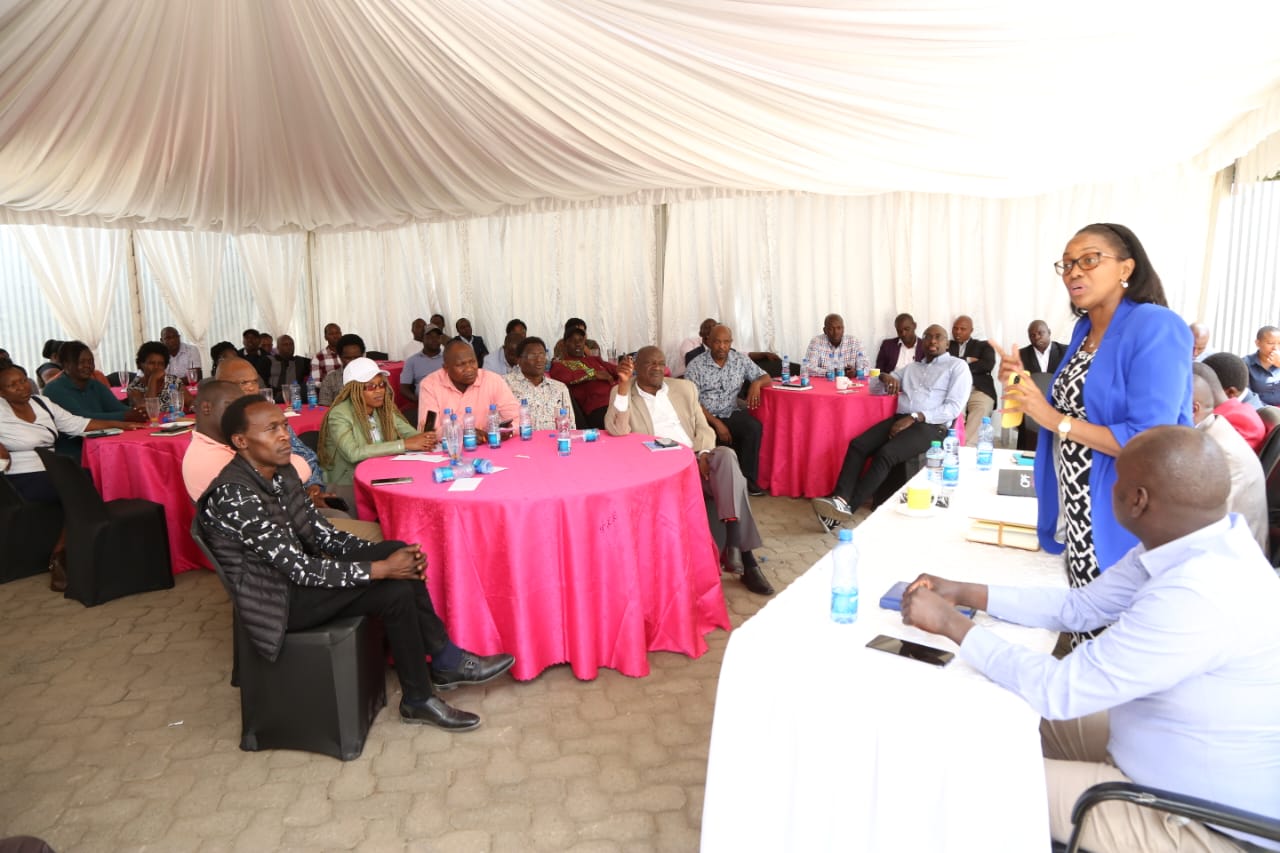 Governor urges MCAs to promote pyrethrum growing in their areas
Nakuru County Governor today roped Members of the County Assembly in her mission to popularize pyrethrum as the area's poster crop in commercial farming.
Governor Kihika, in a meeting with MCAs, whipped them to take the lead in rallying farmers in their respective wards to start growing pyrethrum as a means of earning income to alleviate levels of poverty in the area.
To push a notch higher her crusade to restore the crop which in the past was a major income driver for farmers, she brought along a manager from Kentegra Ltd, a US-Kenya private firm dealing with pyrethrum, to help pitch the benefits of pyrethrum farming.
"You know that am determined in my mission to ensure that as many farmers as possible in Nakuru start growing pyrethrum. I know that most of the farmers have been hesitant because they argue that they can grow pyrethrum but won't be paid. Today I have someone here who is going to help you understand the benefits of our people growing pyrethrum," she said.
Mr Micah Thuo, Kentegra's head of field operations, said the company engaged in pyrethrum farming five years ago and operates on the model of contracting farmers who are provided with seeds/seedlings, fertilizer and buys dried flowers for processing at its factory in Athi River. The processed py is then sold to international companies manufacturing insecticides. Even though the company operates in eight counties countrywide, its focal point was Nakuru.
"Nakuru has the correct soil, has the right weather and farmers who have grown pyrethrum in the past. Nakuru is known as the home of pyrethrum in Kenya. Currently, we are buying" he said.
To show how Kenya had lost its share of the market in pyrethrum exports, he said a decade ago, the country used to account for 80 per cent of all pyrethrum bought by international companies but was now only accounting for five per cent.
Mr Thuo said Kentegra was planning to increase the acreage under pyrethrum farming in the country to 18,000 and challenged the MCAs to support the Governor in her bid to restore the crop as the main income generator in the County.
"We want to increase land under pyrethrum farming to 18,000.  Nakuru can take a bigger share of this acreage and this is the reason I am asking you to support the County leadership to talk to farmers about growing pyrethrum," he said.
Mr Thuo assured the MCAs that Kentegra pays farmers five days after delivery of dried flowers and added that they have funds that can last until. One kilogram of pyrethrum, he said ranges from Kshs240 to Kshs350 depending on the quality of the dried flowers. "Companies buying from us have given us money to buy flowers from farmers up to the year 2025 but what we don't have is pyrethrum. We pay our farmers within five days and you can ask them on the ground to confirm. We are barely scratching the surface," he said.
He said Kentegra, apart from the factory at Athi River, had acquired land in Naivasha to put up a second factory in Nakuru County, a testament that they were in the pyrethrum business for years to come. He also said they have invested in a research and development facility at Turi in Nakuru County to upgrade farming methods.
"We have plans to build a factory in Nakuru before the end of the year to process pyrethrum here and employ youths. We have set up a 100-acre farm of pyrethrum here in Lanet where all of you can visit and see what is happening there," he said.
Governor Kihika said they will work with locals in the county to ensure that parcels of land which had been set aside for pyrethrum farming in the past are reclaimed for growing the crop. She promised to work with MCAs to ensure that 10,000 acres of land in Nakuru is placed under pyrethrum farming.
"We should always lead in pyrethrum growing in the country. We can do at least 10,000 acres here in Nakuru if we convince our farmers of its viability," she said.