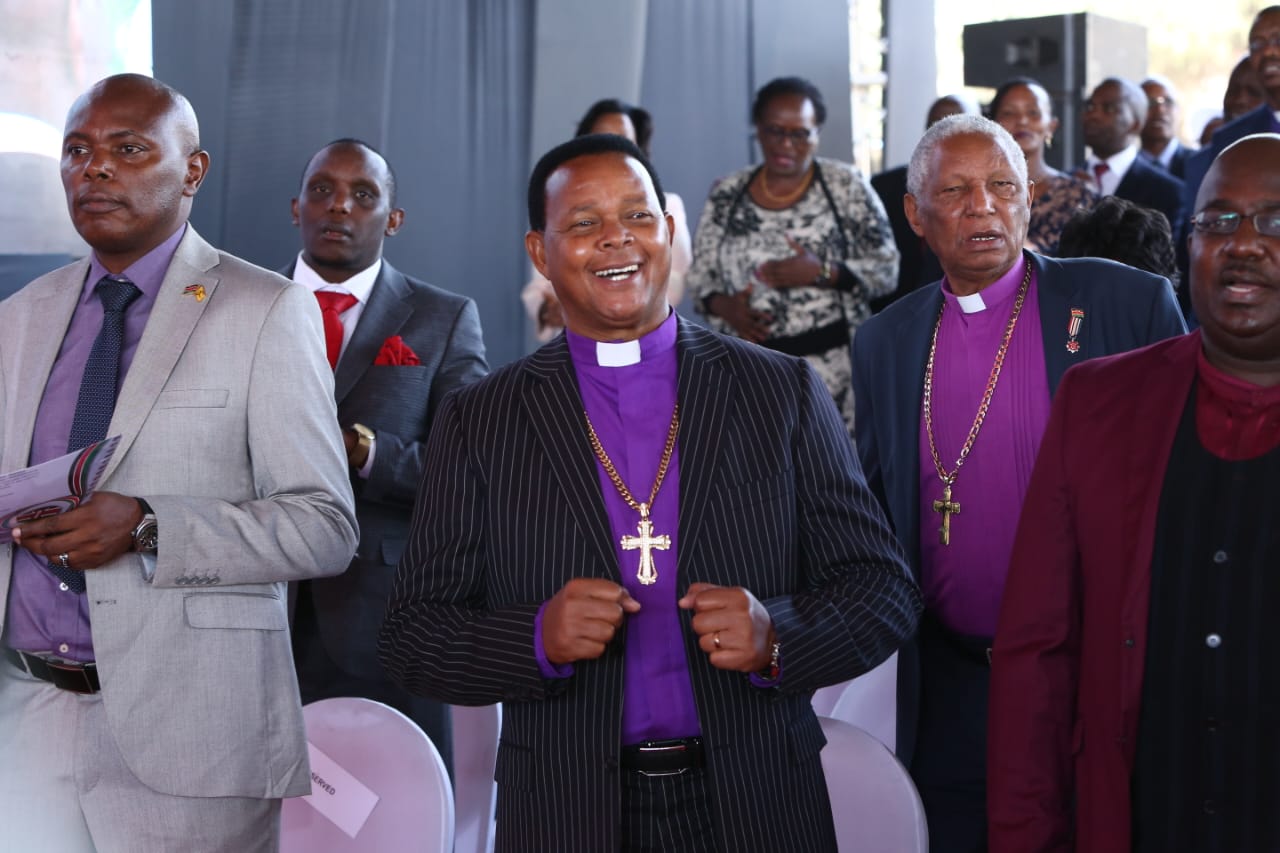 Nakuru County hosts National Thanksgiving prayers
Nakuru County today played host to a national thanksgiving service during which themes of unity, peace, progress and prosperity dominated.
H.E. Governor Susan Kihika, who was the host, saw Chief Guest, H.E President William Ruto describe Nakuru as a special county in his quest for the top leadership of the country.
Deputy President Rigathi Gachagua and a host of speakers thrust Nakuru County at the centre of the meetings that led to the victory of Kenya Kwanza Alliance as they hailed the leadership of Governor Kihika.
"Nakuru is a very important County in Kenya. This is where the journey to unite Kenyans to stop tribalism and hatred started in 2012 when I joined hands with my brother Uhuru (Retired President Kenyatta). We are very proud that of Nakuru," said President Ruto.
He went on: "In 2013, we were not to win elections because we were faced with the ICC (International Criminal Court), we had been kicked out of government and we were facing people who were in Government but we won."
President Ruto explained that in 2017, the Jubilee Party held its big meetings in Nakuru with a promise to return after the elections.
"We didn't come back because we went and there were some handshakes that caused us a lot of problems. But God is with us, we are here today," he said.
The President recalled that during the campaigns for last year's elections, the final meeting which was held in Nakuru signaled that they were headed for victory.
"The signal that we were going to win last years elections was during the last meeting here in Nakuru. The number of people who came out to attend the meeting has never been seen before, sending our competitors into panic. Nakuru is very special to us because you came out and voted for us," he said.
President Ruto praised the residents of Nakuru for refusing to be incited by those who wanted to cause chaos and ethnic strife in the 2022 elections as he pledged to fulfil the campaign promises that he made to the voters in the County.
"We owe you a development debt here in Nakuru. I know that tomorrow I will sit down with your leaders to talk about development but I can assure you that we will fulfil our promises. For instance, we will ensure that Itare Dam is completed and you get water for use," he said.
Governor Kihika, who spoke earlier, said that Nakuru County had played host to many meetings which led to the success of the Kenya Kwanza Alliance in 2022 and Jubilee Party in 2013 and 2017.
"Allow me, Your Excellency, on this national thanksgiving, to humbly remind you of the significance of Nakuru County in the success of Kenya Kwanza. It is in Nakuru that we made a covenant to serve Kenyans with dedication; it is in Nakuru that declarations for unity and service to all Kenyans were made and us leaders, our resolve to stick together at all times. I am humble enough to say that I am privileged to lead this county that holds a special place in the politics of our nation," she said.
Governor Kihika assured the residents of Nakuru County that the Government will implement development projects in the area and thanked voters for turning out to vote in the Kenya Kwanza Government.
"Your Excellency, it is the citizens of this country who woke up at dawn and queued for hours to elect us into office. With humility, I say thank you to all Kenyans for demonstrating faith is us and our ability to lead. I can assure you that the Kenya Kwanza government will serve you with all modesty and dedication," she said.
Pointing to the unity in the cosmopolitan County, Governor Kihika said that Nakuru had demonstrated that Kenyans from diverse backgrounds can live and coexist peacefully, even during election campaigns.
"That a people of 42 tribes, diverse backgrounds and distinct classes woke up on August 9 and voted peacefully against the expectations of naysayers. No other county in this country boasts of that homogeneity in diversity like Nakuru County," she said.
Mr Gachagua praised Nakuru County for refusing to be incited into chaos and inter-ethnic conflicts during the campaigns. He revealed that Nakuru, Uasin Gishu and Trans Nzoia counties had been marked as centres of chaos by their opponents in the last elections.
"Nakuru was to be the centre of incitement. There are people who had planned to cause chaos in Nakuru, Uasin Gishu and Trans Nzoia but God was with us. The people of Nakuru refused to be incited," he said.
The Deputy President said the Kenya Kwanza administration appointed the first Lands, Housing and Public Works Cabinet Secretary, Mr Zachary Njeru as the first minister from Nakuru. Also appointed were three Principal Secretaries and other positions.
"We came here and assured that we will look into your interests. President Ruto has appointed Mr Zachary Njeru as Cabinet Secretary for Lands, Housing, and Public Works. There are three principal secretaries and your leaders hold senior positions in the National Assembly and Senate," he said.
Prime Cabinet Secretary Cabinet Secretary Musalia Mudavadi said President Ruto won the August 2022 elections based on his bottom-up approach and will not revenge against his predecessors.
Nakuru leaders Tabitha Karanja (Senator), David Gikaria (Nakuru Town East), Samuel Arama (Nakuru Town East), and Liza Chelule were among those who addressed the congregation.
The Chairperson of the Council of Governors, Governor Ann Waiguru (Kirinyaga) was among 15 governors who graced the service that was attended by more than 50 MPs and 20 senators. Six Cabinet Secretaries and 24 PSs and Nakuru Deputy Governor David Kones also attended the service.
The service was led by Bishop Mark Kariuki of the Deliverance Church and leadership of Nakuru Church Elders Council led by chairman, Apostle Sammy Ngahu, Bishop Bonface Gitau (Coordinator) and Bishop Philip Karanja among others. The main sermon was delivered by Apostle William Kimani.
Archbishop Arthur Gitonga and Pastor Pius Muiru were among tens of the preachers who attended the service.
First Lady Rachel Ruto led prayers for unity of the church and rain while second Lady, Rev Dorcas Gachagua prayed for the boy child to turn away from drugs and alcohol.
The Nakuru Athletic Club grounds was full to the brim and renditions of songs by the worship teams could be heard far away in the streets of Nakuru City.