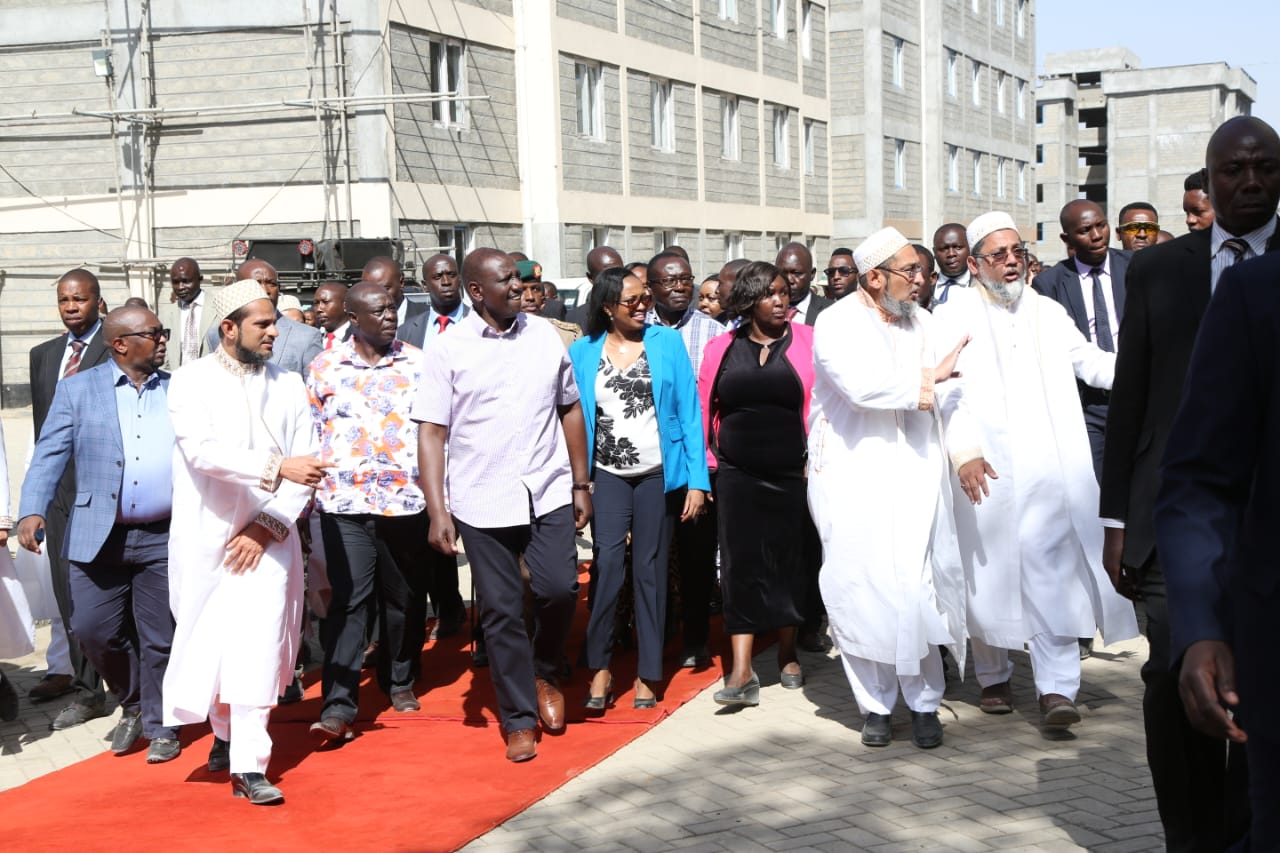 Nakuru to get 50,000 low-cost housing units
Nakuru County will get a share of 50,000 houses from the National Government's low-cost housing project.
H. E. President William Ruto disclosed today as he praised H. E. Governor Susan Kihika for readily providing land across the county for the project which targets to transform tenants into homeowners.
"We will build 50,000 units in Nakuru County. We will work with your Governor Susan here who has readily availed land across the county for the construction of houses," he said.
The President spoke as he was taken on a tour of the Bondeni Affordable Housing project in Nakuru Town East by Governor Kihika. Present were Deputy President Rigathi Gachagua, Lands Cabinet Secretary Zachary Njeru, Lands Principal Secretary Charles Hinga and Nakuru Deputy Governor, Mr David Kones.
Governor Kihika said the 50,000 housing units will not only provide low-income residents in Nakuru County with an opportunity to own decent homes but will be a source of employment for hundreds of carpenters, masons, electricians, plumbers and painters among others.
"The President has committed to constructing 50,000 houses in Nakuru County. It means we will need more plumbers, painters, carpenters and masons thereby providing employment opportunities for the youth and entrepreneurs. We also want our people to live in dignified houses with clean water, toilets and environment," she said.
Construction of houses at Bondeni Affordable Housing estate began in 2021 and is set for completion in December 2023. A total of 605 houses will be built on the 8.5 acres of land in Kivumbini Ward. The housing project comprises 45 one-bedroom houses which will be sold for Sh1.55 million, 180 two-bedroom units which will go for Sh3.25 million and 380 three-bedroom units which will cost Kshs. 4.3 million per unit.
"We do not want people to come here and buy houses to rent them to you. We want people to buy houses and own them, including Mama Mbogas," she said as she said Bondeni was also benefiting from a market which was near-completion, a bus park and roads which were under tarmacking.
Governor Kihika said the County would provide more land in Bondeni and other parts of the County for affordable housing projects.
"We have other parcels of land in this area which can be used for housing," she said.
She added: "Going forward, Your Excellency, we have set aside land in various parts of Nakuru to construct low-cost houses. In 2023-2027, we plan to construct another 2,000 units in Bondeni, Nakuru. We also plan to construct 2,000 housing units in Greenfield, Naivasha and another 600 units in Elburgon. Further, in Naivasha Municipality, we intend to upgrade 1,000 houses to standard to ensure that tenants live in quality houses."
President Ruto said the next housing project in Kivumbini will comprise 5,000 houses and hailed the Governor for providing land for housing construction in Naivasha, Elburgon, Molo and other parts of the county.
"Your Governor is an astute planner. She has already given us the land that we need for the housing project," he said.
 In addition to providing employment opportunities for the youth, the President said the project will provide business opportunities for suppliers of housing materials. Citing one of the local beneficiaries of the Bondeni Affordable Housing Project, Mr Lumiti, President said the venture will uplift the work of the Jua Kali people. The President pledged to complete the balance remaining on Mr Lumiti's equipment he acquired from King Sapphire Ltd – the contractors constructing the housing project. The President also pledged Kshs. 1 million to help Ms Shidde Shariff, who has bought one of the houses on a mortgage.
Mr Gachagua said the project was meant to benefit low-income earners while Mr Njeru, who was born and raised in the area, said the project marked the beginning of the transformation of the area. Mr Gikaria said there were another 40 acres of land in the area which could be used for housing.
President Ruto, who had earlier met Nakuru leaders on development projects, listed completion of the Itare Dam, agro-processing, electricity and health services as areas where projects have been earmarked for construction.
'We have given each county Kshs100 million for agro-processing. We want to add value to our farm products," he said.