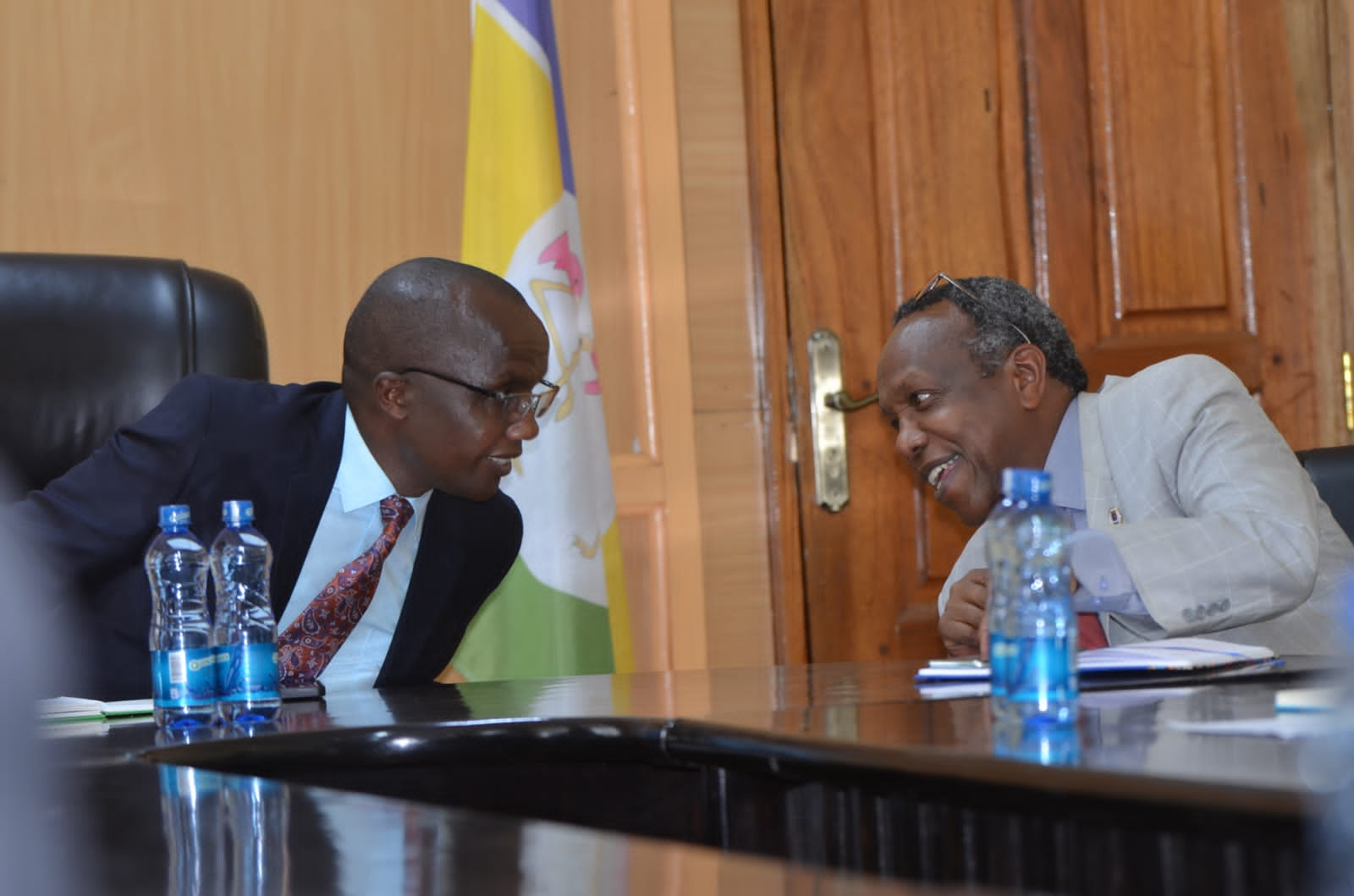 Strathmore University to collaborate with Nakuru on capacity building
Written by Sammy Ngatia
Nakuru County is set to be a beneficiary of a collaborative capacity building by the Strathmore University through their program dubbed 'THE KENYA SMALL BUSINESS DEVELOPMENT CENTER'.
The meeting attended by the Chief Of Staff Dr Peter Ketyenya, Trade, Tourism and Industrialization CECM Hon Stephen Kuria Muiruri, Chief Officer Trade and Industrialization Samuel Ndegwa, Chief Officer Office of the Governor Newton Mwaura and a delegation from Strathmore University led by Dr George Njenga addressed areas of collaboration between the institution and Nakuru County that will see the County gain from startups and SMEs funding.
Speaking during a courtesy call to the Deputy Governor H. E David Kones, the program manager Dr George Njenga elaborated their mission in Nakuru County where they aim at empowering various sectors that have a great potential to create employment.
Dr Njenga highlighted the need to train those in health, agriculture, tourism and hospitality, education, trade and industrialization on financial literacy, discipline and possible investment gaps in local and international markets.
"We have discovered that many youth and startups in Kenya never go beyond their vision due to lack of financial education and discipline. With this in mind, we have developed a model where by those who get selected for our Kenya Small Businesses Development Centers get knowledge on various ventures and training on market survey that helps them to know which product is needed," said Dr Njenga.
The initiative has received over $5,000,000 from USAID to help the centers that have been developed by the counties.
On his side, the Deputy Governor thanked the delegation for choosing to partner with Nakuru County and believing in its ability to deliver.
"Under the leadership of our Governor Susan Kihika, we have identified various incubation centers in ICT, Agriculture, Creative Arts, Trade and Tourism that need to be funded for them to be productive. The Governor is very passionate about youth empowerment and any help towards them is welcome," remarked Hon. Kones.
The meeting was a culmination of numerous preparations that have been put into place to see to it that local youths empower themselves and that SMEs get the right education before starting up.