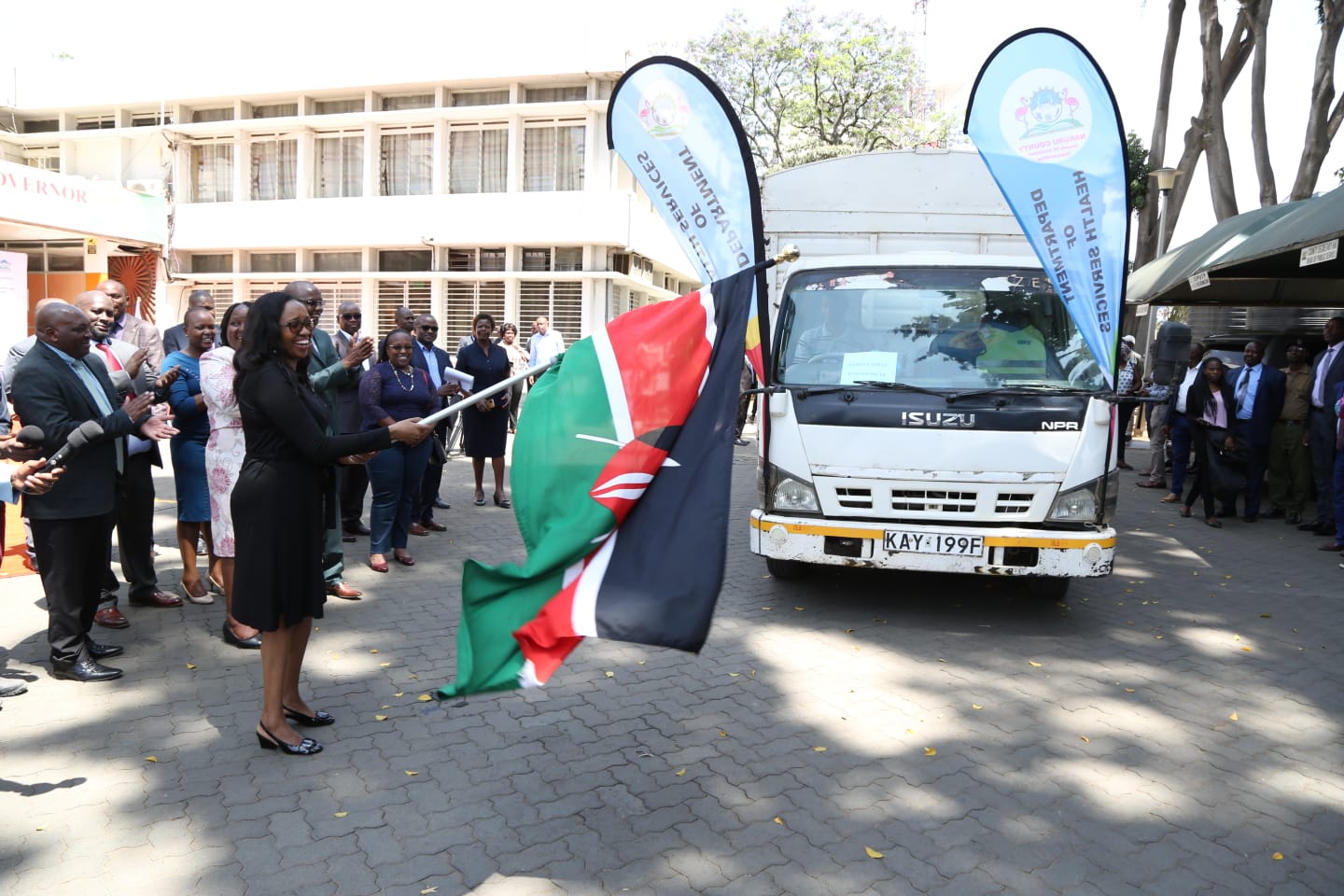 County to automate tracking of delivery to stop medicines theft, says Governor Kihika
Nakuru Governor H E Susan Kihika today flagged off a consignment of drugs to hospitals, as she promised to automate tracking of the delivery systems to stop the theft of medicines in health facilities.
The Kshs45 million consignment, composed of drugs worth Kshs 25 million and non-pharmaceuticals amounting to Kshs 20 million, was meant to benefit dispensaries, health centres and low-volume hospitals across the county. Governor Kihika said that her administration was committed to the provision of quality, affordable and timely health services.
"Through the Department of Health, the County Government has purchased drugs and non-pharmaceuticals at a cost of Kshs 45 million which we are flagging off to all our dispensaries, health centres and low-volume Level 4 hospitals across the county," she said on the steps of the County Headquarters in Nakuru City before flagging of trucks loaded with the drugs and the non-pharmaceuticals.
This was the second tranche of medicines and non-pharmaceuticals that Governor Kihika was disbursing to health facilities since she took over the leadership of the County. In November last year, the Governor disbursed drugs and medical-related equipment such as laboratory products, dental products, linen products, oncology/cancer products, public health products, renal products and medical equipment and devices worth Kshs 48 million to public hospitals in the county.
"One of my main pledges to the residents of Nakuru was to improve healthcare services, and more importantly, to end the shortage of drugs and medical essentials in our public health facilities. This occasion signifies our determination to end the shortage of drugs and ensure that our people are served well in our health facilities," she said flanked by Deputy Governor, Mr David Kones and County Executive Committee Member (CECM), Ms Jackie Osoro.
Governor Kihika issued strict instructions to the County Health team to ensure that the medicines and non-pharmaceuticals reached the hospitals as intended. She warned that anyone found diverting the drugs and other devices will be taken to court. "I will not transfer you to another health facility, I will take you to court," she warned.
To end the diversion of drugs to private use, Governor Kihika directed the Health Department to move from the manual systems and adopt new technology that will enable them to track the drugs to the final user at the hospitals. Currently, she said, 97 facilities (Level 3 and Level 4 hospitals) were in the process of being automated. "To this end, I have instructed the Department of Health to migrate from the manual system of tracking drug use to ICT platforms for better accountability," she said.
Still, Governor Kihika said that in the next two to three weeks, the County Government will disburse another consignment of drugs and non-pharmaceuticals worth Kshs 50 million to dispensaries, health centres and low-volume Level 4 hospitals. "This consignment will be made up of drugs worth Kshs 28.8 million and non-pharmaceuticals worth Ksh21.2 million. The consignment has already been purchased by the County and is awaiting delivery in two weeks' time," she said.
To demonstrate her commitment to the expansion of health facilities in the County, the Governor said revealed that a total of 34 dispensaries (Level 2 hospitals) had been constructed and were awaiting equipment and commissioning. Her administration, she said, had allocated Kshs 52 million to buy equipment and medicines for the hospitals as they prepare for commissioning
"In addition to ending the shortage of drugs and non-pharmaceuticals in hospitals, we are also modernizing our health facilities through the acquisition of technologies to deliver services in a better way. We are also committed to increasing the number of residents who access health facilities in the county," she said.