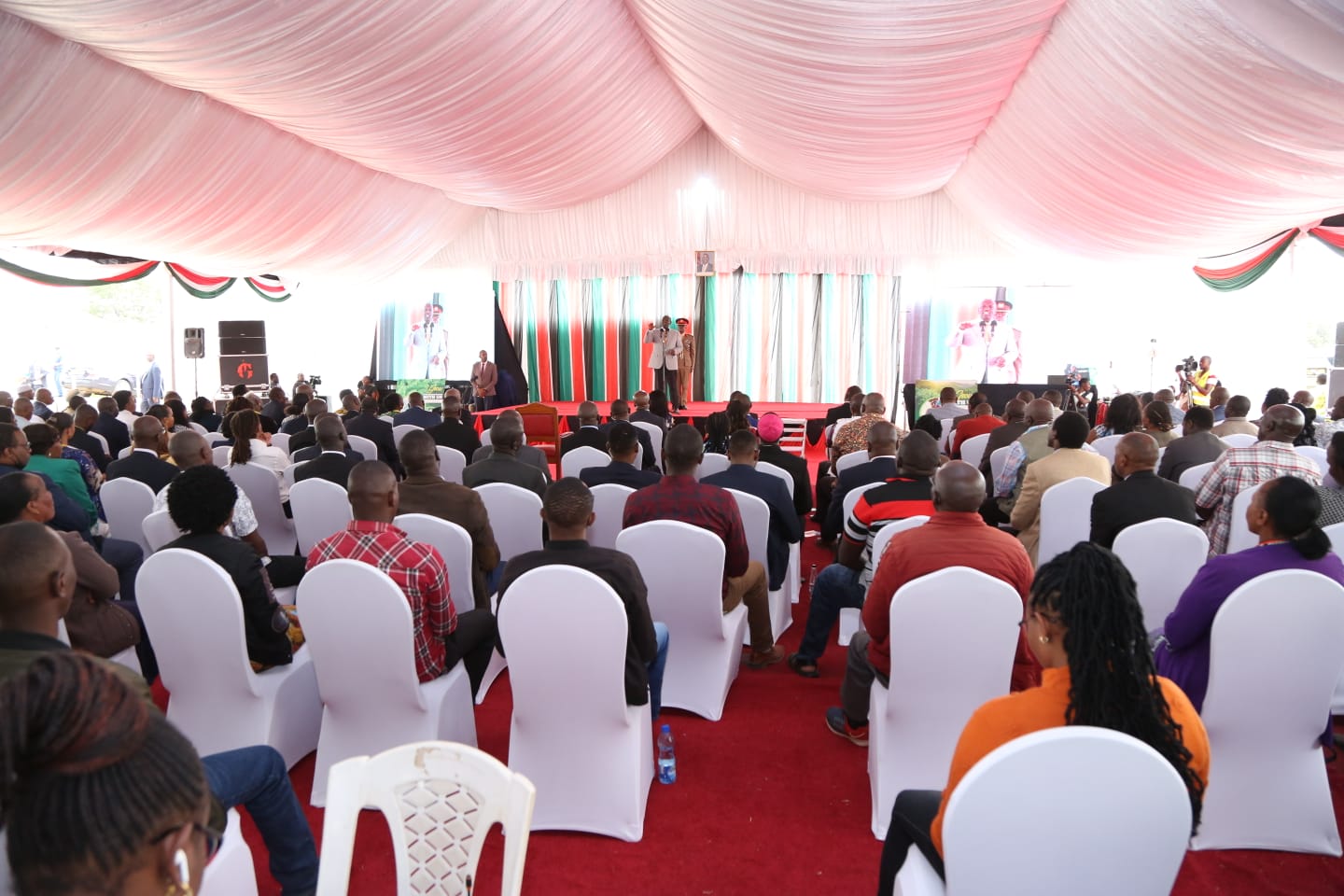 Nakuru County to get second Industrial Park
Nakuru County was today granted a second industrial park by H.E President William Ruto who said the National Government has set aside Kshs. 1 billion for the park.
The President tasked Nakuru Governor H.E Susan Kihika to identify 500 acres of land in the County, preferably in the Njoro sub-county, where the industrial park will be constructed to attract investors to boost local manufacturing and create employment for thousands of youths in the County.
"We are going to get Kshs.1 billion for that industrial park. I have asked your Governor, Her Excellency here to look for 500 acres of land somewhere in the county, maybe in Njoro, where we are going to build the second industrial park in Nakuru County," he said as he launched a fertilizer granulating and blending factory by Fertiplant East Africa in Nakuru City.
Governor Kihika was also tasked to set aside some funds towards the industrial park which will be the second to be constructed in Nakuru. Already, plans are underway to construct an industrial park in Naivasha, Nakuru County which the Government has designated as an industrial city.
"Here in Nakuru, we have an industrial city in Naivasha. We want to add another one and I am asking your Governor to also set aside her contribution towards the second industrial park," said the President.
Speaking during the launch of the fertilizer plant—the NPK Steam Granulation Plant worth Kshs3 billion—Governor Kihika said her administration has crafted business-friendly policies and regulations that were attracting investors to invest in Nakuru.
"We pledge to work closely with your Government as we strive to create an environment conducive enough to attract investments in our mission to restore Nakuru as the hub for industry and agri-business," she said.
The Governor listed subsidized land rates and the soon-to-be enforcement of the single business permit as some of the measures undertaken to attract investors. She promised to seek electricity subsidies—since the county is home to geothermal generation—as another incentive to attract investors.
"We feel proud to be associated with Fertiplant East Africa, who established this fertilizer manufacturing and blending plant. We will continue to provide a conducive investment climate for them to thrive as they cater to the needs of our farmers and other parts of the country," she said.
Governor Kihika praised President Ruto's administration for initiating the subsidized fertilizer project, stating that Nakuru as a rich agricultural County was set to benefit from the initiative. So far, she said out of the 160,309 bags of fertilizer that had been received by the County, 60,562 had been distributed to farmers at a cost of Kshs. 3,500 per bag.
"For us in Nakuru County, the fertilizer subsidy program has come at the right time with land preparation for planting standing at 50 per cent — and will be expedited with the rains on the horizons. We are working closely with the National Cereals and Produce Board (NCPB) to facilitate our farmers to access the fertilizer at the cost of Kshs. 3,500 per bag," she said.
Fertiplant East Africa executive director, Mr Titus Gitau praised the Nakuru County Government for embracing business-friendly policies and said the factory will work towards the reduction of costs of fertilizer and assist the country to achieve food security.
"We carry out soil tests so that we can tailor fertilizers to suit the needs of farmers in different parts of the country. We are here to serve towards the fulfilment of food security by showing that Kenya is capable of manufacturing fertilizers locally," he said.
National Assembly Majority Leader Kimani Ichungwa praised Fertiplant East Africa for investing in the fertilizer plant.