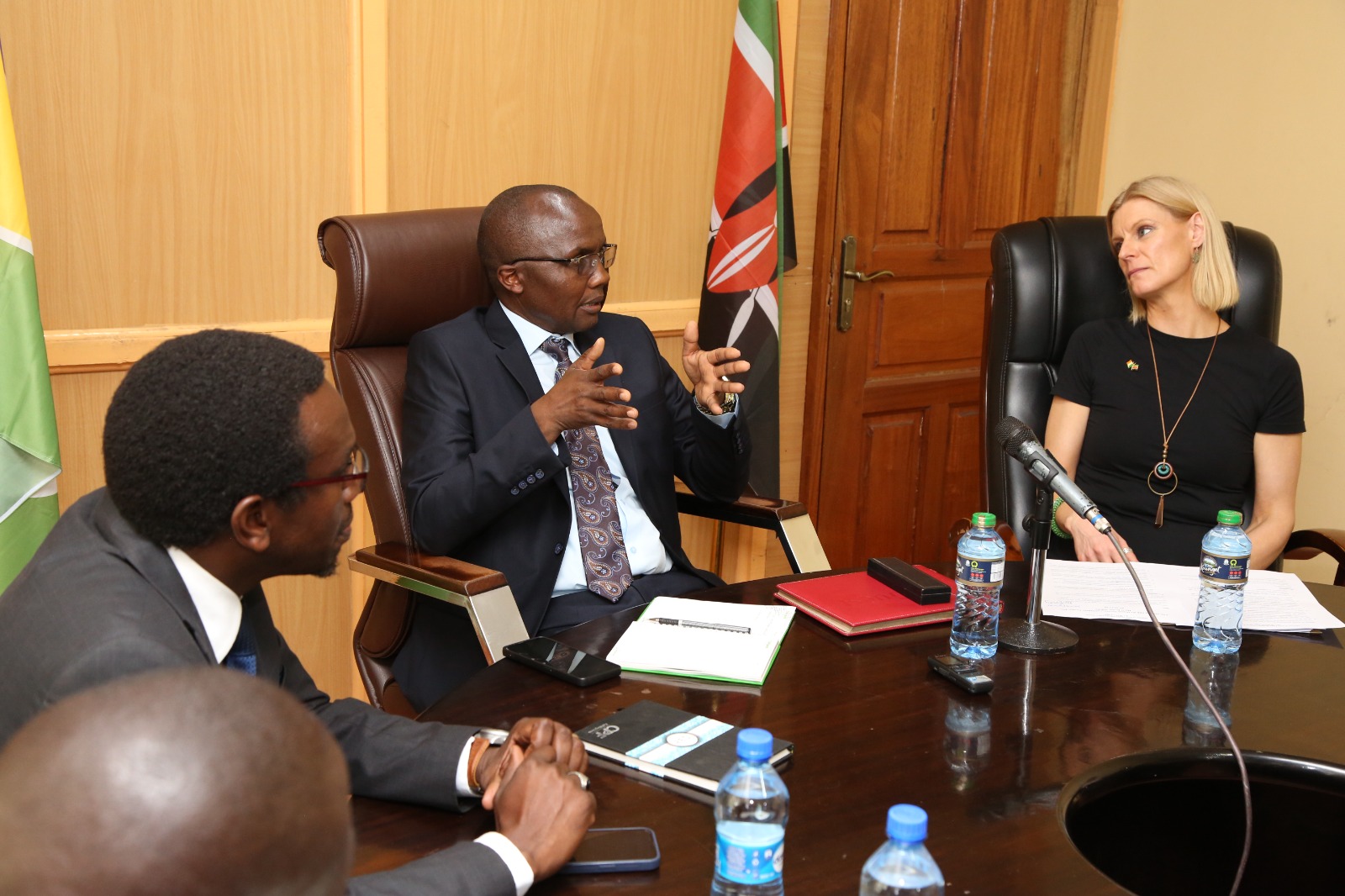 Ireland to train Nakuru farmers on increased food production
The Government of Ireland is working with the Kenya Agriculture and Livestock Research Organization to train farmers in Nakuru County to increase food production.
Visiting Ireland State Minister for Agriculture Pippa Hacket said they were supporting research work and outreach activities by KALRO to benefit farmers and livestock farmers in Nakuru County.
"We are supporting research plans and outreach activities at KALRO so that in turn, they reach out to farmers in this county. By doing so, KALRO will be involving farmers in research and that is a program that we help and support," she said.
Ms Hacket spoke today when she paid a courtesy call on Nakuru County Deputy Governor, H.E David Kones at the County Headquarters in Nakuru City. She was accompanied by Ireland's ambassador to Kenya, Ms Fionnuala Quinlan and other top officers from the embassy in Kenya. Mr Kones was flanked by Chief of Staff, Dr Peter Ketyenya, and chief officers Richard Kurgat (Agriculture), Michael Cheruiyot (Livestock) and Alex Maina (Resource Mobilization).
Ms Hacket said through the Kenya-Ireland Agri-Food Strategy, Ireland was interested in supporting research and policy work in livestock development, strengthening institutions in Agriculture to leverage change in production and enhancement of the environment around which food production takes place.
To attain food security, which she said has been severely affected by climate change, she argued that Nakuru County, like other counties, has to embrace technology and adopt drought-resistant crops and animals.
"Regarding food security and the prevailing challenges, Nakuru needs technology and the adoption of drought-resistant crops and animals. I hope these issues are captured in the County Development Strategy," she said.
Ms Hacket said while Ireland was not a major donor like other countries in the West, it was collaborating with the National Government and counties in which it was working to promote research policies.
Mr Kones welcomed Ireland's minister to visit Nakuru and the Kalro centre in Naivasha and stated that Nakuru County was undertaking measures to increase food production and position pyrethrum and potatoes as major cash crops for income generation. He said farmers in the county had benefited a lot from outreach services offered by Kalro and called for an increase in outreach activities across the county. "We are interested in Kalro reaching out to more farmers for capacity-building purposes to increase production both in food and livestock," he said.
The Deputy Governor said the pursuit to attain food security in Nakuru was by affected by climate change effects such as drought, planting patterns, provision of certified seed for crops such as pyrethrum and potatoes, and market access by farmers. Still, he said privatisation of artificial insemination (AI) services was a burden to farmers and urged Ireland to partner with the county to provide quality semen and train more inseminators.
Mr Kones informed the Ireland delegation that deliberate attempts were underway to promote the growth of pyrethrum which he said has been positioned as the poster cash crop for farmers in Nakuru County. He called for linkages between Ireland, Kalro, Kenya Plant Health Inspectorate Services (KEPHIS) and the county in the race towards food security.
Earlier, Ms Hacket and her team toured Kalro where they were taken around the research centre that focuses on agriculture and livestock production.