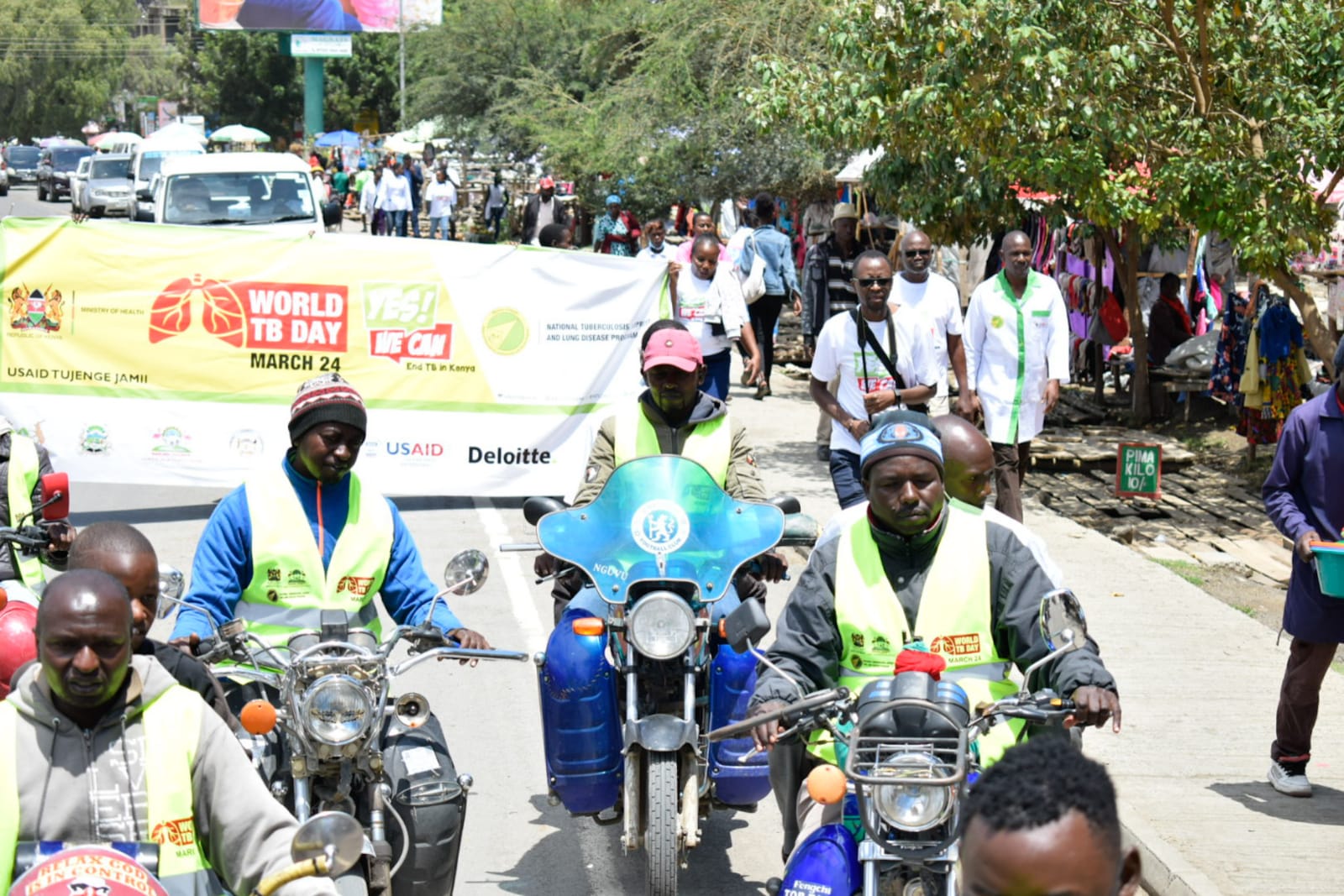 Clarion call for early screening and treatment as Nakuru commemorates World TB Day
Written by Ruth Magak
Through active case search, defaulter tracing and treatment adherence, Nakuru County has recorded 87% TB treatment success rates.
These are the efforts being made to combat TB infection in Nakuru County which recorded 698 new TB cases in 2023, with over 20 cases of drug-resistant TB and infection rates standing at 181 cases per 100,000 people.
And as the World observed World TB Day, Nakuru County joined the globe in the commemoration of the day which is held on March 24 every year to raise awareness of tuberculosis and the need for early diagnosis and treatment.
The event was held at Naivasha Sub-county Hospital with the Nakuru County Department of Health having a free screening drive for TB across the County.
The event kicked off with a procession led by health workers and community members. Flyers and information materials to raise awareness about the disease were also distributed.
County TB and Leprosy Coordinator, Dr Judy Neimah Barasa said Tuberculosis remains a significant public health concern in Nakuru County, with high rates of new infections and drug-resistant strains of the disease being witnessed.
"Through active case search, defaulter tracing, and treatment adherence, Nakuru has been able to achieve a high percentage of TB treatment success rates," Dr Barasa noted.
On her part, the County Director of Public Health, Elizabeth Kiptoo, emphasized and highlighted the impact of TB in the county.
She noted that TB is a curable disease, but early diagnosis and treatment are crucial in preventing its spread.
"I urge members of the public to take responsibility for their health. Go get screened and if you are diagnosed with TB, start the treatment immediately," Ms Kiptoo said.
The event also included a series of educational sessions led by healthcare professionals, where the residents learned about the signs and symptoms of TB, how the disease is spread, and the importance of adhering to medication schedules.
Participants also shared their experiences with TB and offered support to those who may be struggling with the disease.
The commemoration of World TB Day is a reminder of the ongoing fight against tuberculosis in Nakuru County.
Through community education, increased access to screening and treatment, and proper public health interventions, the county is working to reduce the impact of this disease on its population.
In addition, mass TB screening will continue for the next one week in various hotspots across the county.
This screening drive aims to increase the early detection and treatment of TB cases, particularly in high-risk areas. The screening is free, and everyone is encouraged to take advantage of it to ensure early diagnosis and prompt treatment.
The efforts to combat TB in Nakuru County are ongoing, and the commemoration of World TB Day serves as a reminder of the work that still needs to be done to end TB.
Through the continued support of organizations like USAID Tujenge Jamii, World Vision, and the commitment of healthcare professionals and community members, the county is making progress in reducing the impact of TB on its population.