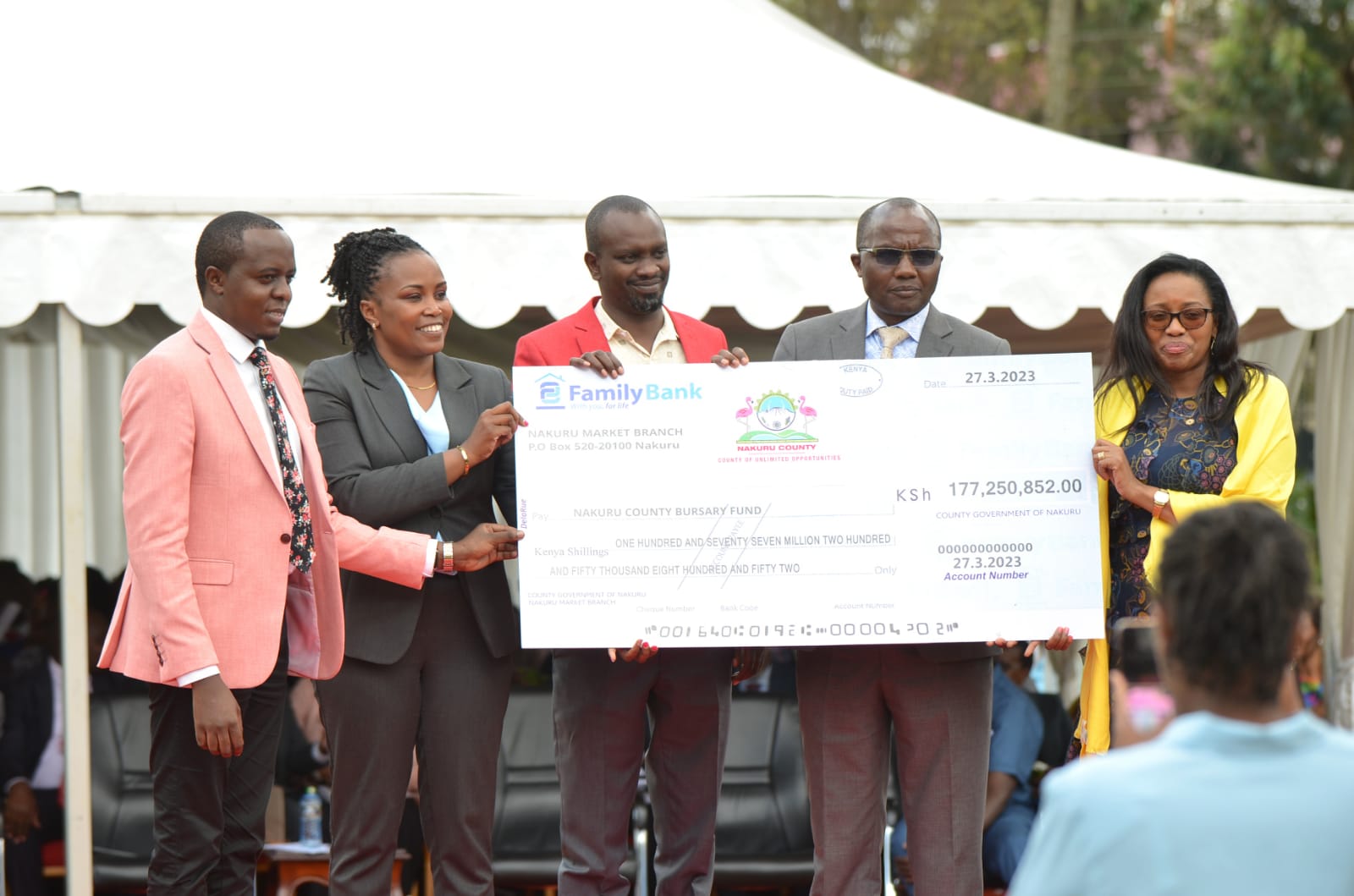 County Disburses Sh177 million for needy students
Written by Roy Lumbe
Nakuru Governor Susan Kihika today launched the distribution of bursaries worth Sh177 million to needy students across the county.
During the launch event that was held at Nyayo Gardens, the Governor said that more than 40,000 students will benefit from the programme aimed at keeping them at school.
Kihika revealed that students who were identified followed a vetting process adding that the funds will ensure they have an equal right to basic education.
"We are gathered here today to lay down the mark on our commitment to uplift the lives of those students who need financial support, to give hope to the hopeless, and to support the dreams of the future generations that are threatened by lack of resources to get an education," said Kihika.
The governor was moved by a touching story of Caroline Otieno, a 20-year-old form one student at the Christ the King Academy Caroline, from Manyani but now living with a well-wisher in Njokerio area.
"Previously she used to live with her mother and brother Calvin, in Manyani. Caroline sat for her KCPE in 2016 and scored 285 marks but never joined secondary school due to a lack of school fees.
Atieno resorted to doing menial jobs as a house help where she sometimes was paid her wages and washing clothes for people who could pay her Sh50 or Sh100 and tell her to go away," said Kihika
She added that last year in June, hunger drove her to Christ the King Church where a graceful sister gave her food and as she was coming out of the church, she asked herself. For how long am I going to be a beggar? When will I get a chance to get an education and earn respect?
Atieno walked to Christ the King Academy who gave her a chance in form one a window had opened but school fees and school requirements were the next obstacle and decided to visit the governor's offices.
The governor added that driven by the commitment to assist students from vulnerable backgrounds in addition to supporting children with special needs to prepare them to become self-reliant.
"I want to appeal to institutions and individuals to work with the County to help our needy students, especially those living with disabilities, to access education. The bursary program further includes support to the Youth Training Vocational programs such as driving to equip our youths with skills for self-employment," she added.
A total of 48,080 students drawn from universities, colleges, vocational training centres, secondary schools, and special schools are beneficiaries of the bursaries that we are launching today.
She appealed to the day secondary school administration to stop sending students home from school because of lunch fees.
"While we understand running schools require money, they need to understand that Basic Education is a constitutional right of every child in Kenya. As a County Government, we are committed to supporting our students through bursaries," she said
The governor added that the County Government of Nakuru now has 33 Vocational Training Centres which have been operationalized.
"We have further completed the construction of 17 more VTCs which we will soon operationalize. We intend to transform one VTC in each sub-county into a centre of excellence which will equip our children with skills to exploit the unlimited potential within the boundaries of Nakuru," she said.