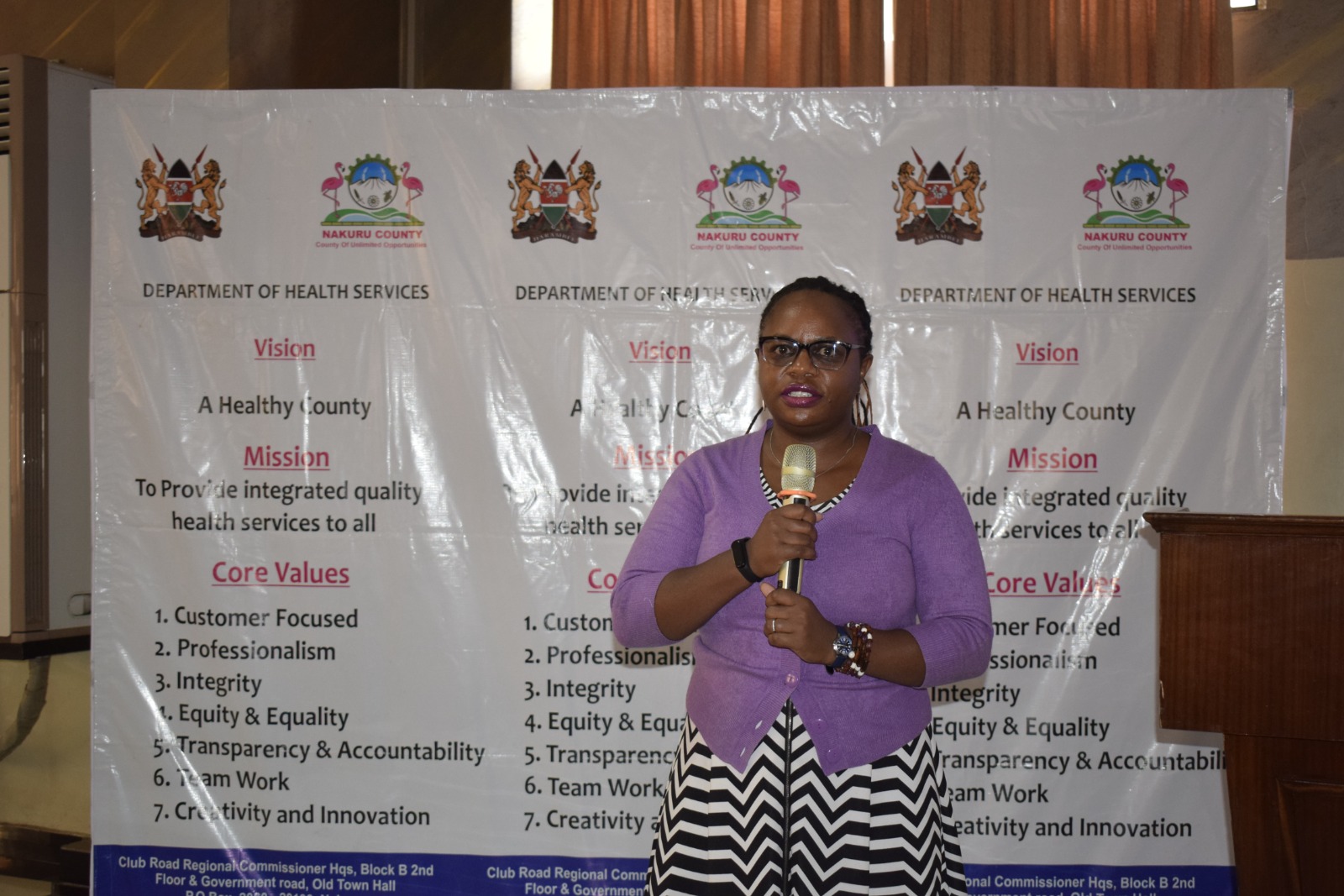 Nakuru County Embarks on Streamlining Referral Systems and ARV Commodity Management
Written by Brenda Chelang'at and Ruth Magak
The Nakuru County Department of Health Services is committed to streamlining referral systems and commodity management to ensure timely access to healthcare services, reduce costs, and improve the quality of care.
This commitment is in line with Governor Susan Kihika's agenda on health, which seeks to provide accessible, affordable, and high-quality healthcare services to all citizens.
On the second day of the induction workshop, which is done in partnership with USAID Tujenge Jamii, the Department brought together Sub County Team leads, commodity managers, Sub County Public Health Nurses, and Health Records and Information Officers from the 11 sub-counties.
The aim is to provide these teams with the necessary skills and knowledge to manage commodity supply chains, monitor and evaluate referral systems, and enhance the quality of healthcare services in their respective sub-counties.
The teams agreed to develop a well-structured system with clear, concise, and easy-to-understand referral protocols to be used within their sub-counties. They also agreed to properly document referrals, including the reason for the referral and the recommended treatment, for effective tracking and follow-up at all levels.
The County Executive Committee Member for Health Services, Jacqueline Osoro, urged the team to implement a collaborative approach between healthcare providers, patients, and their families for an efficient referral system.
The Department will ensure the referral process is well-monitored to ensure patients receive quality healthcare. They endeavour to continue prioritizing initiatives that enhance service delivery in their healthcare facilities.
On commodity management, Dr Angeline Kahiga, the HIV Treatment and Care Senior Technical Officer and Nakuru County Team Lead noted that effective management of ARV commodities is critical in maintaining a constant supply of medication, reducing wastage, and improving treatment outcomes for HIV-positive patients.
She urged the sub-county teams to take a collaborative approach to HIV management and work together to ensure the delivery of quality HIV care and treatment services.
Overall, the Department of Health Services in Nakuru County is taking significant steps to streamline its referral system and commodity management to improve the quality of healthcare services for all citizens.
The induction is closely supervised by the Chief Officer for Medical Services, Dr John Murima, the Chief Officer for Public Health Services, Alice Abuki, the Director for Health Administration and Planning, Dr Joy Mugambi, and the County Directors of Medical and Public Health Services, Dr Daniel Wainaina and Elizabeth Kiptoo, respectively.