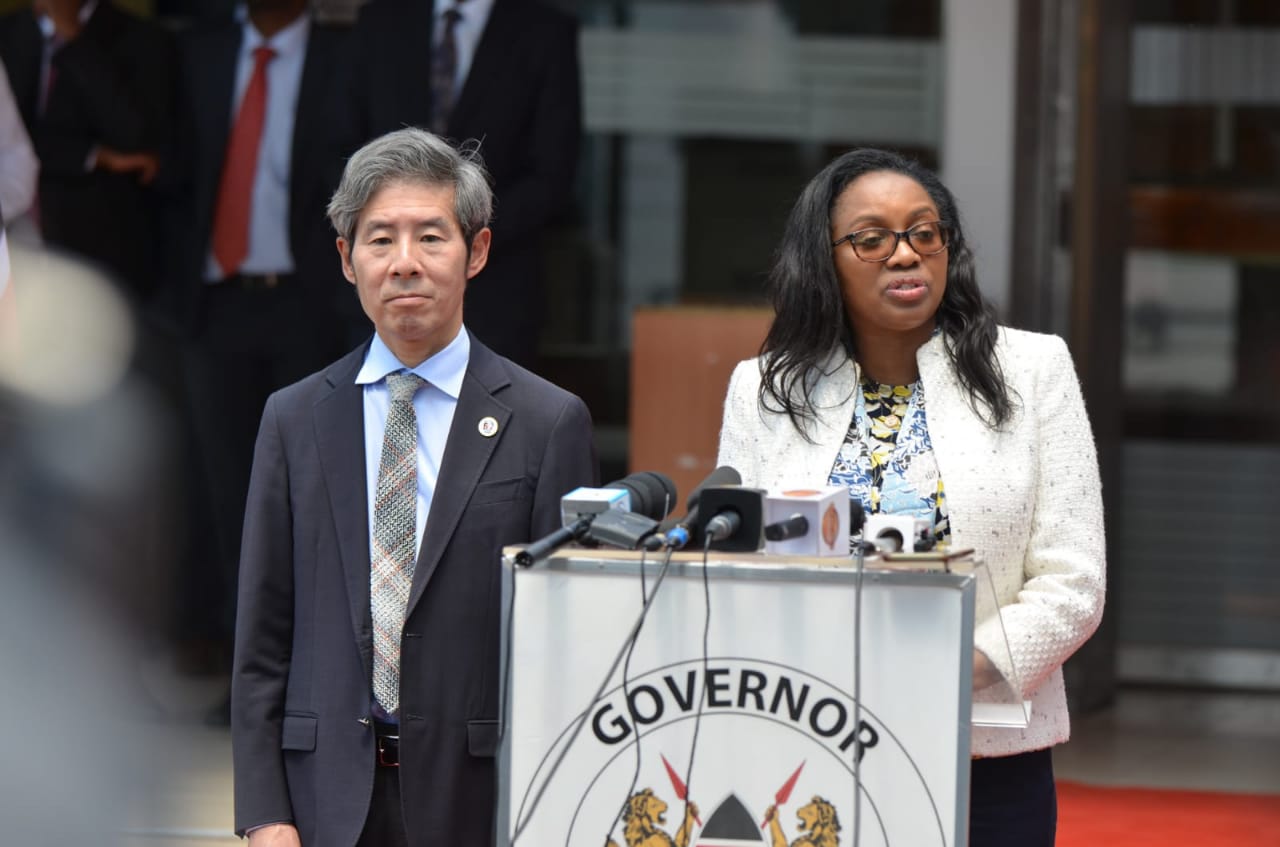 Nakuru County to work with Japanese Government to train farmers
Small-scale farmers in Nakuru County are set to increase their farm outputs following the implementation of a program initiated by the Japan Government.
Japan's ambassador to Kenya, Mr Okaniwa Ken, who paid a courtesy call on Nakuru County Governor, H E Susan Kihika today, said they were training extension officers who assist farmers with knowledge on the best crops to grow and best methods of farming.
Mr Ken said through the Japan International Cooperation Agency (JICA), they were working with the Ministry of Agriculture on ways of assisting farmers to analyse agricultural markets and decide on the best crops to grow to increase their earnings.
"JICA is working with the Ministry of Agriculture to train extension officers who will use the knowledge they have gained for the benefit of farmers. We are in other counties also and we are almost at the final stage of the training," he said.
Speaking, Governor Kihika said the training of extension officers was in line with her manifesto in which she pledged to employ more extension officers to help farmers analyse their soil types, agricultural markets and methods of farming.
"My manifesto was big on the issue of extension officers and we are recruiting them. We want a team of extension officers who can penetrate villages and bring knowledge to farmers on the best crops, seedlings, soil suitability and technology. It is one area which we want to upscale," she said.
The Governor, who was accompanied by Deputy Governor, H.E David Kones, County Executive Committee Member (CECM), Mr John Kihagi and Chief of Staff, Dr Peter Ketienya, said Nakuru as an agricultural county wants to engage small-scale farmers to increase food production.
"We must have a way to help small-scale farmers to increase food production by linking them to sustainable agro-processing inputs, developing and installing quality post-harvest storage and safety mechanisms, and utilizing micro-processing technologies to influence high-standard and quality processing," she said.
Governor Kihika said with the support of the National Government through the construction of dams and pans across the county, increased knowledge of farming will lead to high outputs. She urged Japan to assist pyrethrum and potato farmers in Nakuru with technical support to improve value addition, farmer capacity development and enhancement of quality farmer services to improve our productivity and value addition to our agricultural produce.
In response, Mr Okaniwa said they were supporting a model farm by a Japanese farmer in Naivasha who is helping Kenyan farmers to add value to the pyrethrum flowers they harvest by manufacturing mosquito coil.
Governor Kihika and Mr Okaniwa agreed on a partnership between Nakuru County and the Government of Japan to assist Nakuru to develop masterplans for transportation, waste management and development of three earmarked industrial parks in the County.
To emphasize the close relations between Nakuru County and Japan, the Asian economic giant will send experts in urban planning, landscaping, environment and geographical information systems (GIS). The experts are expected in the country before the end of the year.
"We further seek to work with you to build the capacity of my current staff through short and long-term courses in emerging trends, technologies and innovations in urban development, agriculture, infrastructure and climate change. This can be a collaboration of cities through city-to-city twinning and research exchanges with our universities," said Governor Kihika.