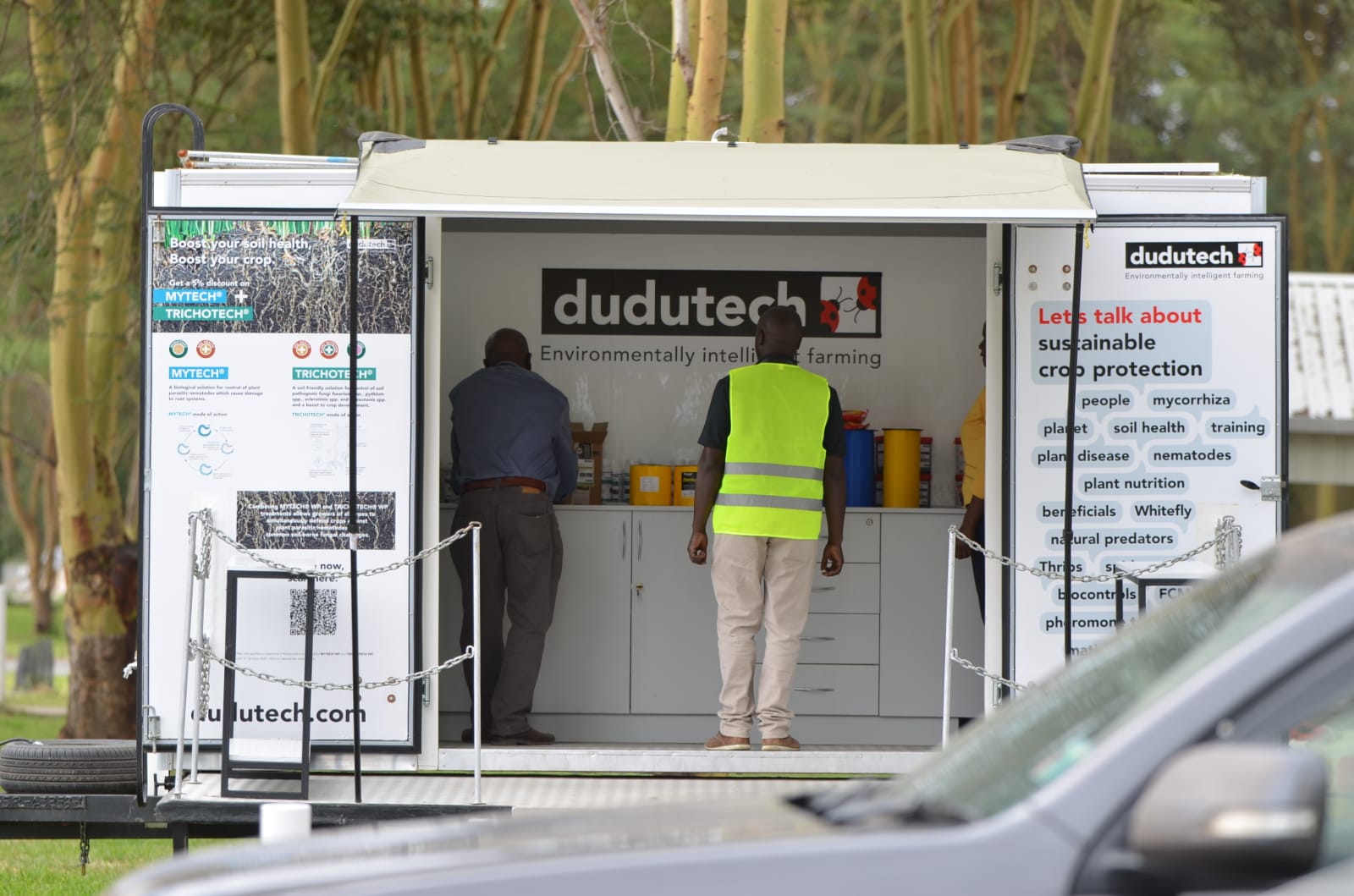 Small-scale farmers to benefit from Biological Pest Control Products
Written by James Munyua
Nakuru County Government in partnership with Dudu Tech IPM Limited will collaborate to train small-scale farmers in Nakuru on the use of biological pest control products.
The partnership will aim at reducing the use of chemicals in crop production by adapting biological pest control methods which are safe for humans and the environment.
Dudutech Tech Limited under the Bioline Agro-Science Africa a French Company develop an integrated pest management system designed to reduce pesticide use and improve on soil health for long sustainability in agriculture and food security. Their products are sold all over the world.
During the official opening of their new Bioline Agro-Science Africa offices and Canteen in Naivasha, Deputy Governor H.E David Kones noted that the Company is the future of agriculture in pest management and therefore reaching the small-scale farmers is of utmost importance.
"Her Excellency Governor Susan Kihika is particular about investors who put their money in Nakuru County. We will therefore work together to make sure what you are doing will be of benefit to the company and to the people of Nakuru," he stated.
The Deputy Governor further urged the company to consider expanding to other areas of Nakuru where they can reach more farmers.
France's Ambassador to Kenya H.E Arnaud Suquet who also graced the event reiterated the commitment of France to cementing the Kenya-France relationship through technology transfer especially in agri-business.
He added that over 150 French companies have established bases in Kenya in different sectors.
On his part, the area MCA Peter Wanjala lauded the company which has created over 400 jobs for the locals. He further said the County Assembly will come up with policies geared towards making such initiatives beneficial to the people.
The Deputy Governor who was also accompanied by Chief Officer for Agriculture Kibet Kurgat, Subukia ward MCA, Isabella Makori, Lakeview ward MCA Alex Mbugua was taken through an extensive tour of the farm and shown different biological products.
Among them is Montech a natural predator for the sustainable management of Thrips, it contains Transeius Montdorensis mite which feeds on Red Spider Termite.
Red Spider mites can be one of the most troublesome problems for greenhouse plants, houseplants and garden plants. It is a sap-sucking mite that causes a mottled appearance, and in severe cases, leaf loss and plant death.
Montech predatory mites which are grown on the farm, hunt for and feed on their prey including thrips, whiteflies, and spider mites and hatch eggs by crawling on affected plant leaves.
Others include Ezy Flow Gypsum for reducing sodium build-up in the soil, biofertilizer which defends plants against root and leaf diseases, and Nitrofusion liquid fertilizer for improved plant health.