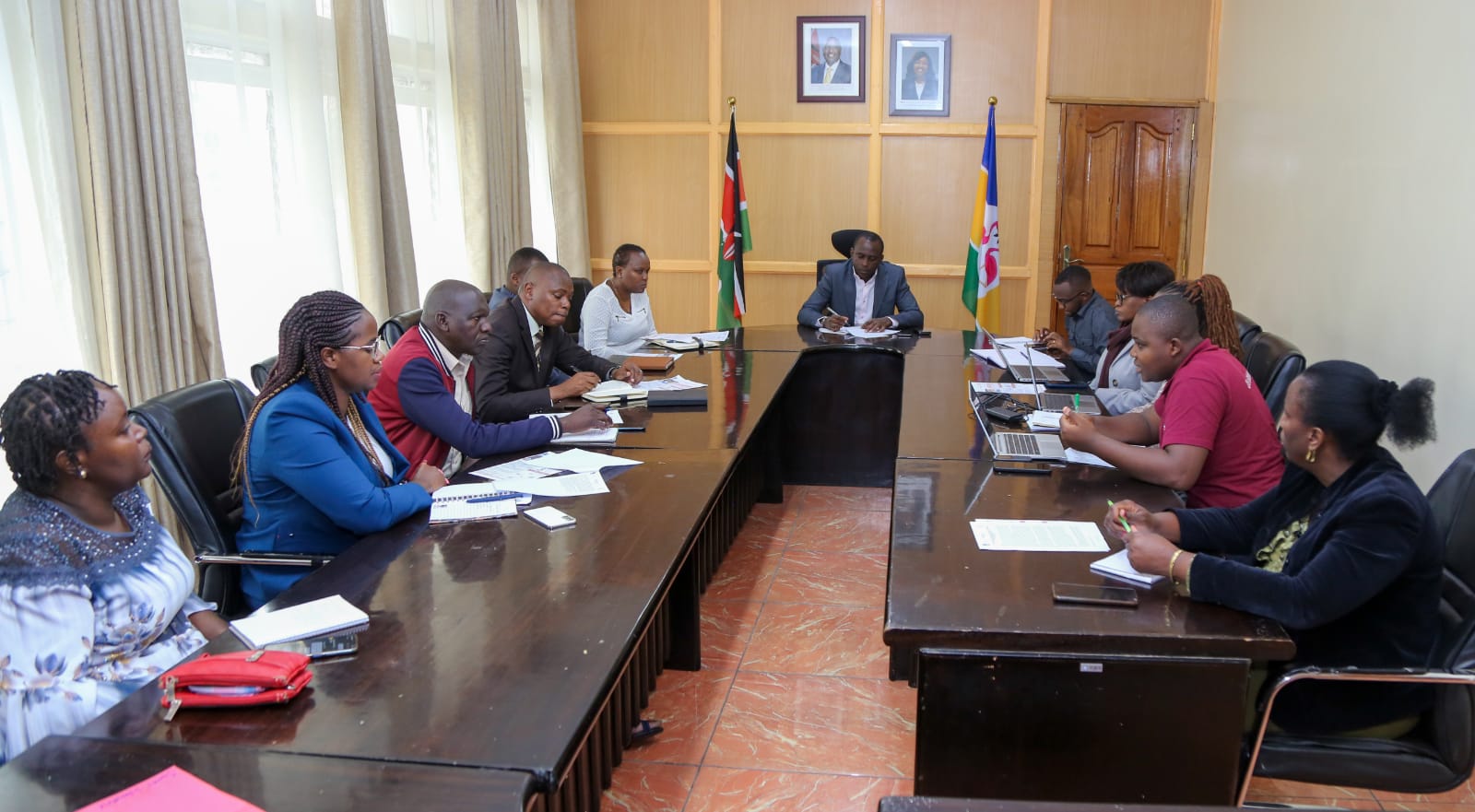 CASCADE to sign an MOU with Nakuru County Government to offer Technical assistance
Written by James Munyua and Ruth Magak
Acting County Secretary Dr Samuel Mwaura today held a consultative meeting with a team from CAtalyzing Strengthened policy aCtion for heAlthy Diets and resiliencE (CASCADE) who paid a courtesy call to his office.
The CASCADE team consisting of CARE International and Global Alliance for Improved Nutrition (GAIN) led by the Project Manager Geraldine Nthiga, seeks to sign an MOU with Nakuru County to strengthen selected existing programs in Health, Agriculture, Gender, Trade and Education.
CASCADE aims to support the implementation of those projects through capacity building, addressing current policy gaps, and offering technical assistance, knowledge enhancement and funding through development partners.
The project which is being conducted in 3 counties of Nakuru, Nairobi and Nyandarua will also seek to empower communities and partner with the private sector in areas of nutrition, improving food security and reducing malnutrition for children and women of reproductive age.
This is in addition to Strengthening the advocacy capacities of women's CBOs, CSOs and women's collectives and creating key forums to support and prepare women to carry out advocacy actions.
The project will also focus on transforming cultural norms and practices, taking a gender-transformative approach and analysing data for policy interventions.
Speaking during the question and answer session, Dr Mwaura urged the group to do an extensive mapping during the implementation stage of the project for areas affected by malnutrition in Nakuru County.
He also implored the team to focus on identifying CBOs that can have a significant impact on the intended beneficiaries as well as be the conduit between the county and the development partners that can assist in funding some of the projects.
CASCADE intends to sign an MOU with County in the coming days and have the project launch in May 2023 in Nakuru City. The launch will bring together all the benefitting counties of Nakuru, Nairobi and Nyandarua.
The program presents an opportunity for Nakuru County to improve food security, reduce malnutrition and increase resilience to economic and climate change-related shocks.
With the support of the County government, private sector and communities, the program has the potential to make a significant impact on the lives of women and children in the county.
Also present were the Chief Officer for Public Health Alice Abuki, Chief Officer for Education, John Koech, Chief Officer of Resource Mobilization, Alex Maina, County Nutritionist Christine Kihara and Chief Officer of Tourism, Rosemary Kimani among others.