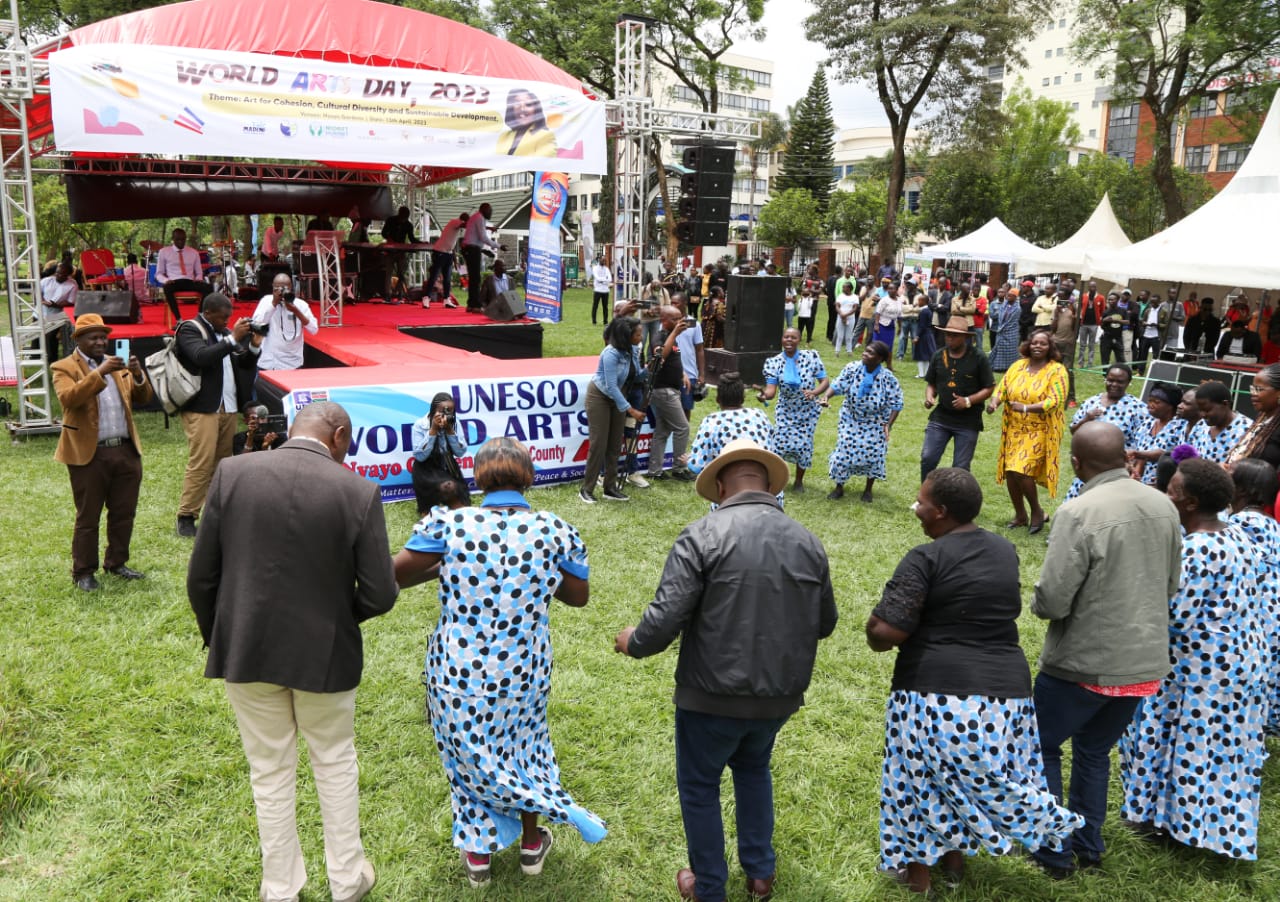 Nakuru marks World Arts Day in style
Written by Jeremy Ogolla and Roy Lumbe
Nakuru County's artistic and cultural prowess was on display during the 2023 World Arts Day celebration at Nyayo Gardens, Nakuru City.
Hundreds of locals thronged at Nyayo Gardens on Saturday to get a glimpse of electrifying performances from diverse groups to promote inclusivity in the creative arts industry within the county.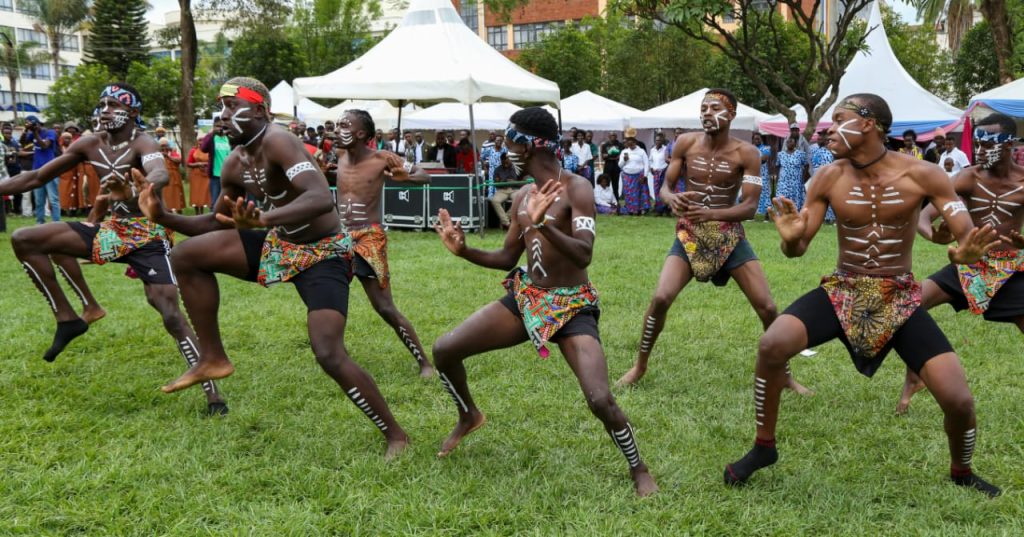 The messages were subtly expressed through Art and Craft, fashion and design, film, photography, music, performing arts, food agronomy, TV, and radio – which are critical to the creative economy.
Top officials from the county led by Nakuru Deputy Governor David Kones, and Trade and Tourism Executive Stephen Kuria showcased their traditional dance moves as they joined performers to celebrate the day.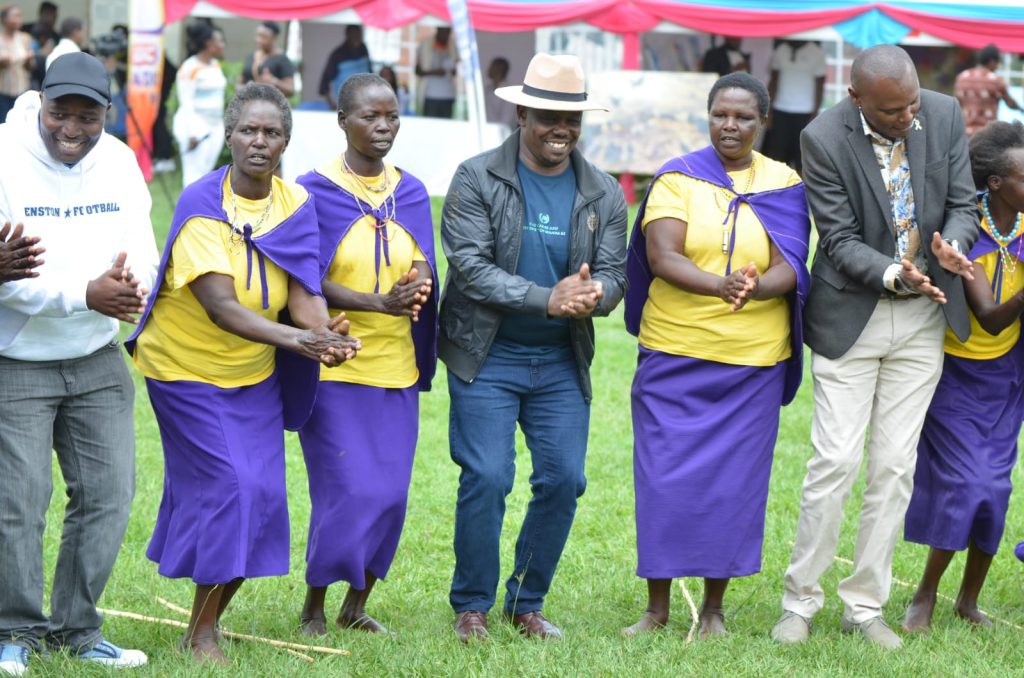 UNESCO's General Conference in 2012 declared April 15 World Art Day to honour and mark the birthday of the greatest artist of all time, Italian polymath Leonardo da Vinci to encourage the development, distribution, and enjoyment of art on this day annually.
Deputy Governor David Kones, while officiating the commemoration of the event urged residents to promote innovative cultural development to enhance economic development.
"To maximize this sector economically, more policy intervention is necessary. Creative industries are at play in driving innovations in sectors of the economy including health, agriculture, financial services, and tourism," he said.
Nakuru has a highly talented youth on a diverse spectrum of artistic and creative work including music, theatre, graphic design, digital animation, fashion, and crafts among others. The digital revolution, bolstered by policy intervention will further open up opportunities for this sector to be a significant economic actor in its own right.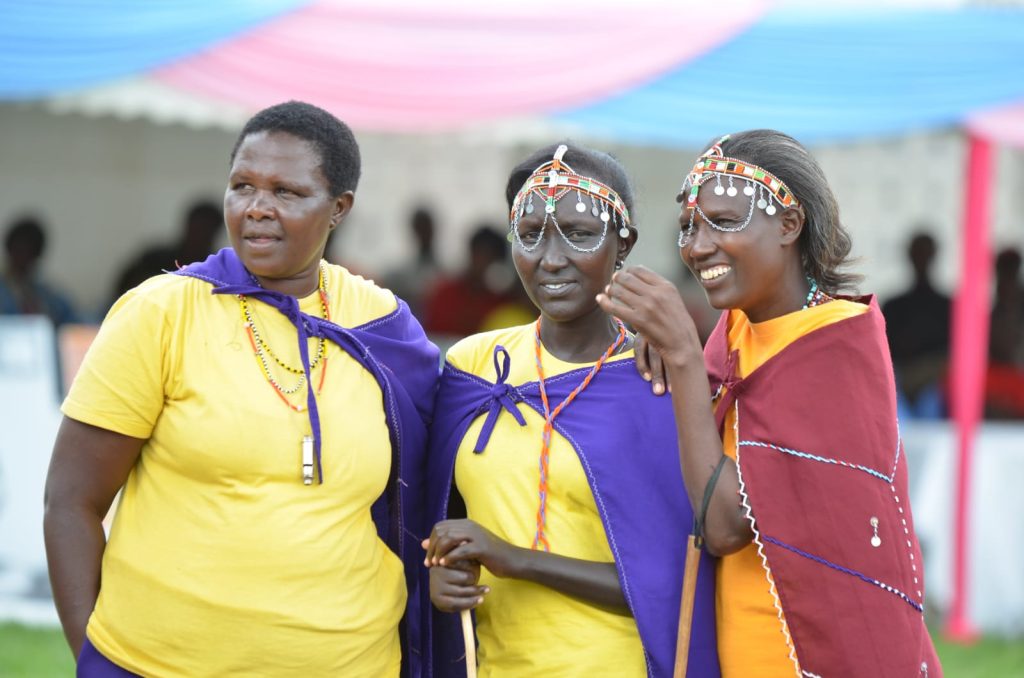 The DG said the theme for this year's commemoration, "Art for Cohesion, Cultural Diversity and Sustainable Development'', calls on the Nakuru residents to recognize the importance of arts, culture, and heritage in providing a forum for the exchange of ideas and views between artists and other cultural workers within the County and outside the world.
"I am amazed by our culture as displayed by the artists, come next year we will have more exhibitors to make Nakuru a hub for culture. There is a need to nature the talents of the youths, a good example is Ama Wanjiru, who drew a painting and won an award,'' he noted.
The celebration was punctuated with poems, songs, plays, and artistic displays that demonstrate that art and fashion have a purpose beyond entertainment and looking good.
During presentations, the artists gravitated towards sensitizing the County residents about different social and health issues like Ending Child marriage, Ending FGM, Stopping GBV, Breaking Infertility Stigma, Supporting Girl Education and Women Empowerment and raising awareness about diabetes and hypertension, and more.
Trade CECM Hon Stephen Kuria said culture is among the key projects in the manifesto of Governor Susan Kihika, pointing out that the Arts and Creative sector has become important in the knowledge economy, supporting economic growth, job creation, and enjoyment.
''To support this, we shall push for the creation of policies and infrastructures that will enable the establishment of the fund and other amenities to the sector," said Kuria.
His sentiments were echoed by Chief Officer for Culture and Tourism Rosemary Kimani who said the event has further promoted cultural practices and improved understanding and cooperation among people from different cultures.
Based largely on its cosmopolitan status, the Nakuru community is one with a rich cultural heritage of diversity and tranquillity. Its history and culture have throughout the ages been captured by astoundingly beautiful ancient attractions and sites.
"Art in Nakuru County has a rich cultural legacy and history, we at Nakuru Art Gallery want to encourage the youth in this County of Unlimited Opportunities to make use of various forms of Art to create an impact and awareness on critical and sensitive social and health issues. With this thought, we have launched our artistic work as you can see," said Harrison Kabui who is the director of Nakuru Art Gallery.
Through their artistic drawings, Harrison said they tend to create and share designs to deliver strong and influential messages to promote Nakuru's cultural and tourism sector by raising awareness through their drawings.
Ustadi Films Limited director Wilson Osiolo congratulated the county government for marking the Arts Day celebration a reality which he said has enabled them in joining the rest of the world to appreciate the diversity of the arts and cultures.
"This provides an opportunity for us as Nakuru residents to appreciate and enhance our knowledge and understanding of our own culture and those of others around us,'' he said.
Eddah Nkonyo, chair of the Nakuru Creative Economy working group said there are greater and untapped opportunities in the culture, tourism, and creative industries that can open doors to employment and money or revenue.
Nkonyo however thanked the county through the directorate of culture for designating November to be the creative month, reiterating that they will leverage the upcoming Jamhuri day, a national celebration to be held in Nakuru to further showcase their artistic and cultural competence.
The climax of the event was capped up with a series of plays at the Nakuru Players Theatre, that carried a message in line with this year's Art's Day theme: "Art for Cohesion, Cultural Diversity, and Sustainable Development.''
The Directorate of Culture brings on board development partners, youth, and young serving organizations and agencies in the activity's celebration of the Day.
Officials present at the event included Chief Officer Office of the Governor Newton Mwaura, Chief Officer Resource Mobilization Alex Maina, and Lands, Housing and Urban Development Chief Officer Catherine Chengwony.