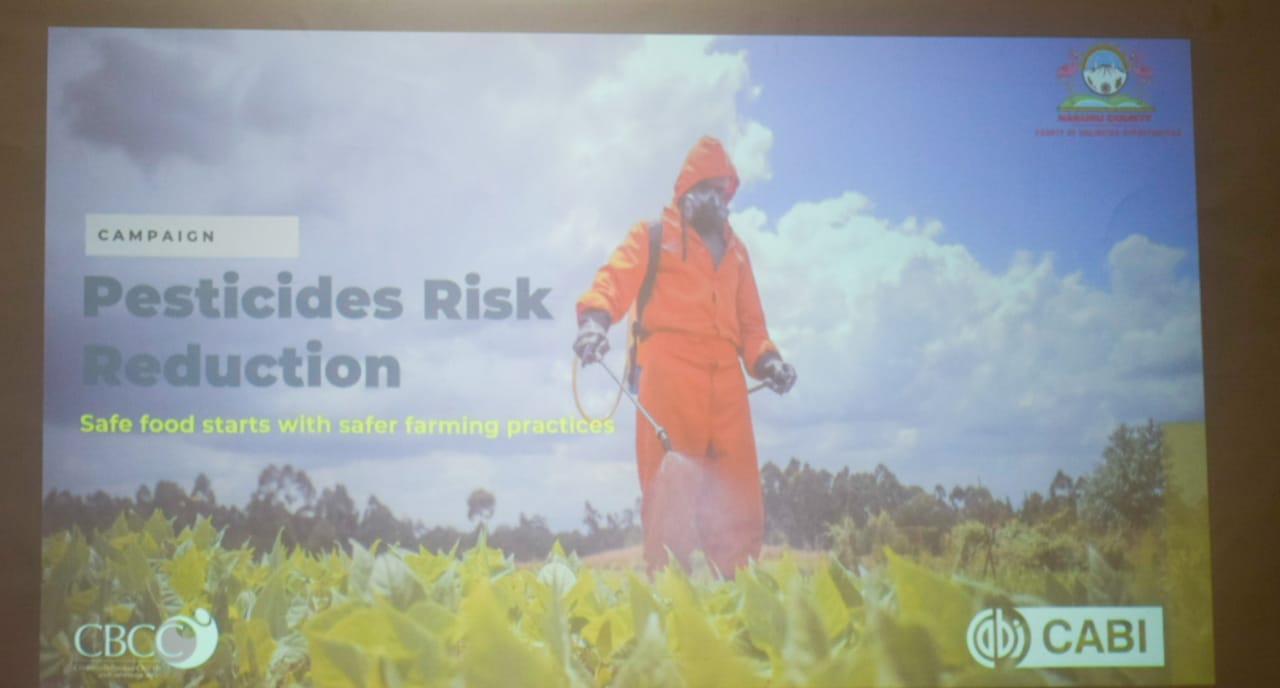 Nakuru County Government Launches Campaign to promote Safer and More Sustainable Farming Practices
Written by Brenda Chelangat and Ruth magak
The County Government of Nakuru, in collaboration with the Centre for Agriculture and Bioscience International (CABI) and Centre for Behaviour Change and Communication (CBCC), has launched a major initiative aimed at empowering farmers in the area and reducing the negative effects of pesticides on human and animal health, as well as the environment.
The two-day workshop brought together key stakeholders from across the agricultural sector, including farmers, traders, and policy-makers, to promote safer and more sustainable approaches to crop production in the county.
According to a recent field visit conducted by CABI and the County Government, many small-scale farmers in the region lack knowledge of best pest management practices when combating emerging plant health threats. This has led to the use of harmful pesticides in efforts to avoid crop loss, with limited awareness of the implications of these chemicals.
To address this issue, the social and behaviour change campaign aims to provide farmers with access to safer and more affordable alternatives to pesticides, reliable technical sources, and knowledge on safe pesticide use to minimize health risks. The campaign also focuses on the production of safe, pesticide-free produce for the market.
The initiative recognizes the critical role that technology can play in promoting more sustainable and safer farming practices. The Crop Sprayer App is now available for download on Android phones, which helps farmers calculate the amount of pesticide needed when treating crops, reducing the risk of overuse and toxic exposure.
The campaign is part of Governor Susan Kihika's manifesto on food security in the county. The County Government of Nakuru is hopeful that the initiative will help farmers cope better with emerging plant health threats and improve farm productivity. With the cooperation of all stakeholders, the county government is confident that the campaign will promote safer, sustainable farming practices and empower farmers to reduce the negative effects of pesticides in the county.
The County Government of Nakuru has taken a significant step towards promoting safer and more sustainable farming practices in the region. By empowering farmers with knowledge and access to safer alternatives to pesticides, the campaign aims to reduce the negative effects of pesticides on human and animal health, as well as the environment. Let us all work together towards achieving safer and more sustainable agriculture in Nakuru County.