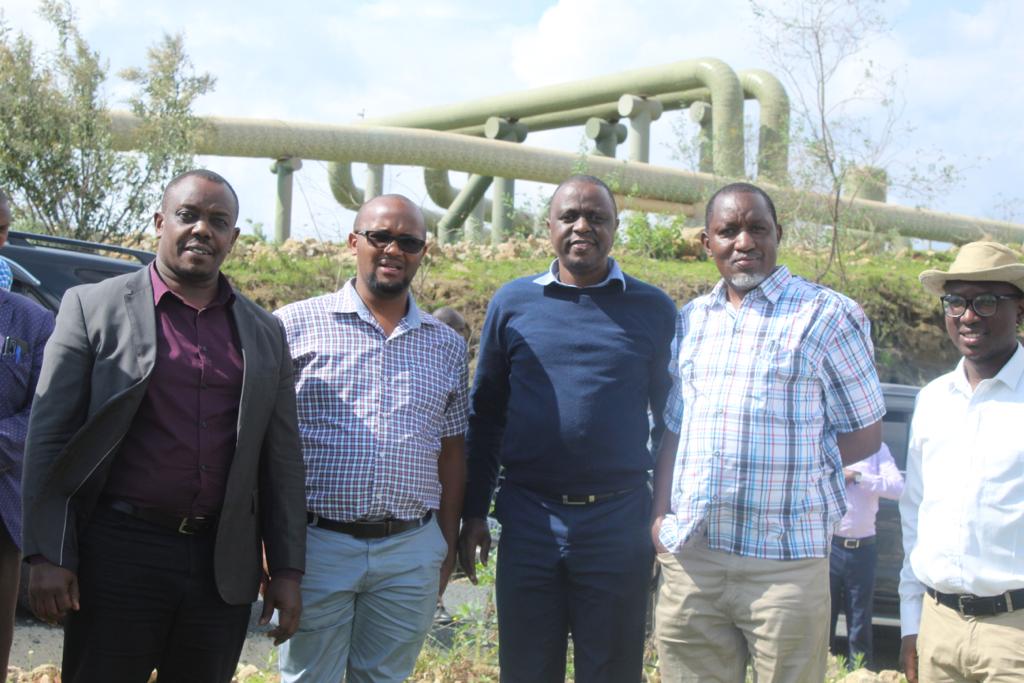 Access road between Olkaria Geothermal Field and SGR terminus to enhance accessibility to Energy Park
Written by Nancy Kihara
A team from the County Government of Nakuru, led by CECM Michael Kamau (Infrastructure), CECM John Kihagi (Lands) and CECM Stephen Kuria (Trade, Culture and Tourism) on Wednesday joined a team from KenGEN for a stakeholder assessment on the Construction of a proposed access road to link Ol'karia Geothermal Field to the SGR terminus.
The construction of the route is a move by KENGEN that will enhance the accessibility of a proposed Energy Park, which will be located in the south of Lake Naivasha, near Ol'karia.
The Energy Park is intended to support the Government of Kenya's Industrialization Strategy while optimizing KenGEN's business operations in geothermal.
The proposed project is approximately 113 km from Nairobi and 30 km from Naivasha. It is at a radial distance of 70 km from Nairobi and around 26 km from Naivasha.
The alternative route will complement the existing one that goes through the Moi-South Lake Road (C707) and connects back to the Naivasha-Mai Mahiu Road (A8 South), connecting and enabling efficient operation and maintenance of significant electronic transmission and power plants between Ol'karia and Suswa Sub-station.
The park is anticipated to spur economic growth and activity in the Ol'karia and Naivasha region as it seeks to enhance the use of geothermal resources (steam, brine, condensate, electricity, raw water) as part of a diversification and energy efficiency agenda.
"We are grateful that you have decided to involve the County Government of Nakuru to be part in this project so that we can incorporate our views and ideas for a better outcome of this project," noted Eng Michael Kamau.
It was also noted that those investing in Industries within the 500 acre of land within the power park, will be given access to subsidized electricity.
CECM for Lands, Hon Kihagi urged the team from KenGEN to look for an alternative route from the fence of the Park to Kwa Muhia, so that residents of Naivasha can also be able to access the road since only Suswa and Ol'karia residents can access the official route. This will increase economic activities within Naivasha.
Present was Newton Mwaura Chief Officer for the office of the Governor, Ag Director Infrastructure, Symon Kariuki, a team from KenGEN led by Douglas Gichangi and Simon Kisoto and Howard Humphrey Consultancy Director, Jeremiah Munanu.