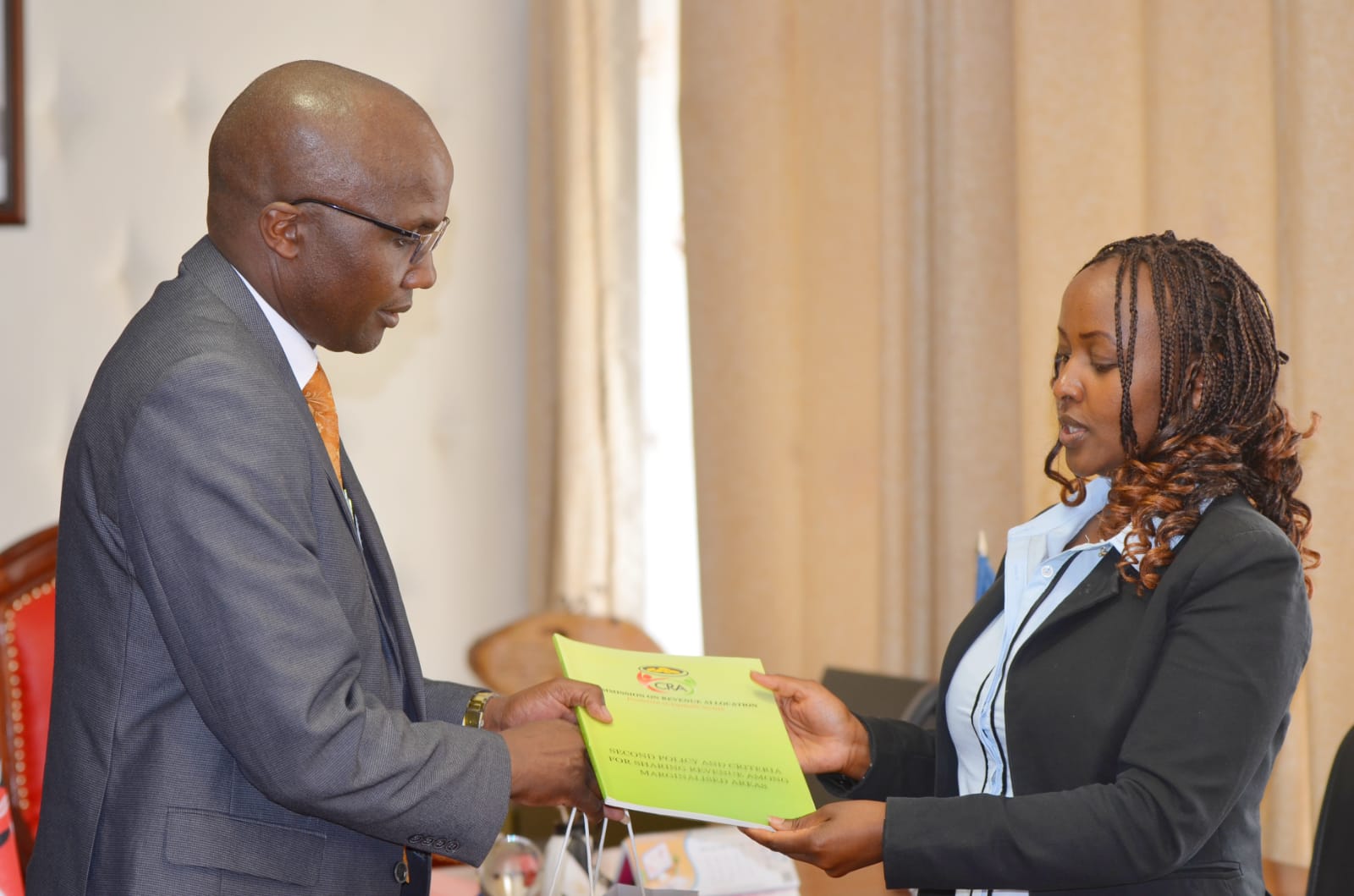 Six Nakuru sub-locations to benefit from marginalised areas fund
Six underserved Sub-locations in Nakuru County are set to benefit from a national fund primed to assist put in place basic infrastructural facilities to catch up with other areas in the country.
The decision by the Commission of Revenue Allocation to classify Kapcholola and Kiptunga Sub-locations in Molo Sub-county, Tachasis (Njoro), Tinet (Kureoi South), and Majani Mingi and Kokwomoi (Rongai) came as Nakuru County Government Deputy Governor, H.E David Kones outlined measures they were undertaking to develop the targeted areas to level up with the other areas in the County.
Dr Isabel Waiyaki, a CRA commissioner who paid a courtesy call on Mr Kones today in Nakuru, cited the poor access to clean water, electricity, sanitation, net primary school enrolment and net secondary school education admissions as the indicators behind the classification of the six sub-locations as marginal areas.
"Six Sub-locations in Nakuru have been identified and classified as marginalized areas. We are now crafting a marginalized policy and once the areas have been gazetted and funds passed by Parliament, they will be financed to bring them up to level with other parts of the country," she said.
Dr Waiyaki said Kokwomoi Sub-location, which had been identified earlier and gazetted as a marginalized area, will benefit from the Kshs 13.3 billion kitty which has been approved by the Senate while the remaining five will be lined up for financing in the next Budget.
Speaking, Mr Kones attributed the inadequate infrastructural facilities in Tinet Sub Location and Kapcholola to their status as new settlements occupied mainly by people who were originally hunters and gathers. He also said Majani Mingi and Kokwomoi were classified as marginalized areas because they are located in arid sections of Nakuru County.
"Tinet is a new settlement area whose residents are affected by the culture of hunters and gatherers. The wider Marioshoni area is a new settlement. Majani Mingi and Kokwomoi in Soin are found in a semi-arid area," he said flanked by County Executive Committee Member for Finance, Mr Stephen Njogu.
"We are encouraging farming and education in Tinet and Kapcholola to change the culture of people while in Soin, the County is drilling boreholes to provide clean water for domestic use and irrigation," he said.
Mr Kones said Nakuru County Governor, H E Susan Kihika was determined to invest resources in those areas and wean them off the Equalization Fund.
The CRA team was conducting public participation in the County before finalizing the Marginalization Policy.