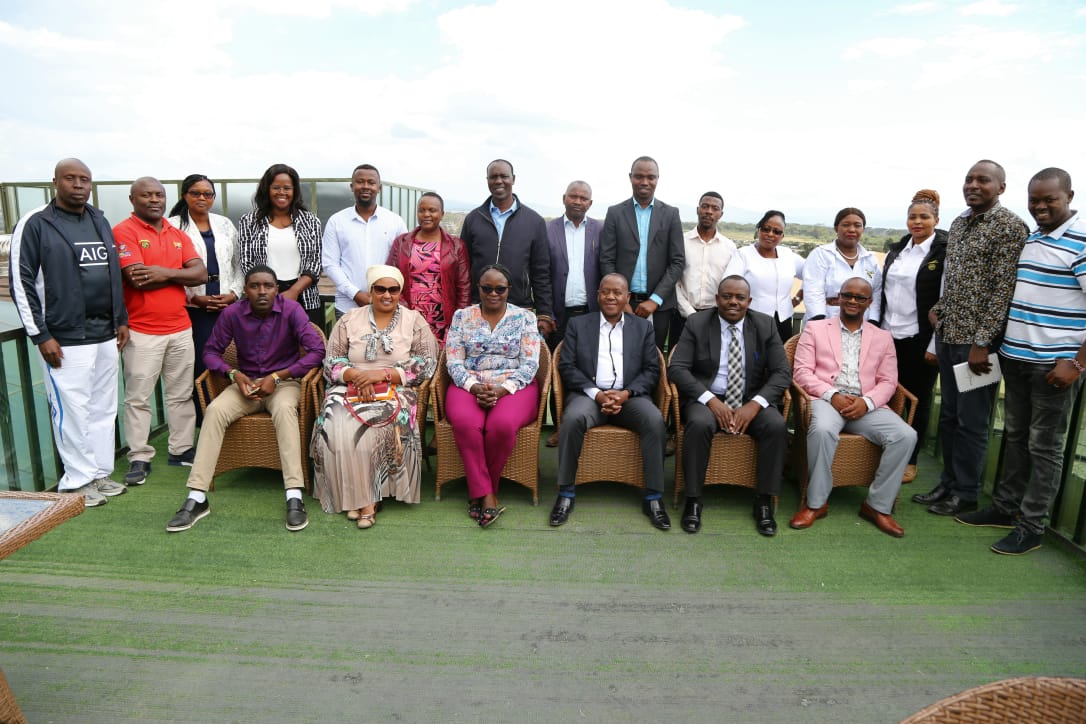 Preparations in top gear for the 2023 WRC in Naivasha this June
Hundreds of youths, traders and artists are set to benefit from the World Rally Championship Safari Rally set to be held from the 22nd to 23rd of this month in Naivasha, Nakuru County.
On Wednesday, a committee formed by Nakuru County Governor, H E Susan Kihika to work with the WRC Kenya team in preparing the event met in Naivasha to lay the ground for the participation of county residents in the event which is recognized globally by the Federation Internationale de l'Automobile (FIA).
County Executive Committee Members (CECMs) Josephine Achieng (Sports) and Stephen Kuria (Trade) who led the County committee at the meeting in Naivasha said Governor Kihika was keen to market Nakuru County and its potential locally, regionally and internationally by hosting the event which is rated at the top level in world motor rally championships.
"Our Governor, H E Susan Kihika is ready to market the host County, Nakuru, to the world through this event. We are convinced that what we have as a County is why Nakuru was selected to host this event," said Ms Achieng.
Mr Kuria said the County was ready to work with the WRC Kenya team which was led by Chief Executive Officer, Mr Phineas Kimathi to ensure the event was held successfully in addition to contributing to the growth of infrastructure in Nakuru.
"We are ready to work with you as a County and ensure that Nakuru becomes the home of Safari Rally in Kenya," he said.
Speaking, Mr Kimathi paid accolades to the geographical endowments in Nakuru, ranging from the alkaline lakes and picturesque mountains and a well-developed hospitality industry as the reason the County was elected to host the event. In any case, he said, Naivasha had the basic infrastructure as previous hosts of the event.
"In alkaline lakes such as Naivasha, Elementaita and Nakuru; in mountains such as Longonot and Eburu and a host of hotels, Nakuru got our vote. So we are your visitors," he said.
Members of the County Assembly from Naivasha and Gilgil sub-counties attended the event at Hylise Hotel in Naivasha. County Chief Officers Kennedy Mugo (Infrastructure), Rosemary Kimani (Tourism) and Alice Abuki also participated.
Ms Achieng, Mr Kuria and the MCAS staked a claim on the Sh1.5 billion that the Government had set aside for the event stating that locals in the County should benefit from the event.
"We want jobs for our youth to work as groundwork people and ushers among the many jobs. We also want to know how many artists and vendors will be picked from Nakuru," said the Sports CECM. He said that the proposed Hustlers Bazaar should create room for locals adding that hawkers from Naivasha and surrounding areas be given an opportunity.
In response, Mr Kimathi said as well as marketing the potential of Nakuru to more than 400 million people locally and globally, at least 60 per cent to 70 per cent of the jobs and opportunities will be taken up by locals.
"In addition, we are bringing more than 25,000 people here. We have done a lot of work in tarmacking and murraming roads. They will consume your food, kiosks will boom with business and pay more levies to the County," he said.
He challenged the County to identify youths who were ready to join the motor rallying industry and work with WRC to train them and prepare for a future in Safari rallies.