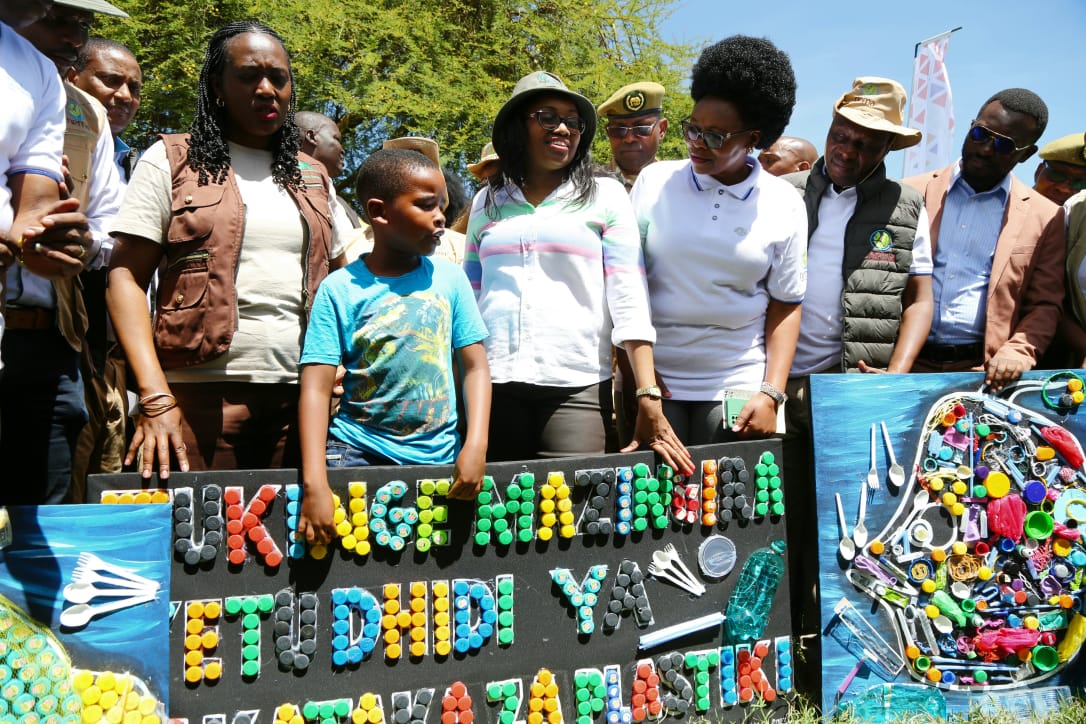 Nakuru hosts World Environment Day
Written by Roy Lumbe
Nakuru Governor Susan Kihika has emphasized the need for a collective effort in managing plastic disposal, urging residents to embrace a culture of proper waste disposal, recycling, and upcycling.
Speaking at Lake Nakuru National Park while commemorating World Environment Day, Governor Kihika acknowledged the government's effort in banning plastic bags calling for more sustainable solutions towards eliminating plastic pollution and calling for the adoption of eco-friendly products and alternatives to single-use plastics.
Kihika joined Cabinet Secretary for the Ministry of Environment, Climate Change, and Forestry Soipan Tuya to mark the day with this year's theme being 'Solutions to Plastic Pollution'.
The governor revealed that Nakuru City generates about 700 tons of solid waste annually, of which 20 per cent is plastic, and most of it is not lucrative for recycling and upcycling, thus ending up as a menace.
"Single-use plastics clog our storm water drains causing flooding in case of heavy downpours, degrade our environment, choke our wildlife as well as resulting in human health issues," she said.
She said Nakuru has become a champion and a barometer on integrated waste management countrywide and has provided an enabling environment by putting in place legal frameworks such as the Nakuru County Waste Management Policy and the Nakuru County Waste Management Act 2021.
"We have also complied with all ten minimum points as stipulated in the National waste management strategy 2015," added Kihika
She lauded the government's effort to launch a 15-billion national tree-growing campaign with other sustainable initiatives in agriculture, infrastructure, energy, and other sectors to enhance ecological functioning, mitigate climate change, and promote food security.
"Achieving this noble cause requires a multi-sectoral approach, which the County has embraced and since its launch, we have been able to grow more than 500,000 assorted tree seedlings in different areas of the county. Our drive, commitment, and sustainability to this noble initiative are guaranteed," she said.
Kihika revealed that by 2030, Nakuru County intends to increase its tree cover to 75 000 hectares from 68,000 Ha which translates to growing 11 million trees and curbing overreliance on fuel wood as a primary source of energy Nakuru has established a company NAWASCOAL that converts faecal sludge into fire briquettes that are carbon-free thus a suitable alternative source of Energy.
She noted that Nakuru County has completed a rigorous exercise on participatory climate Risk assessment in all 55 Wards, developed a Nakuru County Climate Change Action plan, and submitted as the minimum qualifications for the investment grant from the Financing Locally Led Climate Actions Program (FLLoCA) to enable the county to implement priorities identified as hazards at the ward level.
"These priorities are co-financed by Nakuru County and FLLoCA. We have already enacted the Nakuru County Climate Change Act of 2021, Nakuru Climate Change Policy, Sustainable Energy and Climate Action Plan, Nakuru County Energy Plan, and Nakuru County Integrated Solid Waste Management Feasibility Study/Plan," said Kihika
In our quest to maintain Nakuru County as one of the cleanest counties, Kihika revealed that the county had embarked on greening and beautification programs in the urban areas, the tree growing in line with the 15 billion national tree growing goal and clean-up activities.
On her part, Tuya noted that plastics pollute every ecosystem from mountain tops to the ocean floor adding that Kenya must lead in finding a solution to plastic pollution.
"We have already developed a national solid waste management strategy, which guides the management of solid waste in the country. This inclusive strategy aims at addressing the county governments under whose mandate waste management calls to check lasting solutions for waste management in their counties," said Tuya
According to the CS, the strategy is in line with the country's blueprint Vision 2030 which requires that counties put in place an efficient and sustainable waste management system as the country develops into a new industrialized state by that time.