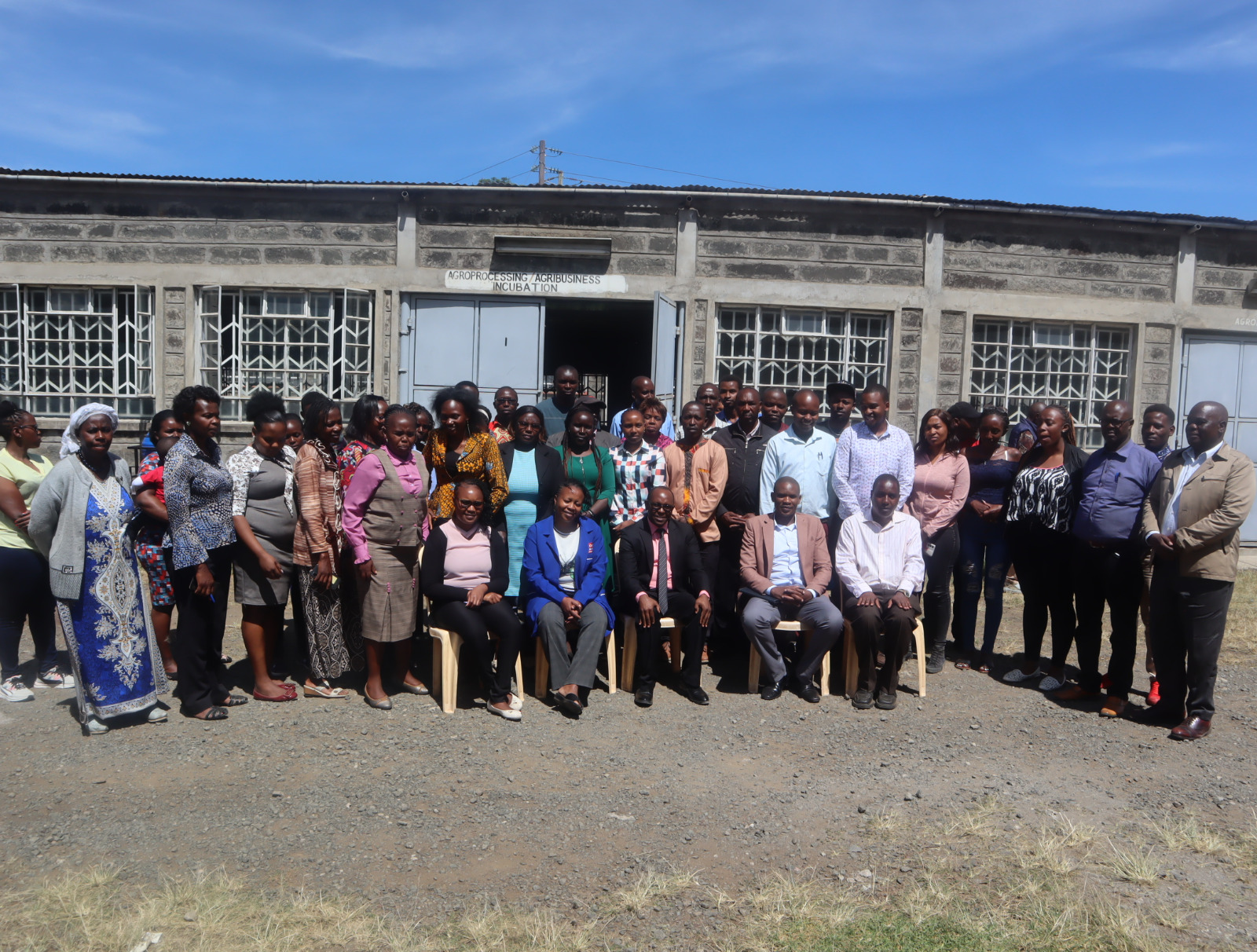 Nakuru County partners with Strathmore Uni and USAID to train MSMEs
Written by Jeremy Ogolla
Nakuru County Government has partnered with Kenya Institute of Business Training, Strathmore University Business School and USAID's program Kenya Small Business Development Centers (K SBDC), to help train Micro, Small and Medium Enterprises (MSMEs) traders drawn from the County.
Speaking while inaugurating the two-day training, Trade Chief Officer Samuel Ndegwa said the training is going to have a major impact on the output of MSMEs as it will enhance business management skills necessary for business growth.
"This training is going to help traders to formalise their businesses so they can grow. Today as business people, you will be taught how to keep proper records. I also want to ask you to use the innovation in technology to network," said CO.
The CO said the training is timely especially as the County Government is readying itself to launch the County Enterprise Fund that will allow the disbursement of low-interest rate loans to MSMEs, reiterating that the trainees will be the first beneficiaries as they are well equipped on key areas such as finance and business management that will allow them to better manage their business and finance.
The training dubbed 'Entrepreneurship and Business Skills Training Course for MSMEs' has aligned with Governor Susan Kihika's mandate in ensuring MSMEs increase their productivity and profitability and ultimately attain sustainable development, as this will also essentially help the County by increasing its tax revenues.
Among the subjects covered were; Introduction to Record Keeping, Business Planning and Aspects of Registration, Quality and Productivity Management (Kaizen), Access to Government Procurement Opportunities, and Marketing of Business Products or Services among others.
Concerning business permits and business rates, Mr. Ndegwa said the County will purposely hold a public forum, to get a clear view from the public on how to best executive.
His sentiments were echoed by County Trade Development Officer Monica Sitin who said the County through the Department of Trade, Tourism and Cooperatives will make a follow-up on the businesses whose owners have undergone the training, adding that this will enable them to help ascertain areas of improvements among the MSMEs for their growth.
Also present was Martin Gichinga a county official from the office of the Governor, who congratulated the entrepreneurs for their patience during training, challenging them to articulate what they have been taught for the growth of their businesses.
Kenya SBDC County coordinator George Makau said that the program is leveraging partnerships with stakeholders of MSMEs' critical public and private organizations to work together to ensure MSMEs grow and thrive.
The Kenya Small Business Development Centers (Kenya SBDC) is a 5 year USAID program being implemented by Strathmore University Business School to empower Micro, Small and Medium Enterprises (MSMEs) through facilitating markets, finance, offering business advisory services, and facilitating policy innovations.
The program takes the best practices in business development and advisory services from the U.S Small Businesses Development Center (SBDC) model and transfers them to a local network of small business development centres.
Among the trainers include Ben Gitange (KIBT), Boniface Gatimu (KIBT), Hilda Kipruto Industrial Development Officer from the State Department of Industrialization, and KSBDC County Administrator Tabitha Wanjiru among others.
This comes barely two months, after Nakuru County in collaboration with the Deutsche Gesellschaft für Internationale Zusammenarbeit (GIZ) GmbH and other training service providers trained about 200 entrepreneurs in Nakuru County, through a program dubbed ''the MSME resilience program.''
Facilitated through workshops, Entrepreneurs were trained in Business resilience, Digital sales and marketing, financial management, people management, access to markets and new value chains as well as legal and compliance requirements.
Cooperatives and Enterprise Chief Officer, Martin Kagai who graced the occasion said, the County is working round the clock to see how to improve the MSMEs database which aims to help the County administration to improve its effectiveness and efficiency in dealing with the MSMEs thereby enabling the achievement of transparency while offering better services to the entrepreneurs.
Micro-, small and medium-sized enterprises (MSMEs) contribute to achieving the 2030 Agenda for Sustainable Development and the Sustainable Development Goals (SDGs).
MSMEs help reduce levels of poverty through job creation and economic growth, they are key drivers of employment, decent jobs and entrepreneurship for women, youth and groups in vulnerable situations.
Thus, it is against this backdrop that the County Government has embraced the sector.