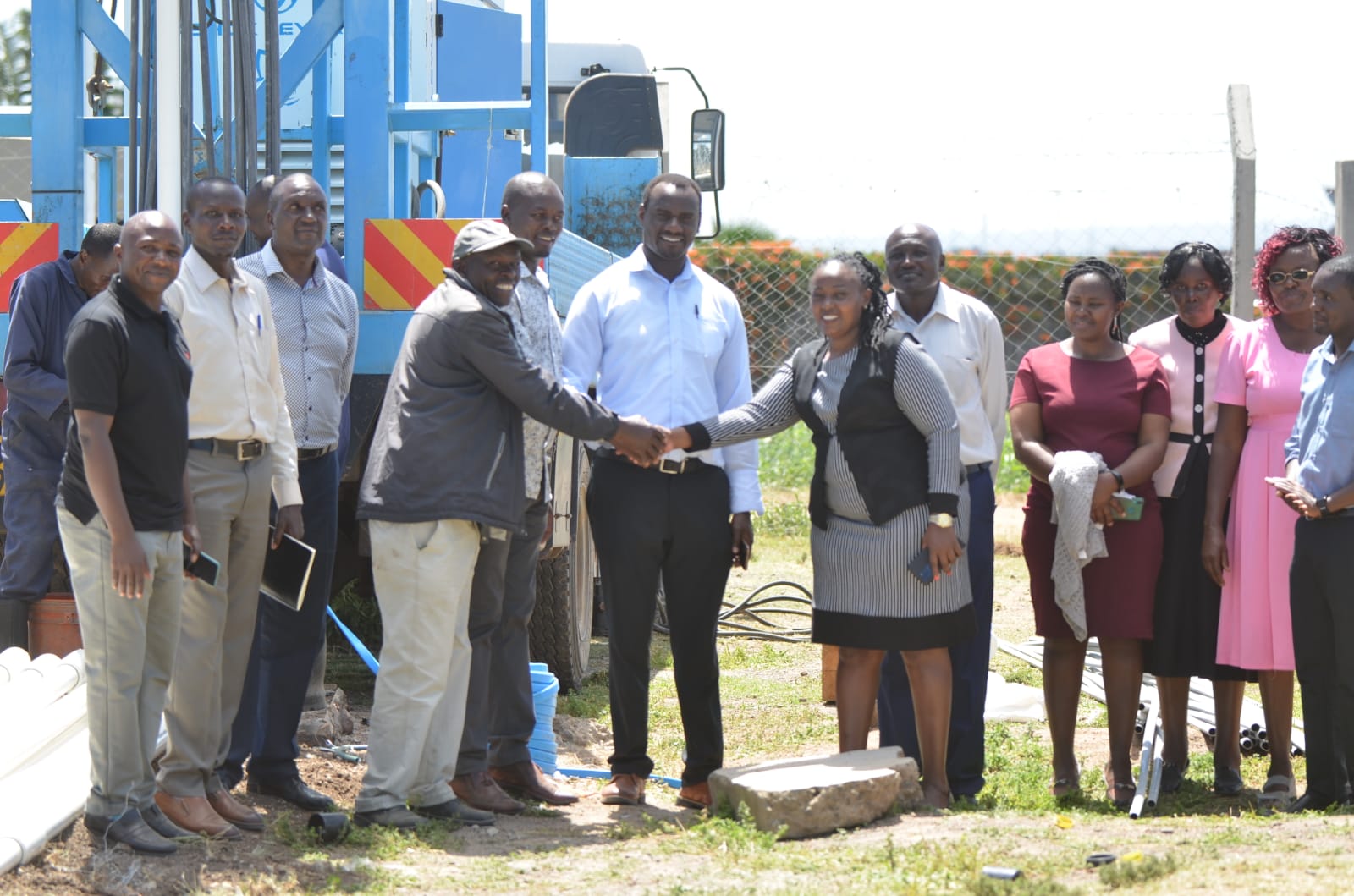 Nakuru intensifies water connectivity across the Counter
Written by Roy Lumbe
The County Government of Nakuru has intensified water connectivity at the ward level as it strives to implement its policy of ensuring accessibility of the essential commodity among the vulnerable population without access to clean and safe water.
Water and sanitation have been recognized as being at the core of sustainable development, a human rights commodity, and critical resources for the survival of people and the planet.
With Nakuru having been classified as a water-scarce county, Governor Susan Kihika is seeking to address the water shortages through the sinking of more boreholes, solarization, and installation of pumps and waterlines.
To implement the program, Water and Sanitation Chief Officer Engineer Margaret Kinyanjui today toured Bahati and Nakuru Town East sub-counties to inspect the progress of the projects.
In Nakuru East Ward in Nakuru Town East sub-county close to 18,000 people are poised to benefit from the equipping of Mzee Wanyama Borehole aimed to ease scarcity within the area.
The civil works which include solarization and pipping are expected to supplement the current water supply targeting 17,500 residents. The project was later handed over to Nakuru Water and Sanitation Services Company Limited (NAWASSCO) for management.
Kinyanjui who was accompanied by area MCA Anthony Kamau said the area will have fresh drinking water to supplement the available supply with residents expressing hope that the project will end their woes.
She revealed that the project which was initially being managed by the community will be well placed under NAWASSCO for the maintenance and sustainably of the project.
On his part, area MCA Anthony Kamau said areas of Mwariki, JB, and Mzee Wanyama will benefit from halving the water dependency of the ward.
The project chairman John Karanja lauded Governor Kihika's effort to ensure the project was up and running saying the area will develop and at the same time improve land prices.
In Dunduri Ward, five boreholes are set to be equipped with water lines after the Department of Water received waterlines for civil works from the contractor.
The project upon completion will serve at least 10,000 residents with area MCA Gathuita Mwangi saying the move will improve water accessibility across the ward.
Residents from the two sub-counties lauded the governor's efforts to bring water closer to the people saying her commitment was a confirmation that she was ready to work for the locals.