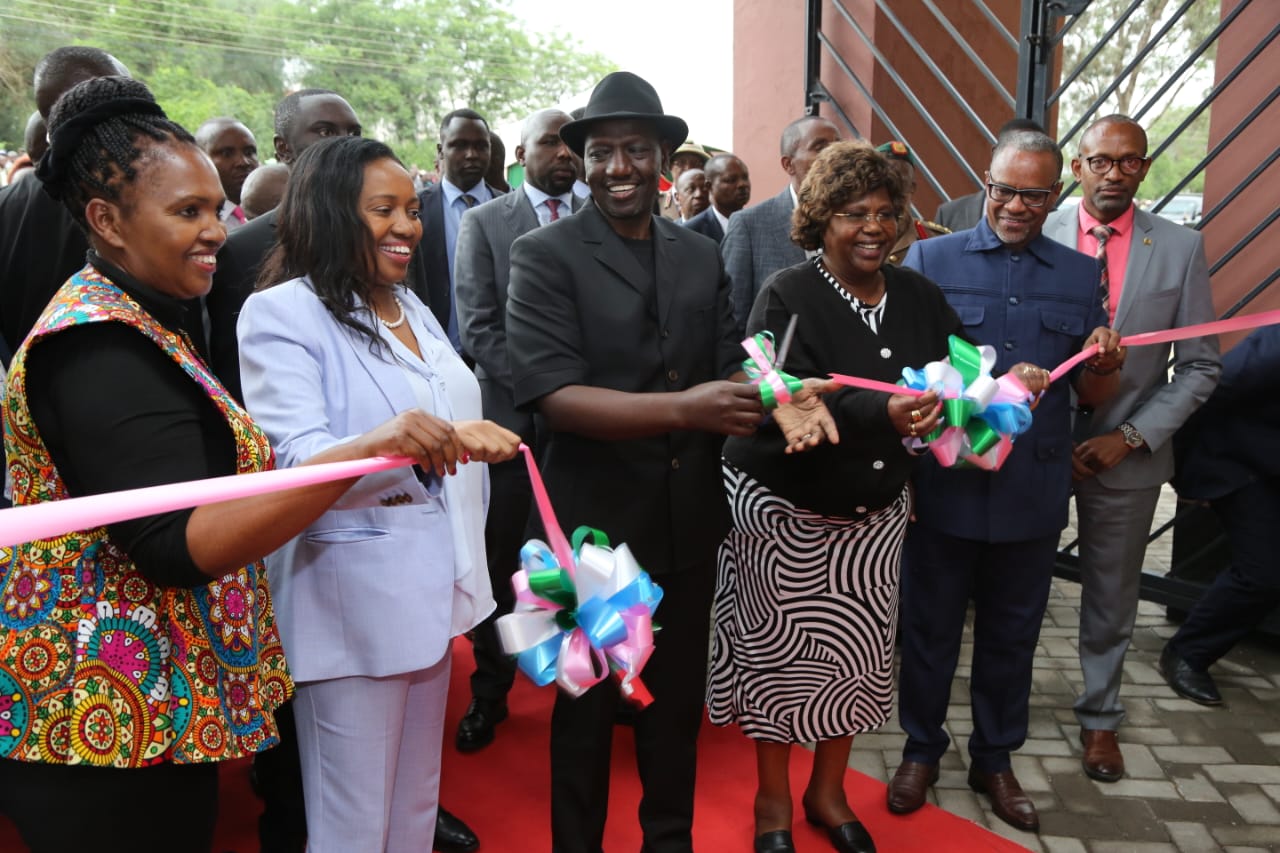 Nakuru County set to benefit from the construction of six more modern markets
Nakuru County is set to benefit from the construction of six more modern markets which will provide a ready market for farmers and mini aggregation points for farmers' produce.
The announcement by H E President William Ruto was made as he officially opened the Kshs422.4 million Naivasha Municipal Modern Market in Naivasha Town yesterday, in the company of Nakuru Governor H E Susan Kihika. Speaking as he opened the doors to the new market which has the capacity to hold more than 600 traders, President Ruto said the National Government has set aside Kshs3 billion for the construction of markets and stated that all charter and proposed municipalities in Nakuru County will benefit from the kitty. Naivasha, Gilgil and Molo municipalities and Njoro, Mau Narok and Maai Mahiu which are in the pipeline for municipality status are all set to have new markets. "In this year's (Financial 2023/24) budget, we will construct six other modern markets in Nakuru County. We have set aside Sh3 billion for the construction of markets and the municipalities of Nakuru will have new markets," he said.
Addressing a huge crowd who turned up to witness the opening of the new ultra-modern market in Naivasha Town, President Ruto said the Government had also received a Kshs13 billion grant from the World Bank to construct markets in municipalities across the country and Nakuru County will have its share of the kitty. "We want to construct modern, clean markets where our traders can go about their business in a conducive environment. We will construct new markets in the municipalities of Njoro, Molo, Gilgil and others here in Nakuru County. We have talked with the World Bank and they have given us Kshs13 billion for that work," he said flanked by Cabinet Secretaries Zacharia Njeru (Lands, Urban Areas and Housing) and Kipchumba Murkomen (Transport and Roads).
Governor Kihika said the official opening of the market was a fulfilment of her pledge to the traders in Naivasha Town during her campaigns when she pledged to ensure the completion of the market and seamless allocation of stalls. While thanking the traders who were evicted from the site to provide for the construction of the modern structure, Governor Kihika instructed the County team which will oversee the allotment of stalls and other slots to give priority to them. "I promised during the campaigns that we will complete this structure and have in place a modern market where our traders can carry out their business and farmers to get a market for their products. And today, we are here, with H E the President, to open this market as I had promised," she said. Governor Kihika added: And, in line with the promise we made to the traders as they vacated this site for construction, I hereby instruct the team in charge of the allocation of the stalls in the new modern market to ensure those traders are given first priority before anyone else".
Governor Kihika said the modern market, which comprises three floors in four blocks with usable space measuring 6,773 square metres will accommodate more than 600 traders.  It boasts of 89 lockable shops, 33 of which are fitted with roller shutter doors.  The market, which features a cold room and CCTV Surveillance, is a boon to traders, farmers and fishermen in Naivasha and surrounding areas since it will provide a market for their produce. She said the modern market will play a fundamental role in ensuring food availability and accessibility by the residents and hundreds of hotels in the resort town. Aside from creating jobs and supporting the local economy, the market will improve security, general hygiene and safety of goods and food items consumed in the town.
Present during the function were Nakuru Senator Tabitha Karanja, Naivasha MP Jayne Kihara, Nakuru County Executive Committee Members John Kihagi (Lands, Urban and Housing) and Stephen Kuria (Trade, Industry and Tourism).
Responding to Governor Kihika's request for the equipment for the new building at the Naivasha District Hospital, President Ruto said the procurement for the medical equipment required by the hospitals was in the process and will be delivered once the process is completed. He also said Nakuru County will benefit from the 100,000 community health workers who were being employed by the Government to provide primary healthcare to Kenyans across the country. To provide employment for the youths in the county, President Ruto assured Governor Kihika that already slots for the Special Economic Zone (SEZ) in Naivasha had been booked and the Government was seeking another 5,000 acres of land in the area for an industrial park to provide jobs for the residents. "I am negotiating for another 5,000 acres of land to see to it that Naivasha becomes an industrial city. We want to use steam from KenGen to benefit locals