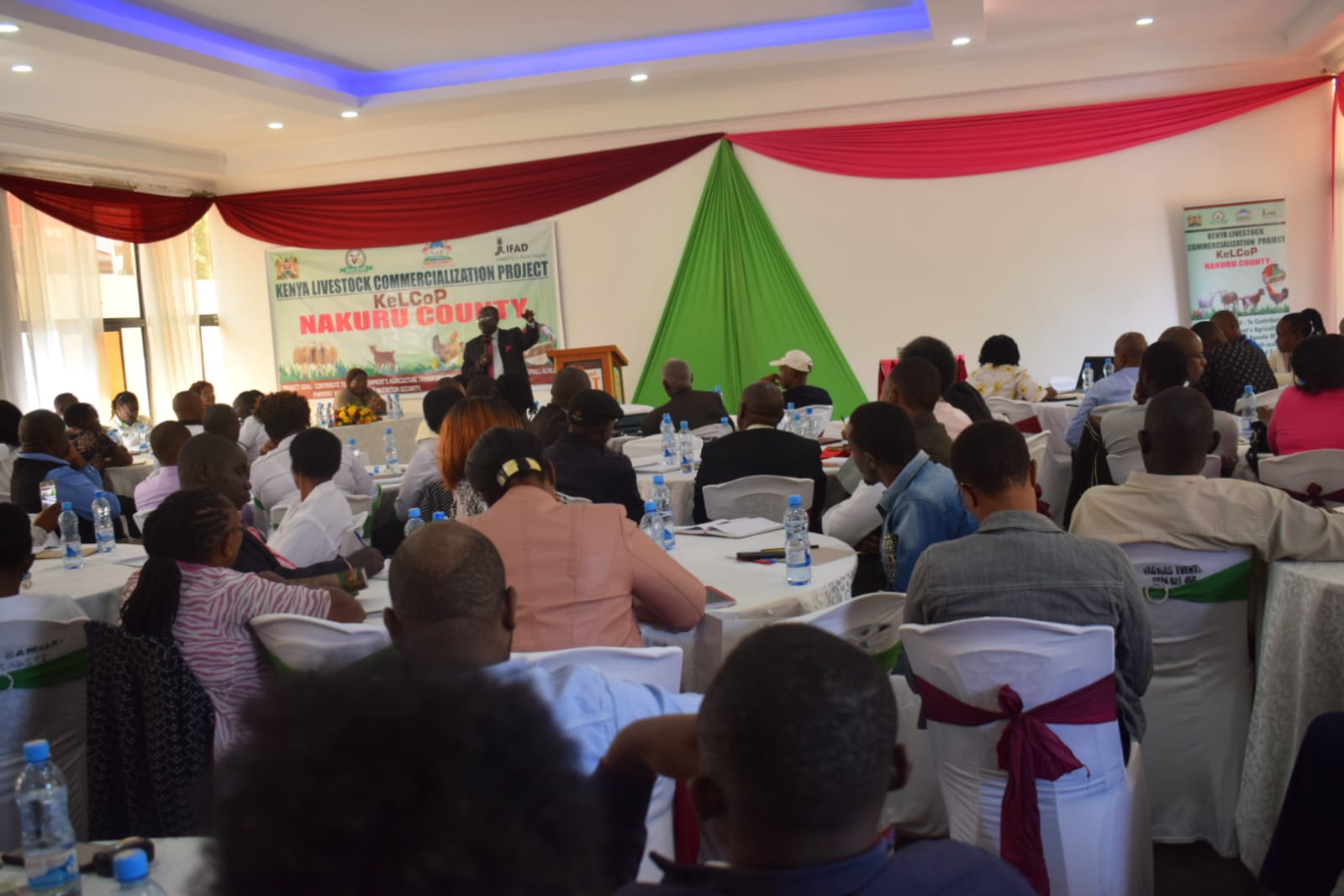 County to work with investors to help increase rural small-scale farmers' income, and food and nutrition security
Written by Vincent Kemoi and Mercy Kihugu
The Department of Agriculture, Livestock, Fisheries and Veterinary Services in collaboration with Kenya Livestock Commercialization Project (KeLCOP) held an investors forum officiated by Dr. Michael Cheruiyot.
Dr Cheruiyot the Livestock, Fisheries and Veterinary Services Chief Officer noted that the discussions will help the county understand the investors around the project's value chains and seek ways of synergy and collaboration for improved productivity and marketing.
KeLCoP is aiming to contribute to the government's agricultural transmission agenda of increasing rural small-scale farmer's income, food and nutrition security focusing on goat, sheep, apiculture, poultry and dairy goats value chains.
The county has created an enabling environment for stakeholder participation and involvement with the aim of lifting various value chains.
Dr. Cheruiyot noted that the meeting will create a very important link between the county government, investors and farmers which will develop and improve the agricultural sector.
He added that the administration will ensure adequate sensitization of the farmers to expand their market reach, especially on export.
The county development projects have supported farmer groups and cooperatives within the value chains through livestock breeding improvement; dairy goats, sheep, improved indigenous chicken, and farm inputs support programmes including the distribution of beehives, spades, sprays and pumps.
In addition, projects such as NARIG and ASDSP have continued to provide support and capacity building to various farmer groups and cooperatives in order to increase livestock productivity, food nutrition security and incomes in the county.
He added that two poultry cooperatives in Njoro and Bahati have been formed this is evidence that there is improved productivity within the poultry value chain while three apiculture cooperatives including Makilanjo, Hifadhi and Malando within the apiculture value chain.
KeLCoP focuses on value chains that have the potential to provide productive employment and food security opportunities for women, youth, and marginalized people.
The KeLCoP's aim is to increase small-scale farmer incomes and improve opportunities for rural people to enable them to increase their output, access markets, and increase their resilience.