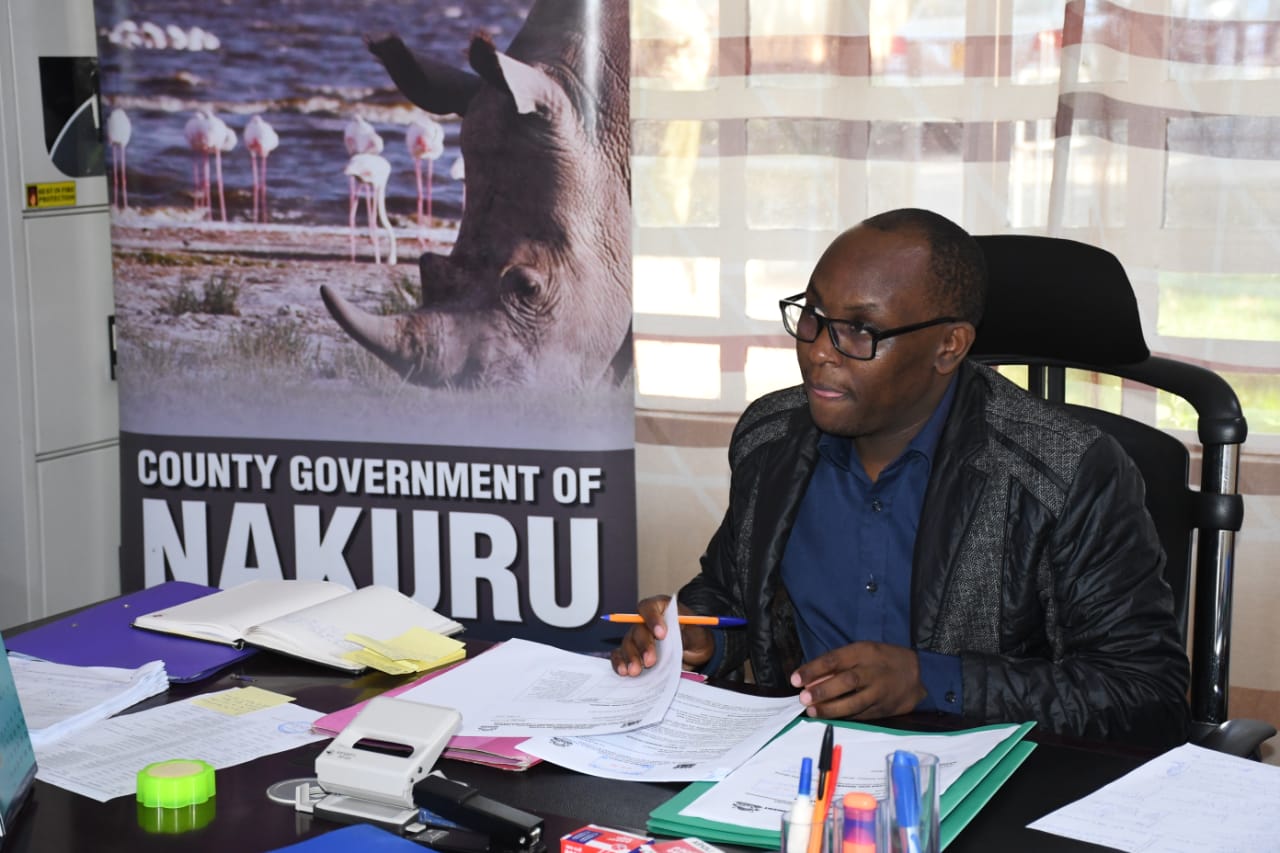 Nakuru County to partner with KIBT and JIICA to train MSMEs
Written by Jeremy Ogoll and Dennis Telewa
Nakuru County Government has signed a deal with the Japan International Cooperation Agency (JICA) and Kenya Institute of Business Training (KIBT) to roll out a training project geared towards enhancing Medium Small Macro Enterprises (MSMEs) competitiveness and growth.
The programme dubbed Enhancing Enterprise Competitiveness in Kenya (EECK) will see MSMEs undergo training in quality productivity improvement, marketing and sales and financial management.
Trade Chief Officer Mr Samuel Ndegwa lauded the move saying it was timely even as the County administration is readying itself to launch an Enterprise Development Fund geared to providing affordable loan facilities to enterprises and cooperatives. The training, thus, will help bridge the gap between financial institutions and MSMEs to ensure the growth of the sector.
"I would like to assure you that the County Government under the stewardship of Governor Susan Kihika is committed to ensuring the smooth progress of this training project by availing some of our staff members who will closely work with you, "said Mr Ndegwa.
The CO was speaking to the JICA and KIBT delegation who paid him a courtesy call in his office, where he reiterated that the project is key in the technical transfer of the Japanese philosophy and tools of management excellence to Nakuru MSMEs.
The move will now see Nakuru join Nairobi, Mombasa and Eldoret who signed the project in 2019 to help grow their MSMEs in a term of cooperation running from January 25, 2021, to February 28, 2025, with room for extension.
Gideon Njogu, the project co-ordinator said among other deliverables the project will enhance the ability of the small enterprises to be equipped with knowledge on financial matters which enable the promotion and growth of SMEs and start-ups, adding that so far, they have trained those who will assist them in realizing the success of the project.
"The project trained both Master Trainers (MT) and Trainers (T) for Business Development Services (BDS) Delivery in three fields Quality Productivity Improvement (QPI), Marketing and Sales (MS) and Financial Management (FM)", said Mr Njogu.
The project trained 32 MTs and 13Ts. Currently, 17 Ts are being trained in Mombasa by 11MTs.
Mr. Ben Getange, Master Trainer FM/Deputy Director KIBT, emphasized the significance of the JICA project saying the initiative intends to improve SMEs' productivity and competitiveness by strengthening firm management practices such as marketing, sales, and financial management.
The project will also put MSMEs drawn from Nakuru in an ecosystem for interacting and collaborating with trade and financial institutions like Kenya Bankers Association to improve their business process and receive support from financial institutions and investors.
Present during the meeting were Cooperatives Director Josephine Ngandu, Trade Officer Monica Sitin, Trade Administrator Veronica Njiiri, Patrick Nyakundi Deputy Director KIBT, Musako Uehara JICA Project Coordinator and Ben Getange Regional Business Training Officer Rift Valley, Tabitha Kibithe Enterprise Development Officer among others.
Meanwhile, the program aligns with the manifesto of Governor Susan Kihika on ensuring the growth of the MSMEs sector, where she committed to spending Sh1 billion annually to provide micro, small and medium enterprises (MSMEs) with access to affordable credit.
"We are keen on this sector as it speaks directly to the core of our economy. The country is alive to the fact that this segment is what drives the economy and therefore requires to be fully supported," noted Governor Kihika in one of the functions.
Kihika said MSMEs contribute 85 per cent of non-farm jobs, which translates to 15 million out of the 18 million Kenyan workforce. The sector, absorbs nine out of 10 of the young people joining the workforce, 750,000 on average, while the formal corporate economy barely absorbs 50,000," noted Governor Susan Kihika.
To further support the sector, the County administration has been closely working with the County Assembly to develop and deploy a robust financial services consumer protection policy and legal framework that protects MSMEs from exploitation by some lenders.
MSMEs in the County make a huge contribution on multiple fronts — fostering innovation, creation of new markets and consumers, a higher tax base, generation of employment and in effect, alleviation of poverty.
Kenya's government's Vision 2030 identified the promotion of Small and Medium-sized Enterprises (SMEs) and human resources development as key to achieving the desired 10 per cent annual GDP growth.
Small and medium-sized enterprises (SMEs) are officially defined by the government of Kenya (GOK, 2005) as businesses that engage between 1-99 employees, cover a range of establishments in almost all sectors of the economy; they operate formally or informally, seasonally or year-round and are located in a number of areas including markets, streets, households or mobile.
Official statistics show that the value of SME output is estimated at Sh3,371.7 billion against a national output of Sh9,971.4 billion representing a contribution of 33.8 per cent in 2015. This was an incredible rise from 13 per cent recorded in 1993.