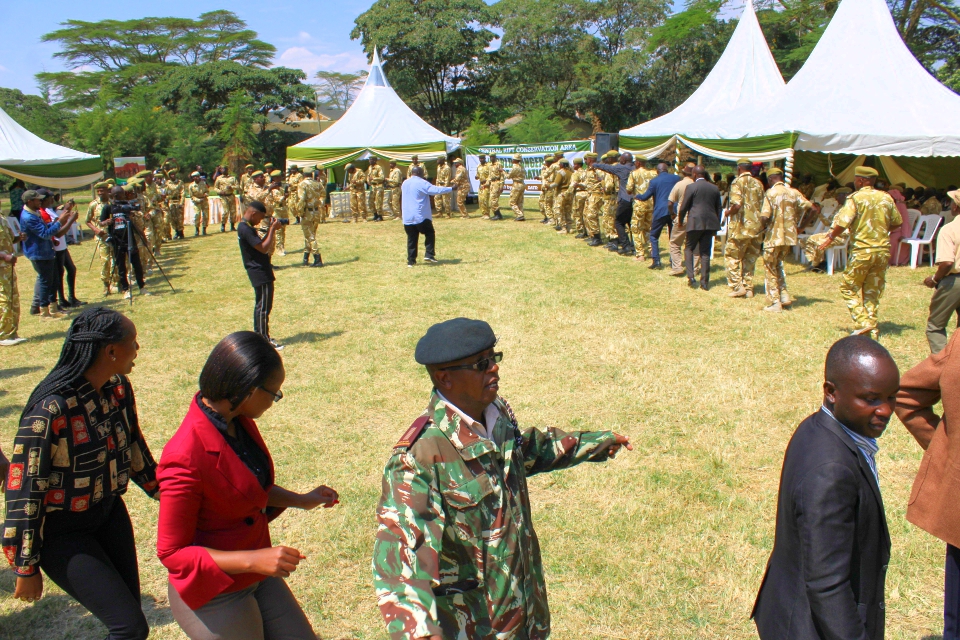 Nakuru County joins the world in World Rangers Day celebrations
Written by Ezra Jilopa
Nakuru County Department of Environment led by Chief Officer Kennedy Mungai today joined the rest of the World in celebrating World Rangers Day at Kenya Wildlife Service Headquarters in Nakuru.
World Rangers Day is celebrated worldwide on July 31 to commemorate rangers killed or injured in the line of duty. It also celebrates the work Rangers do to protect the planet's natural treasures and cultural heritage as well as pay tribute to the rangers and wildlife conservationists from across the globe.
Speaking during the event, Chief Officer Kennedy Mungai noted that the work of the rangers goes beyond surveillance and security saying they also act as eyes and ears of the communities and the vulnerable wildlife habitats.
"We as the County Government of Nakuru recognize the work done by rangers. They are indispensable in conservation initiatives including cleaning of river Ndarugu and tree planting in various forests in Nakuru. Their relentless efforts deserve recognition as they work tirelessly to safeguard the planet's natural resources, wildlife, and biodiversity," Mungai said.
The Chief Officer further urged the Kenya Wildlife Service to continue conserving the environment by not only planting more trees but also looking after the already planted ones.
On his part, Jim Justus Nyamu the Executive Director of Elephant Neighbors Center (ENC) celebrated the work of rangers and the sacrifice they put towards the protection of wildlife and people.
He further lauded the effort of thousands of conservationists who play a key role in the restoration of the environment. Nyamu also requested support from the government in supporting the victims of human-wildlife conflicts.