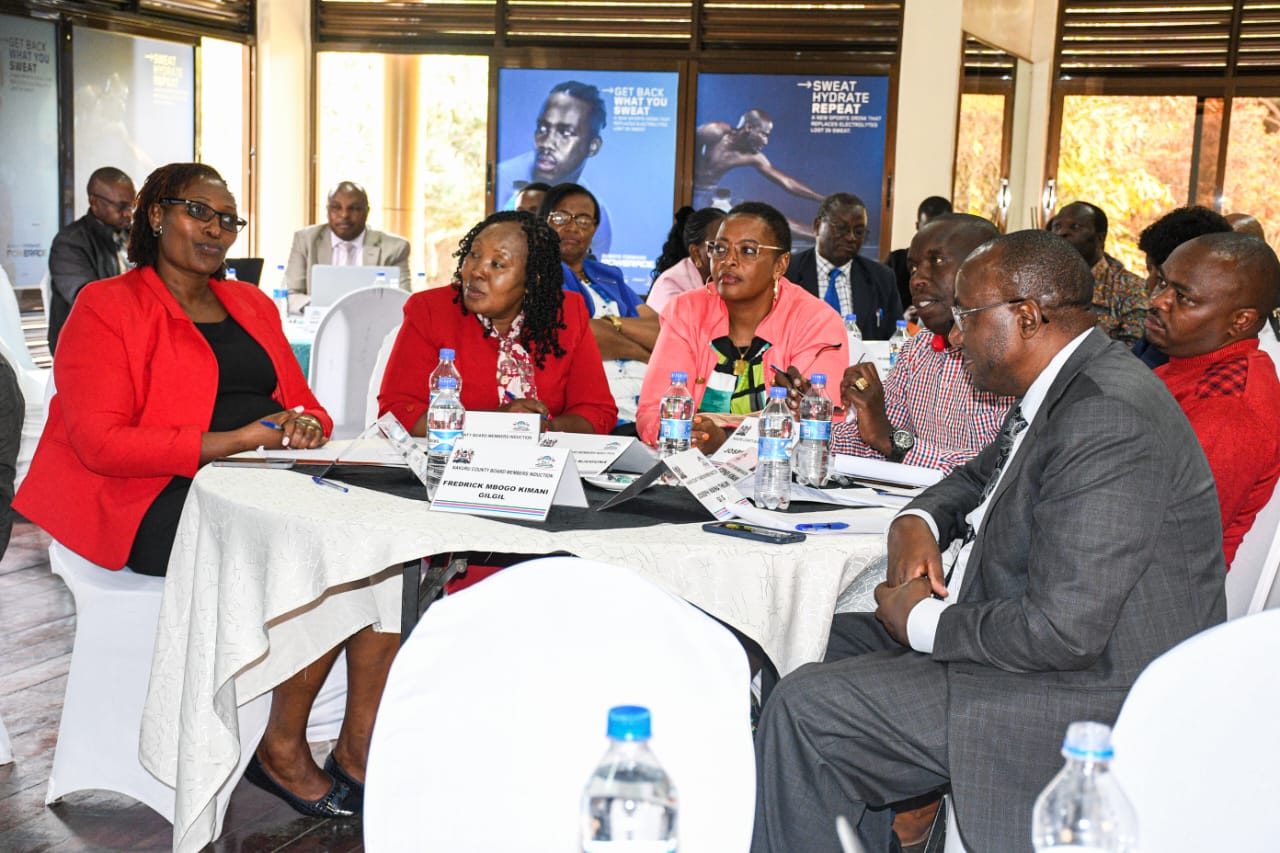 Nakuru City and Municipal Boards members in a four-day induction exercise
By Nancy Naholi and Annette Njoroge
In efforts to enhance the capacity and effectiveness of municipal boards in promoting sustainable development and improving the quality of life of the residents, H.E Governor Susan Kihika's Administration has engaged members of Nakuru City, Naivasha, Gilgil and Molo Municipal Boards in a four-day rigorous induction exercise.
The exercise is aimed at equipping members with the necessary knowledge and skills to effectively carry out their duties and responsibilities in their respective Municipal Boards.
During the week-long training, the members will receive briefings on the legal frameworks governing municipal boards, their functions and roles, budgeting and financial management, public participation, and stakeholder engagement.
The CECM Land, Physical Planning, Housing and Urban Development Hon John Kihagi while representing the Governor said that the formation of an urban unit is a critical step in the development agenda of the county. He emphasized the need for proper land use planning, infrastructure, and housing for the residents of the county.
He has also urged members to discharge their duties with utmost integrity and foster public engagement in the planning and decision-making processes to ensure that the views and concerns of the residents are adequately addressed.
Chief Officer Housing and Urban Development Kamau Kuria while moderating the training exercise alluded to the CECM's sentiments emphasizing on the need for effective collaboration and communication among board members, other stakeholders, and the County Government to achieve Governor Kihika's six-point urban agenda.
"Governor Kihika's Administration is committed to promoting sustainable urbanization that takes into account the needs of both present and future generations," Remarked Arch Kuria
The induction exercise is one of the many initiatives aimed at achieving this goal and ensuring that urbanization in Nakuru County is people-centered, sustainable, and inclusive.
The exercise has also provided an opportunity for the members to interact amongst themselves and share best practices.
County Senior Officials, County Attorney Caleb Nyamwange, County Assembly Urban Development Committee Chair Peter Palanga, Chief Officer Housing and Urban Development Kamau Kuria, and Council of Governors Representative Nicodemus Mbwika among other officials are joining the induction.