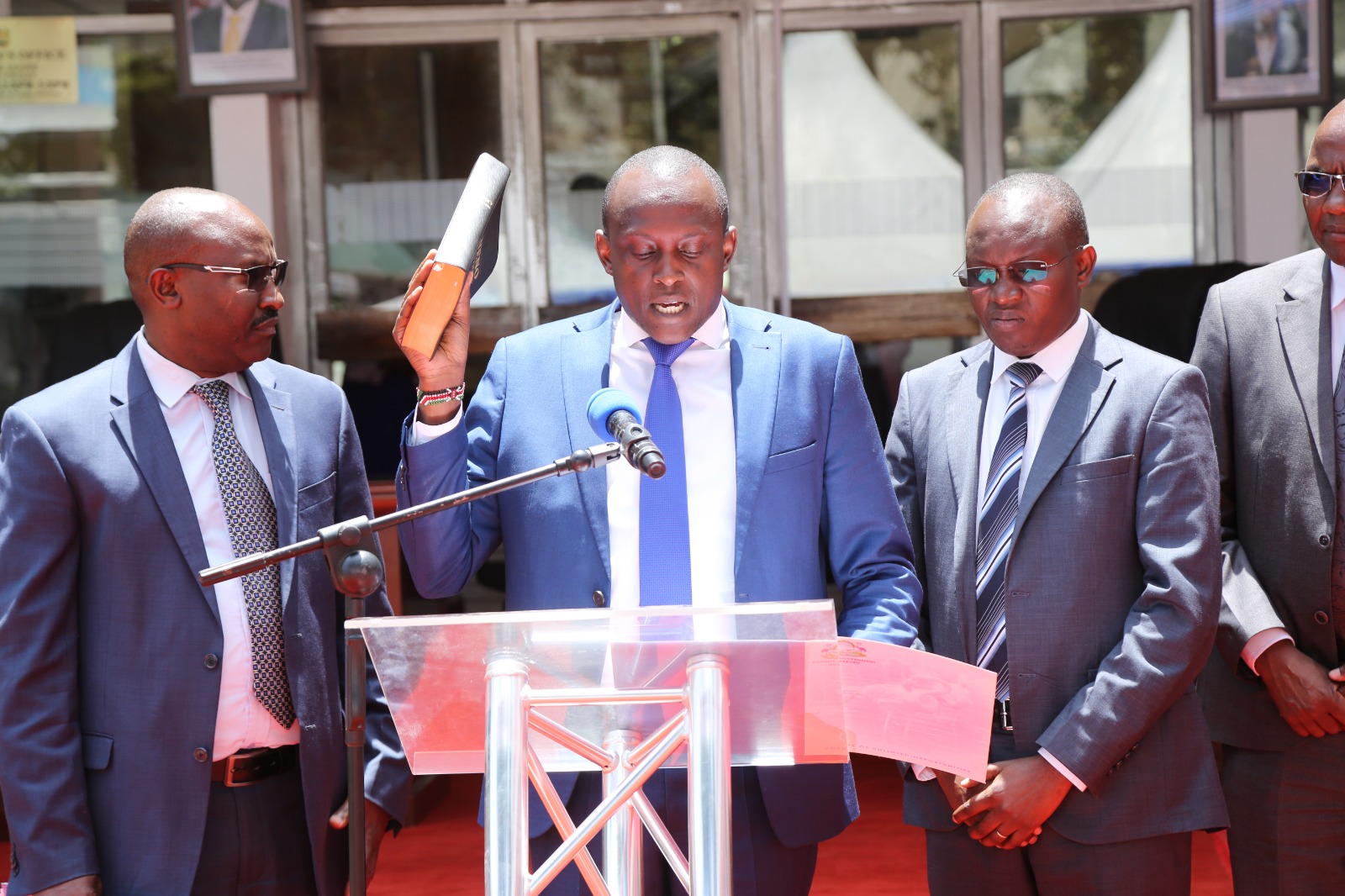 Dr. Mwaura takes the helm, as the Nakuru County Secretary and Head of Public Service
Written by James Munyua
Dr. Samuel Mwaura has been officially sworn in as the Nakuru County Secretary and Head Of Public Service in an event graced by Deputy Governor H.E David Kones at the County Headquarters.
Dr. Mwaura, who has been serving in an acting capacity since November 2022, emerged as the best candidate after a rigorous selection and vetting process.
A total of 18 candidates applied, with 11 being interviewed by the Rev. Father William Kambo-led selection committee appointed by Governor Susan Kihika.
The selection committee submitted the names of Dr. Mwaura and former Nakuru County Assembly Speaker Joel Kairu to the County Assembly for vetting and approval. After a thorough vetting conducted in full public view, Dr. Mwaura emerged as the winner and his name was forwarded to the Governor for appointment.
According to County Assembly Speaker Joel Karuri, Dr. Mwaura showcased a deep understanding of service delivery and public service issues during the vetting process.
"We are proud of Dr. Mwaura for the hard work he has shown when he was in an acting capacity. He has proved that he has what it takes to be lead in that post, Nakuru we can only say, Mbele Iko sawa," Karuri said.
He further encouraged Mwaura to engage the next gear and work even more to enhance service delivery in Nakuru County as he oversees the implementation of County initiatives.
This was further echoed by Deputy Governor David Kones who said Dr. Mwaura has shown a great level of enthusiasm and knowledge on County affairs.
"Since Dr. Mwaura was appointed to this position by the Governor in November 2022, he has shown great commitment to working for the betterment of Nakuru County. He has led the cabinet in formulating public sector reforms which will go a long way in delivering our promises to the people of Nakuru," Mr. Kones stated.
Other speakers during the event included the Chairperson of the selection committee Rev. Father William Kambo and Nakuru County Assembly majority leader Alex Langat, who lauded Dr Mwaura for the appointment saying he is the best candidate for the job.
The event was also graced by a host of County Executive Members, Chief Officers, Nakuru County Assembly Members, and County Attorney Caleb Nyamwange among other County officials.