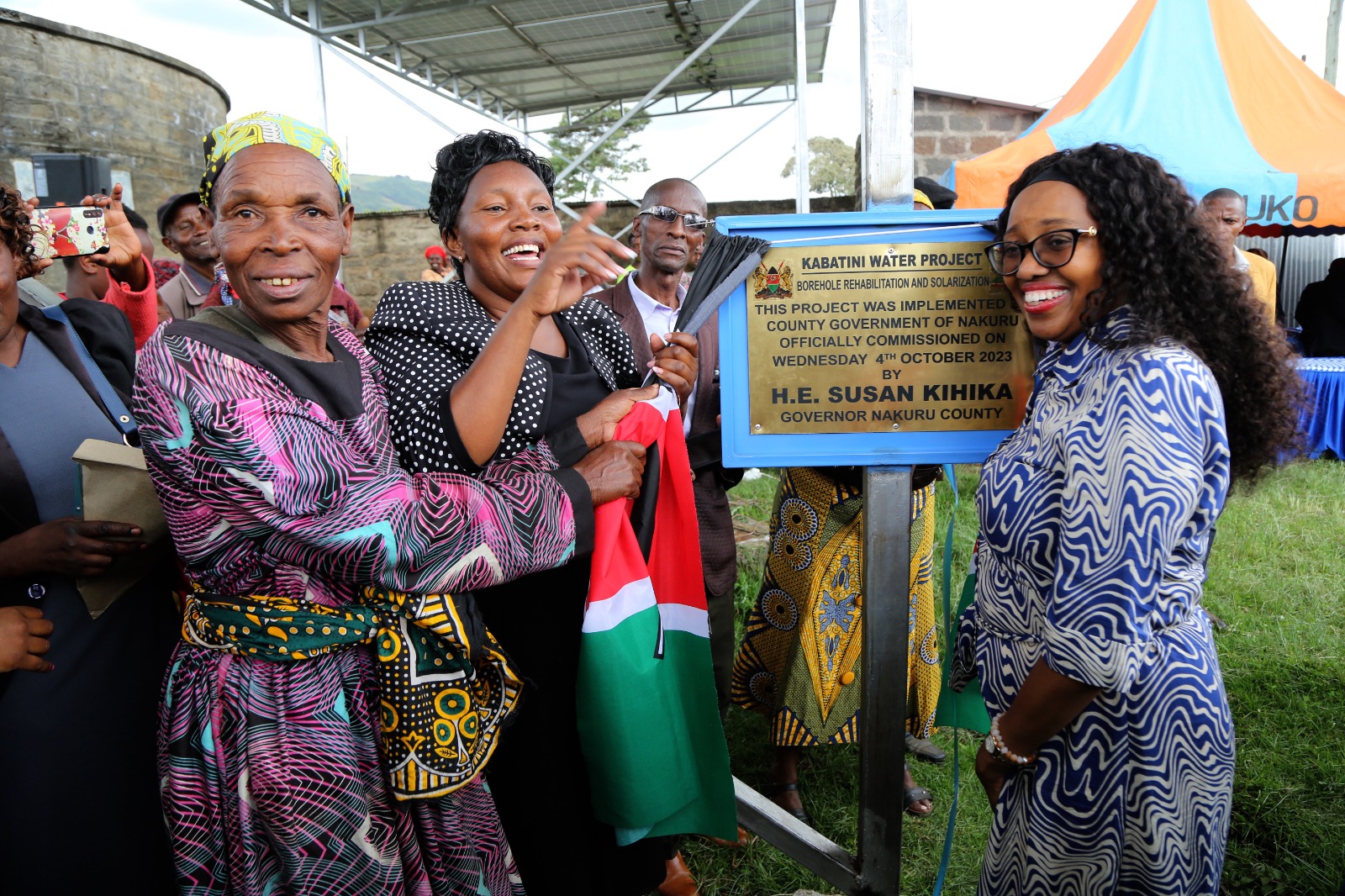 Governor Kihika's promise for clean and safe water continues to take shape
Written by James Munyua
Nakuru County Governor H.E Susan Kihika inaugurated the Kabatini Borehole Water Project and the Limuko Borehole Water Project in Kabatini Ward, Bahati Sub-county, ensuring clean and safe drinking water for over 2,500 households.
The Kabatini Water project, costing sh 3.8 million, has been solarized and includes a 225m³ tank and a 100m³ tank in addition to a pump house, and distribution lines. Meanwhile, the Limuko water project, with a cost of Kshs4.2 million, underwent Solarization and the construction of a panel house. It comprises a 100m³ tank and power distribution mains.
During the event, Governor Kihika urged residents to allow NAWASSCO, one of the County Water Service Providers, to manage the projects, with the County covering any additional costs to ensure water reaches households. She also pledged to rehabilitate feeder roads, enhance street lighting, provide seedlings like avocados, and offer a maize drier for farmers as the rainy season approaches.
Furthermore, the Governor announced a substantial sh6 million worth of bursaries for the ward this financial year, encouraging residents to apply. She emphasized the importance of these bursaries in supporting less privileged students and enhancing education for future generations.
"When I came into office this ward was receiving Kshs. 2 million worth of bursary, but I have added Kshs. 2 million with the MCA giving an additional Kshs. 2 million. This financial year therefore, Kabatini ward will receive a total of Ksh. 6 million which will cater for the bursaries of many children coming from the less privileged families," the Governor said.
Governor Kihika also committed to assisting 100 bodaboda riders in obtaining their driving licenses and creating job opportunities for youth during the ongoing El Niño preparations by the County Government. Additionally, she expressed plans to provide financial assistance to differently-abled individuals in the area, ensuring their unique needs are met.
Responding to residents' requests, the Governor promised to revamp Kabatini Health Center, especially in the maternity department, to enhance its operations.
The area MCA, Leah Ng'ang'a, commended the Governor's efforts to provide clean and safe water for residents, addressing a long-standing need. Governor Kihika had promised during her campaign to ensure clean and safe water access for all Nakuru residents, a commitment she is actively working to fulfill.
The Governor was accompanied by several County Executive Members, Chief Officers, MCAs, and other County and National Government officials.