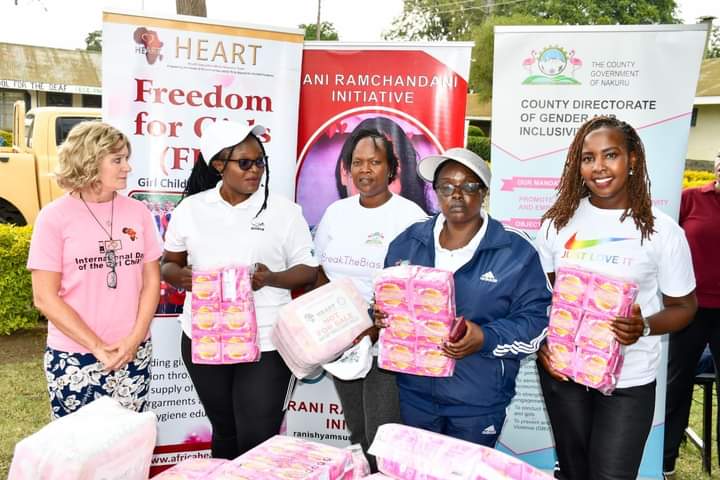 "Our time is Now, Our Rights, Our Future" – Celebrating the International Day of the Girl Child
Written By James M. Alumera
The County Government of Nakuru, in collaboration with the Freedom for Girls Project on Wednesday distributed over a thousand sanitary towels and eight hundred undergarments to 400 girls in commemoration of the International Day of the Girl Child.
Josephine Atieno Achieng, the County Executive Committee Member (CECM) for Youth, Sports, Gender, Social Services, and Inclusivity, graced the occasion with the theme 'Our time is now – our rights, our future' at Ngala School For The Deaf. She encouraged the young girls to be more dedicated to their studies, maintain discipline, and nurture a strong sense of spirituality.
In addition, she implored the authorities to rigorously enforce the Children Act, especially in cases involving rape, defilement, and gender-based violence (GBV). She emphasized the need to bring the perpetrators to justice and ensure the victims receive the justice they deserve.
Gladys Kamuren, the Chief Officer for Gender, Social Services, and Inclusivity, highlighted the significance of safeguarding the rights of the girl child. She urged attendees to report cases of rape, defilement, and GBV through the toll-free number 1195, assuring them that dedicated officers would respond promptly.
The partners expressed their unwavering support for the GIRL CHILD INITIATIVE in collaboration with the county government. They committed to raising awareness and educating communities throughout the county to champion the cause of the girl child.
The event was attended by several dignitaries, including Hon. Doreen Korir (Nominated MCA Solai), Hon. Loice Kagecha (Nominated MCA Kabatini), and representatives from the office of the County Commissioner, Rani Ramchandan Foundation, Rotary Club of Nakuru, Young African Women Initiative (Yawi), Health Education Africa Resource Team (HEART), Soar Kenya Academy, teachers, students, and many others.