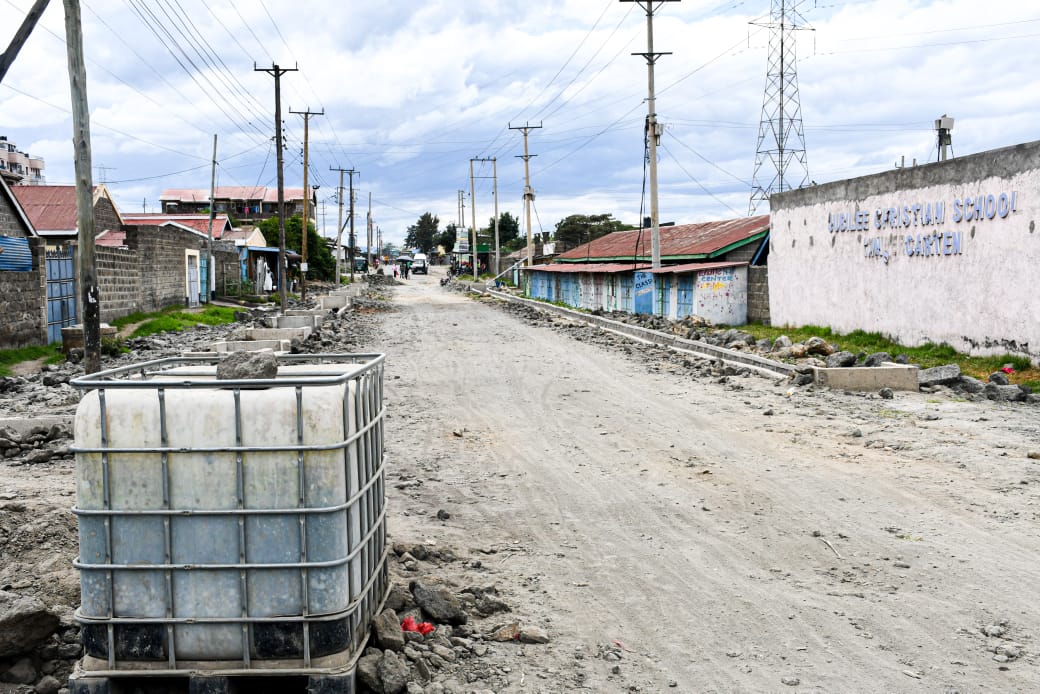 Nakuru County/City takes Bold Steps to build resilient city through Sponge City Principle To Tackle Flooding
Written by Nancy Naholi
Nakuru County/City Takes BoldSteps To Build Resilient City Through Sponge City Principle To Tackle Flooding
Construction of Mbugua Mbugua road and drainage in Rhonda Ward has made significant progress and is now in the advanced stages of completion.
The Contractor Effective Builders Ltd has deemed the project effective and is now awaiting the laying of Asphalt Concrete (AS) by Kenya Urban Roads Authority (KURA) which is expected to commence anytime.
The timing of this project is crucial particularly due to the unpredictable weather patterns that have previously caused havoc in the neighborhoods. Nonetheless, the completion of the road and drainage system will not only improve accessibility but also enhance a resilient and flood-resistant City.
Upon completion, the project will bring relief to the residents and significantly improve their daily lives. The enhanced accessibility and improved drainage system will enhance smoother transportation and reduce the impact of adverse weather conditions. The completion of the road and drainage system will not only improve accessibility but also enhance a climate-resilient and flood-resistant City.
As a correlation to this, the City Management is taking proactive measures to replicate the sponge city concept in order to mitigate and manage devastating flooding havoc.
"By reshaping its urban designs, the City through collaborative efforts with the Department of Infrastructure seeks to effectively manage excess rainfall and minimize flooding in the future" Cited Mr Thabanja, the City Manager.
According to Thabanja, the construction of a 1.2 km non-motorized transport system, one of the City's major urban revitalized projects adopted the sponge city concept as the walking surface was installed with cabro paving blocks that encourages surface run-off water to percolate into the ground hence reducing flooding, the potential destruction of infrastructure and protecting the lower city communities from flooding.
"This forward-thinking approach has demonstrated a commitment to sustainability and well-being of residents as the concept has since proven to be critical and effective in managing stormwater" He Reitareted
The concept is particularly designed to effectively collect and recycle rainwater and redirect it to areas in need of water.
Construction and maintenance of the stormwater capacity drainages within the City  along with the implementation of the sponge city principle is a testament to H.E Governor Susan Kihika's commitment to creating a safer, more accessible, and more resilient environment for the residents