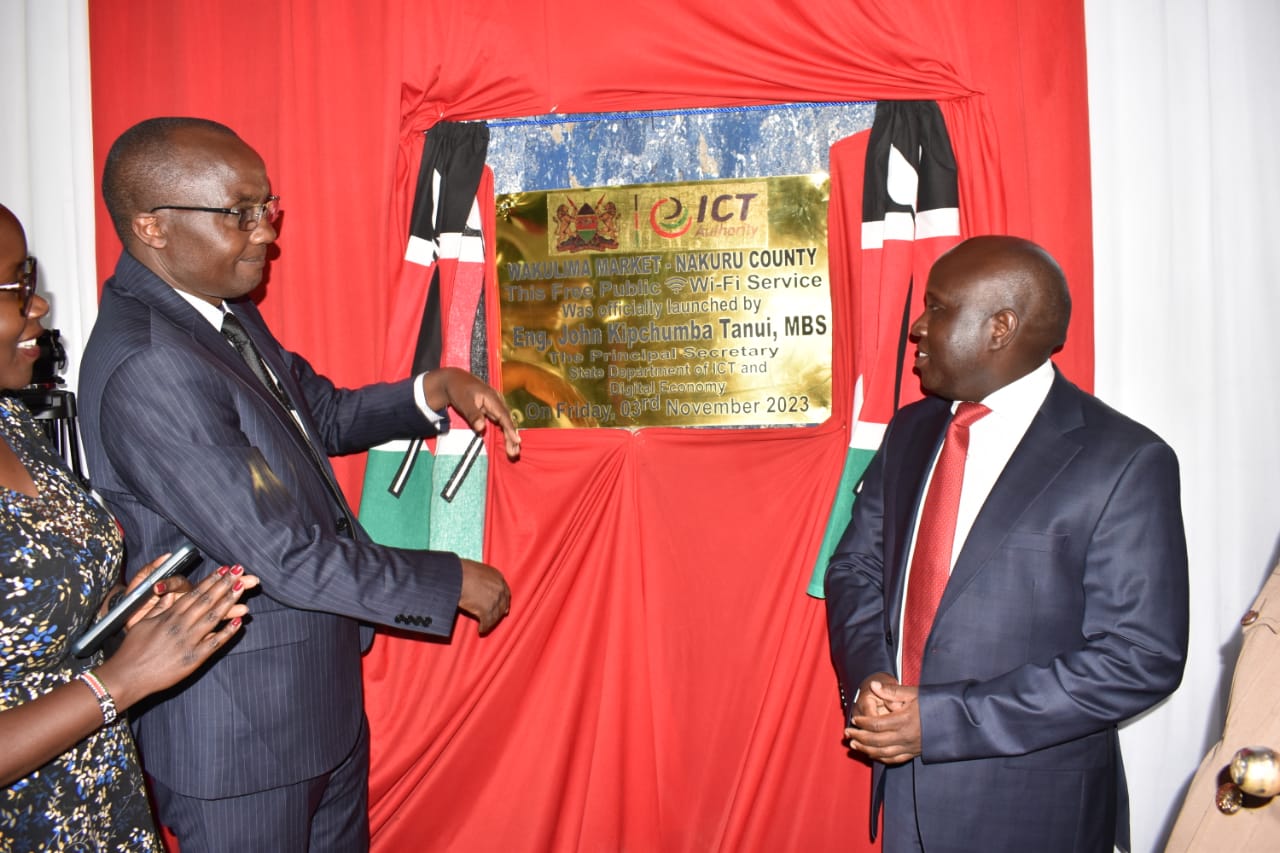 Digital Economy to flourish in Nakuru as free public WiFi launched at Wakulima market, Nakuru City
Written by Niva Kimtai and James Munyua
Wakulima market traders in Nakuru County have all the reasons to smile and expand their businesses not only in Nakuru but also globally. This is after the official launch of the public WiFi today by the Principal Secretary State Department of ICT and  Digital Economy,  Eng. John Kipchumba Tonui.
The  Market which on a daily basis hosts close to 30 thousand people comprising of traders, suppliers, and customers is the leading facility in Kenya in terms of utilization of the Public wifi.
With the active Wi-Fi connection, traders will have an opportunity to market their products online, make orders, sell, and even learn more about the businesses they venture into.
Speaking during the launch,  PS Tonui highlighted that the objective of this public WiFi is to improve and increase the businesses of small traders through the use of technology.
Nakuru County Deputy Governor David Kones representing Governor Susan Kihika commended the Ministry of ICT and Digital Economy, ICT Authority for the installation of the WiFi at the market.
Mr Kones said that this wifi will contribute to an increase in our GDP as a county. With the technology,  traders will have an opportunity to reach out to more clients apart from those who get into the market, it will also help in learning different market skills, products, and benchmarking on other markets globally hence improving on how to do business.
"Digital economy currently contributes to 60% of the country's GDP. Therefore with the free WiFi, I urge Wakulima market traders to create an online market platform where you can do your businesses and get an additional profit, " he noted.
The Deputy Governor also stated that the County Government has made efforts to support the digital economy through the ICT hubs in the county.
At Shabaab ICT digital hub for example, over 500 youth have undergone Digital training on how to do online work with the majority of them working online and earning a decent income in the comfort of their homes.
Nakuru County also works with private sectors, and investors to ensure the digital economy is actualized and it benefits young people.
Earlier in the day the Deputy Governor joined PS Tonui and The Data Protection Commissioner Immaculate Kassait to commission ODPC Nakuru Regional Office. The office will serve as a regional hub, aiming to decentralize services and bring them closer to the citizens.
According to Mr Kones, the opening of the office comes at the right time and it will be useful in guiding the County Government in the best way to collect and protect personal information as per the Data Protection Act to avoid litigations on mishandling of personal information.
The office of the ODPC ensures a transparent and accountable data processing ecosystem that upholds and safeguards the right to privacy of Kenyans.