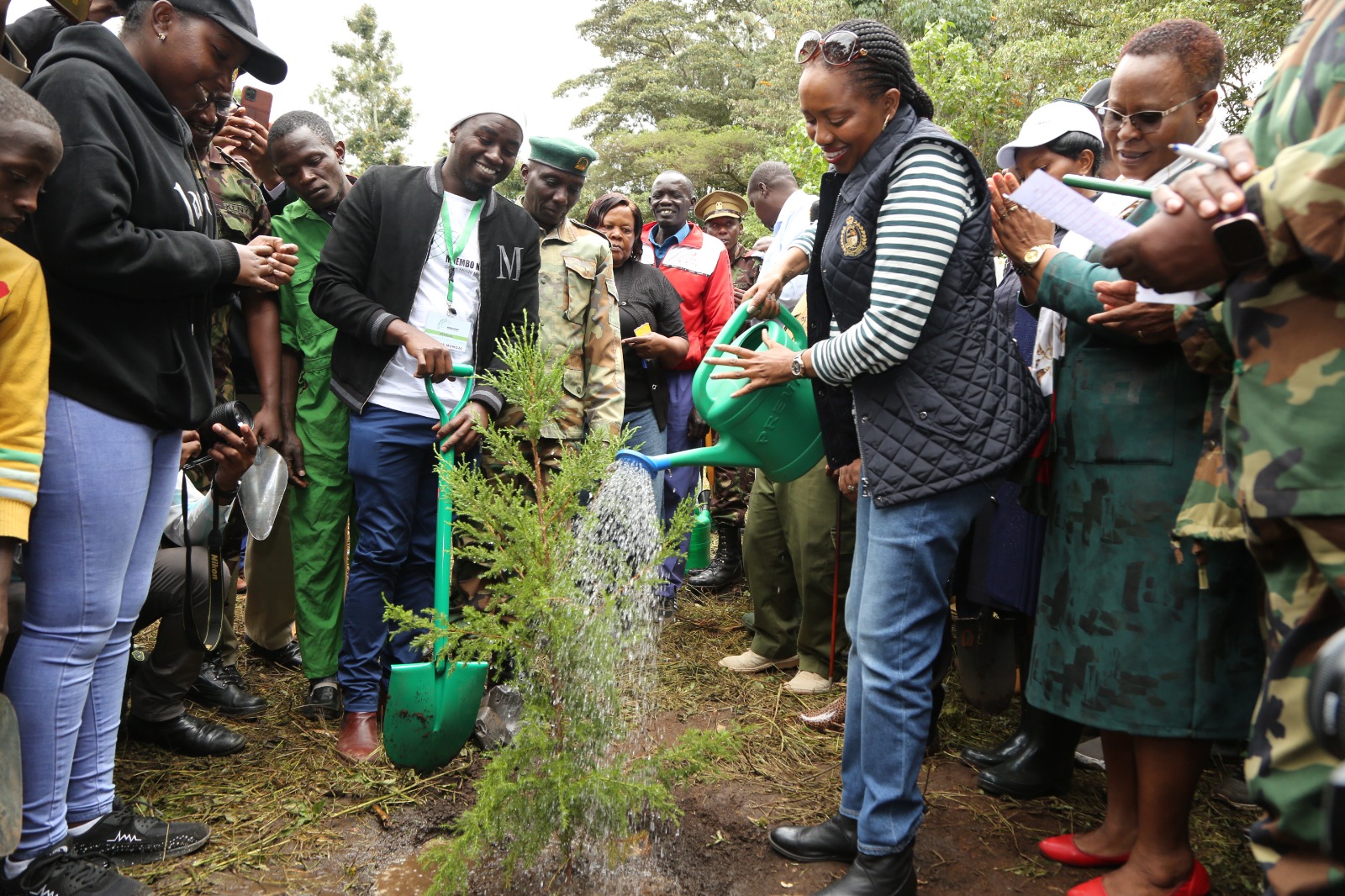 Governor Susan Kihika Advocates for Water Resource Management during National Tree Planting Day
Written by Jackson Waweru and Roy Lumbe
Nakuru County Governor H.E Susan Kihika commemorated the National Tree Planting Day at Rhino Campsite in Kabatini, Bahati Sub-county by calling upon better management of water resources in the County.
Governor Kihika, who said the County has a task of planting 298 million trees in the next 10 years, advanced that poor management of water resources was partly to blame for the lack of access to water by some families.
"Provision of clean water to Nakuru people is a big agenda to me. We have set aside money to pipe water to households though there are cartels who don't want us to do it", she said.
Governor Kihika said the Kenya Defence Forces have agreed to partner with Nakuru County to desilt some of the dams to increase the availability of water to serve the residents. She urged residents of Kabatini to plant more trees to protect water catchment areas.
Governor Kihika said she prioritized completion of stalled water projects during her first year in office before embarking on new projects.
"Tax payers' money was used on those projects that's why we are completing them first before starting new ones," she said. During the exercise, which was replicated in 11 sub Counties, a total of 174,000 trees were planted.
Defense Principal Secretary Patrick Mariru said the exercise was a personal responsibility adding that it will aid in mitigating the negative effects of climate change lauding Nakuru's forest cover which stands at 10.7 percent.
"As the defense ministry through KDF, we are very serious. We have a target of planting 3 percent of the national target of 15 billion in 286 acres of KDF land which is 40 percent of their total acreage," said Mariru.
He added that they will supply seedlings to the community saying they will set up a major nursery.
Bahati MP Irene Njoki, Nakuru County Commissioner Layford Kibaara, CECMS Nelson Maara (Environment), Roselyne Mungai (Public Service), Chief of Staff Peter Ketienya, Nakuru County Police Commander Samwel Ndanyi, COs Ken Mungai (Environment), Margaret Wanjiru (Water), and Newton Mwaura (Agriculture) lauded the exercise.
On his part, Martin Gicinga from the office of the Governor said they want to achieve the government agenda of planting 15 billion trees saying the county intends to boost the number towards that target.
"I am so happy because county staff and the Kenya Defense Force officers have come out in large numbers to participate in the exercise and it is quite impressive how people are embracing this," said Gicinga.
According to him, if we make a culture of planting trees the country landscape will change and address the issues of climate change.
Nice Munka, an environmentalist, called on the youth to promote tree planting in their zones.