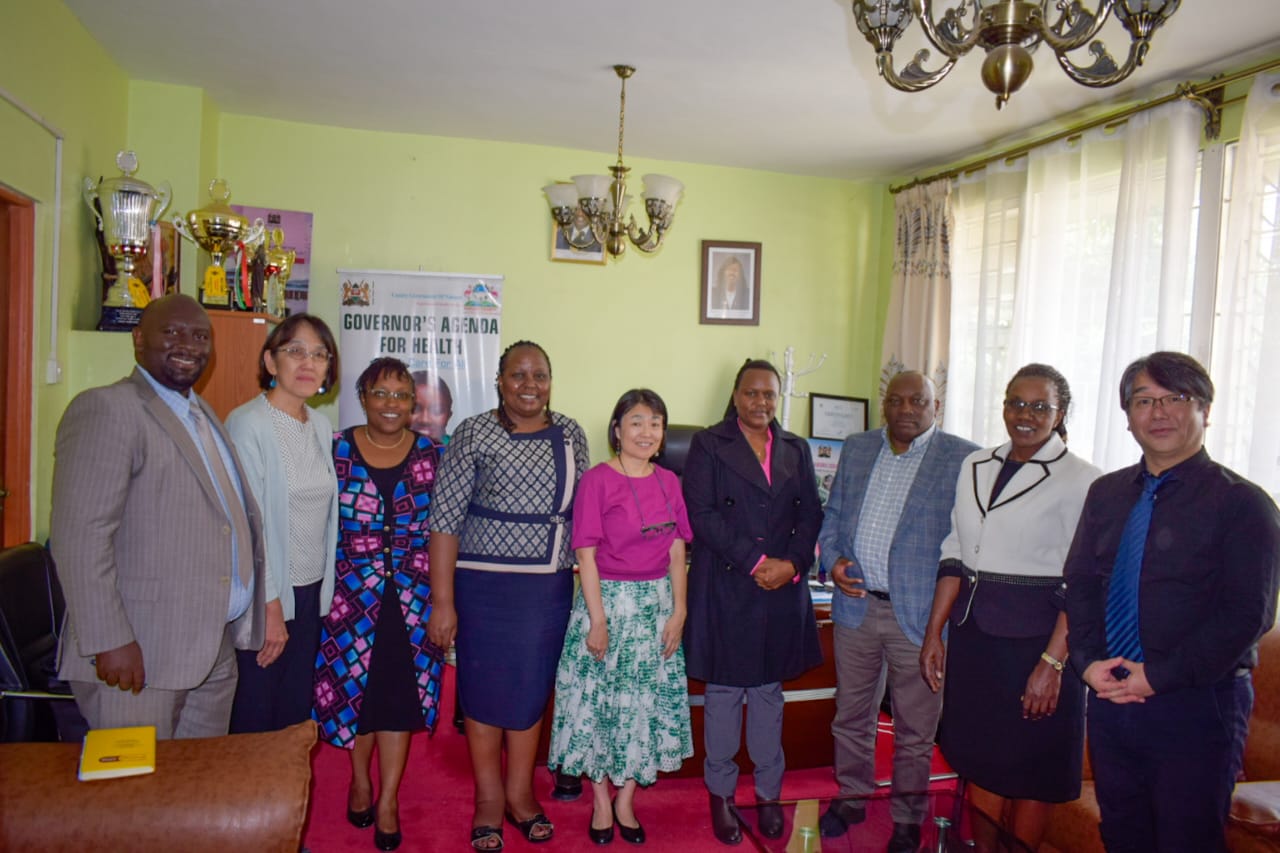 Nakuru County Partners with JICA for Innovative Monitoring System
Written by Ruth Magak
The County's Department of Health has transcended traditional Annual Work Plans (AWPs) by adopting a dynamic approach that integrates meticulous progress monitoring into its implementation processes.
Today marked a pivotal moment as Jacqueline Osoro, the County Executive Committee Member for Health, welcomed a delegation from the Japan International Cooperation Agency (JICA) to explore collaborative avenues for supporting this transformative initiative.
The focal point of this collaboration is the implementation of the Strengthening the Accountability in the Management of County Health Service (SAMACH) project, spanning from 2022 to 2027.
JICA, building on its existing collaboration with the Ministry of Health, has committed to bolstering Nakuru's health initiatives through the SAMACH project.
SAMACH is poised to revolutionize the monitoring and evaluation landscape by introducing online tools for quarterly assessments.
This innovative system aims to enhance analytical skills, enabling stakeholders to identify challenges and formulate effective solutions that will seamlessly integrate into subsequent AWPs.
Jacqueline Osoro emphasized the practicality of this approach, stating,
"By monitoring and analyzing progress every quarter, the AWPs will evolve into living documents that guide our endeavours throughout the year. This iterative process ensures better planning and, consequently, more effective implementation."
Shiko Mimose, Chief Advisor at JICA, shed light on SAMACH's key features. The project will deploy an online tool designed to empower County Health Management Teams and Health Facilities to monitor the real-time progress of planned activities. This tool is instrumental in swiftly identifying bottlenecks and challenges, facilitating a proactive approach to problem-solving.
The collaboration with JICA not only signifies international support but also showcases a commitment to leveraging technology for improved health service management.
The SAMACH project aligns with global best practices, demonstrating Nakuru County's dedication to advancing healthcare through innovative solutions.
In enhancing efficiency and accountability, quarterly monitoring using online tools is expected to create a ripple effect, fostering a culture of continuous improvement within the healthcare system.
The partnership with JICA adds a layer of expertise to Nakuru's healthcare landscape, as the collaboration draws on the wealth of experience and knowledge that JICA has amassed through its global initiatives.
The SAMACH project holds the Governor's promise of not only addressing current challenges but also future-proofing Nakuru County's health system.
The integration of cutting-edge technology, international collaboration, and a commitment to accountability positions Nakuru at the forefront of progressive health management strategies in line with Governor Susan Kihika's manifesto.
This innovative approach, blending traditional planning with real-time monitoring, has the potential to reshape the landscape of healthcare management, not just within Nakuru but as a model for others to emulate globally.
Joining her were the Chief Officer for Public Health, Alice Abuki, Chief Officer for Medical Services, Dr. John Murima, and the County Directors for Health.