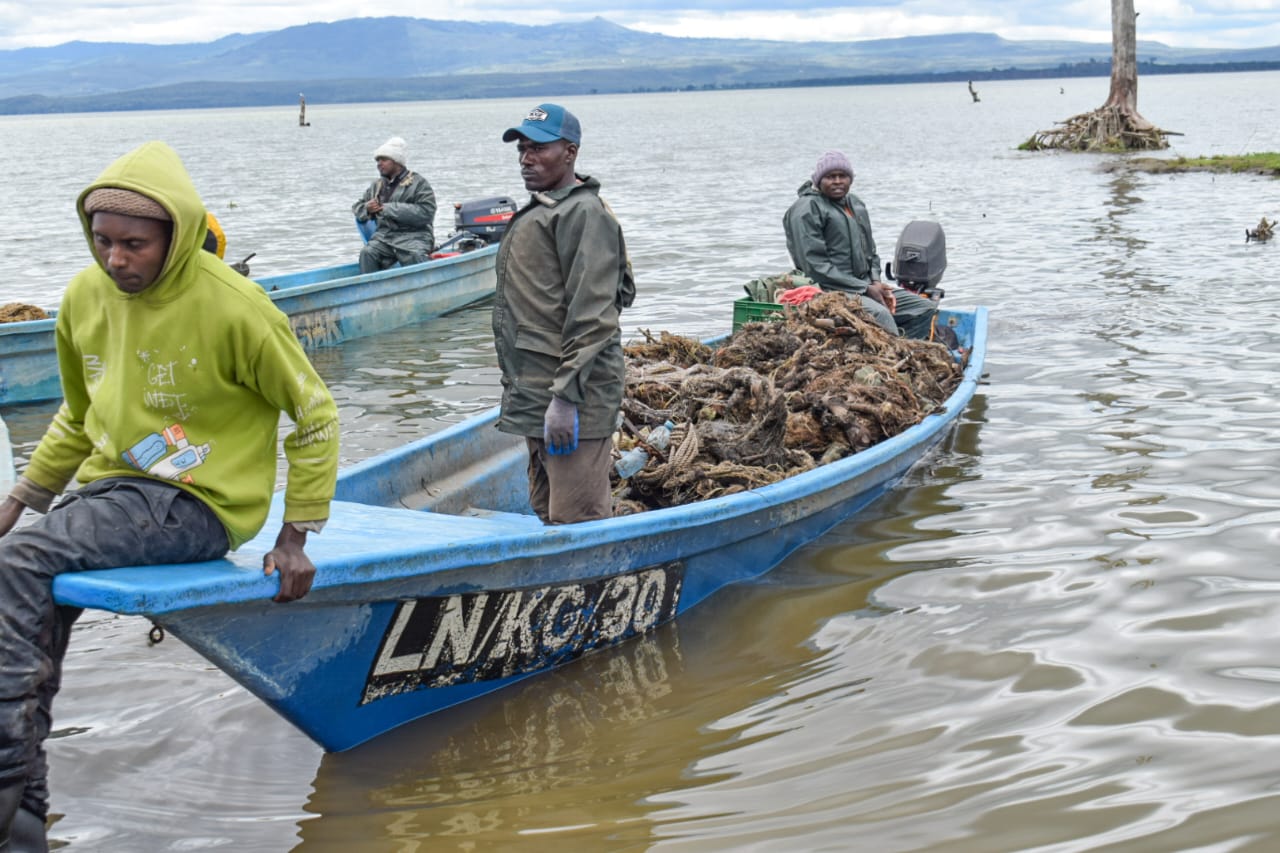 Lake Naivasha Beach Management Units take part in the lake clean-up
Written by Mercy Kihugu
Beach Management Units around Lake Naivasha actively took part in a major lake clean-up today, in preparation for a restocking initiative scheduled for tomorrow during the World Fisheries Day in Naivasha Sub-county.
This collaborative effort by the units, County Government, and other stakeholders led to an eight-hour temporarily stopped fishing operation across all landing beaches managed around the lake.
The primary objective is to reduce the adverse impact of "ghost nets" on aquatic life, with a commitment to ongoing initiatives to address this ecological concern.
Jeremiah Mutiso, Chairman of Karagita Public Beach, expressed gratitude for the exercise, emphasizing its potential to diminish fish mortality in the lake, consequently boosting income for local fishermen.
Mutiso also attributed the decline in fish catch to the increased amount of ghost nets and the use of illegal nets in fishing activities.
Raymond Mwangata, Director for Fisheries, led the clean-up and highlighted the persistent threat posed by "ghost nets" to various aquatic species.
He affirmed the intention to conduct this exercise annually, aiming to ensure the lake's sustainability and enhance economic activities for the surrounding communities.
Mwangata also emphasized the sensitization of Boat Management Units on responsible utilization and sustainable management of the lake.
He affirmed that there will be adherence to National Environment Management Authority guidelines to ensure proper disposal of the ghost nets and waste from the lake.
Victor Omondi, a Fisheries Officer from the Kenya Fisheries Service, outlined the ambitious goal of collecting over 14 tonnes of abandoned fishing nets during the clean-up.
Omondi emphasized the exercise's role in preserving the number of fish in the lake sustainably, particularly after the restocking.